A Complete Guide to Visiting the Callanish Stones
The Callanish Stones (or Tursachan Chalanais in Gaelic) are a 5000-year-old mystery that look like something straight out of Outlander! Older than Stonehenge, this incredible stone circle complex features a series of stones arranged in a cross shape with a central circle and 4.8m tall centre stone.
If you're visiting Lewis and Harris or are a fan of the fantasy series Outlander the Callanish Stones are a must-see. Luckily this enchanting area is really easy to get to, completely free and open 24/7!
How old are the standing stones at Callanish?
The Callanish Stones are around 5000 years old and were built between 2900 and 2600BC. The origin of the stones are still a mystery but they were most likely some kind of astronomical calendar. It's estimated that ritual activity could have continued at the site for as long as 2000 years! Visit Historic Scotland for more info on the history of the stones.
The centre stone/monolith is an impressive 4.8m high and is perfectly aligned to the north and south. It's surrounded by a circle of thirteen stones, a northern avenue of stones leading up to the circle and a line of stones to the east, south and west.
There are at least 11 other stone circles that surround Callanish I with Callanish II and II within easy walking distance.
How to get to Callanish Stones
The Callanish stones are located on the west coast of the Isle of Lewis. The Isle of Lewis is part of the Outer Hebrides archipelago off the west coast of Scotland and requires catching either a ferry or plane to visit. It's well worth the effort though!
Getting to Lewis and Harris
The Isle of Lewis is connected by land to the Isle of Harris in the south, despite often being referred to as separate islands. There are two ferry services that run to the island; one from Ullapool on the mainland that arrives at Stornoway (Lewis) and one from Uist on the Isle of Skye that takes you to Tarbert (Harris).
Both ferry services accept foot passengers and vehicles, including campervans, and the routes take you between the many surrounding smaller islands. We have used both routes and they're equally stunning ferry crossings. If you're really lucky you'll also spot dolphins and possibly even a whale on your journey as well.
The other option to reach Lewis and Harris is to fly into Stornoway airport. Flights are available to numerous airports, including Edinburgh and Glasgow. From here you can catch a connecting flight to London as well as other cities in the UK, Europe and even USA! If it's a clear day you'll be treated to spectacular views over Lewis during take-off/landing.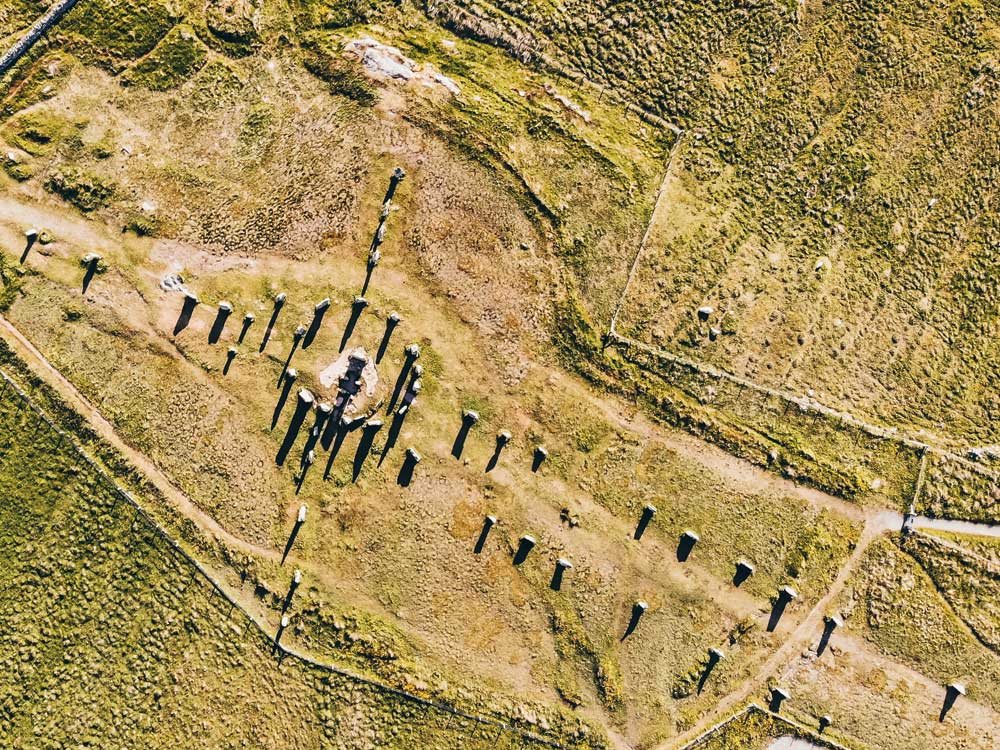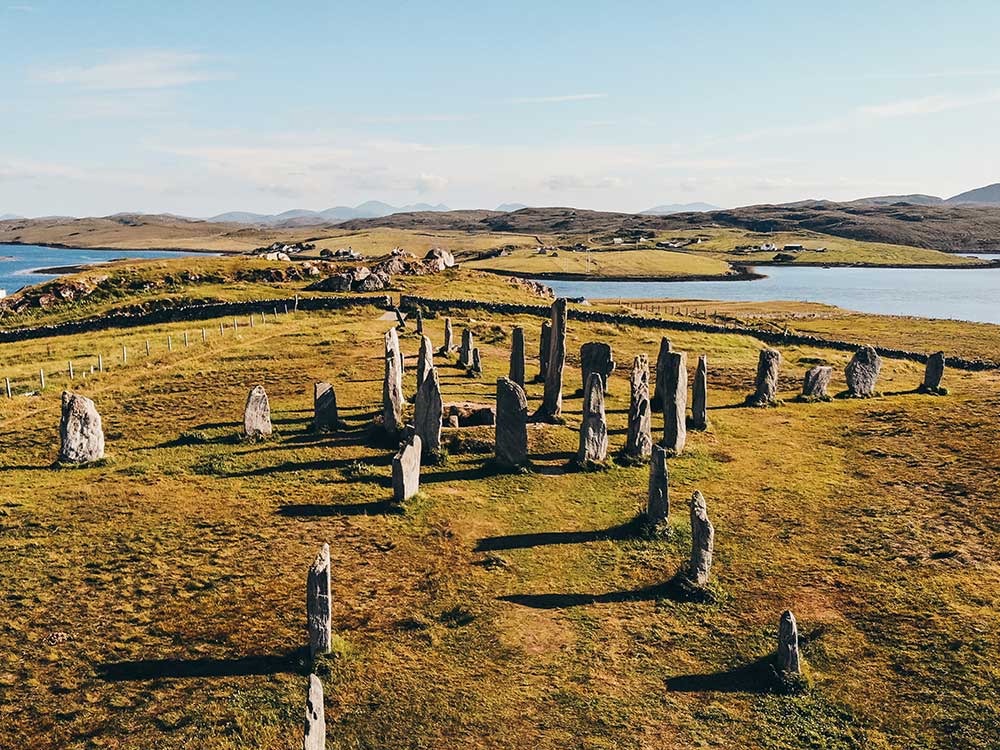 Getting to Callanish
Once you're on the island you can head to Callanish Stones by car, bike or local bus. The stones are around 30 minutes from Stornoway, just off the A858. As you approach the village of Callanish you'll be able to see the main stones on the ridge ahead as well as some of the smaller stone circles on your left.
There are a few places to park near the stones. The main (free) car park is located at the visitor centre and is clearly signposted. You can also turn right just before the visitor centre, climb up the steep single-track lane and park up near the stones, although there is only limited parking here. Finally, there is some roadside parking available near Callanish III.
Best time to visit
We visited the Callanish Stones a couple of times, both in early July. It wasn't overly busy either time with only a few other people wondering around. I understand it's busiest late July and August so if you're visiting during these months we recommend arriving early or late so you avoid any crowds/bus tours.
If you don't mind skipping the visitor centre and the forecast is good head to the stones at sunrise or sunset. This is when the stones are at their most atmospheric and there's a real magic about them.
The stones are accessible 24/7 all year round. If you're visiting in winter keep an eye on the Aurora forecast, it would be incredible to watch the Northern Lights here, and if they don't show up it's a pretty good spot for star gazing too!
Visitor centre
The visitor centre offers a café, toilets and the "Story of the Stones" exhibition. Tickets are required for the exhibition which looks at the possible origins of the stones and looks at the importance of the site to the people of the Outer Hebrides throughout the Centuries.
The visitor centre was closed at the times we visited but there are also boards positioned around the site if you'd like to learn a little more about the area.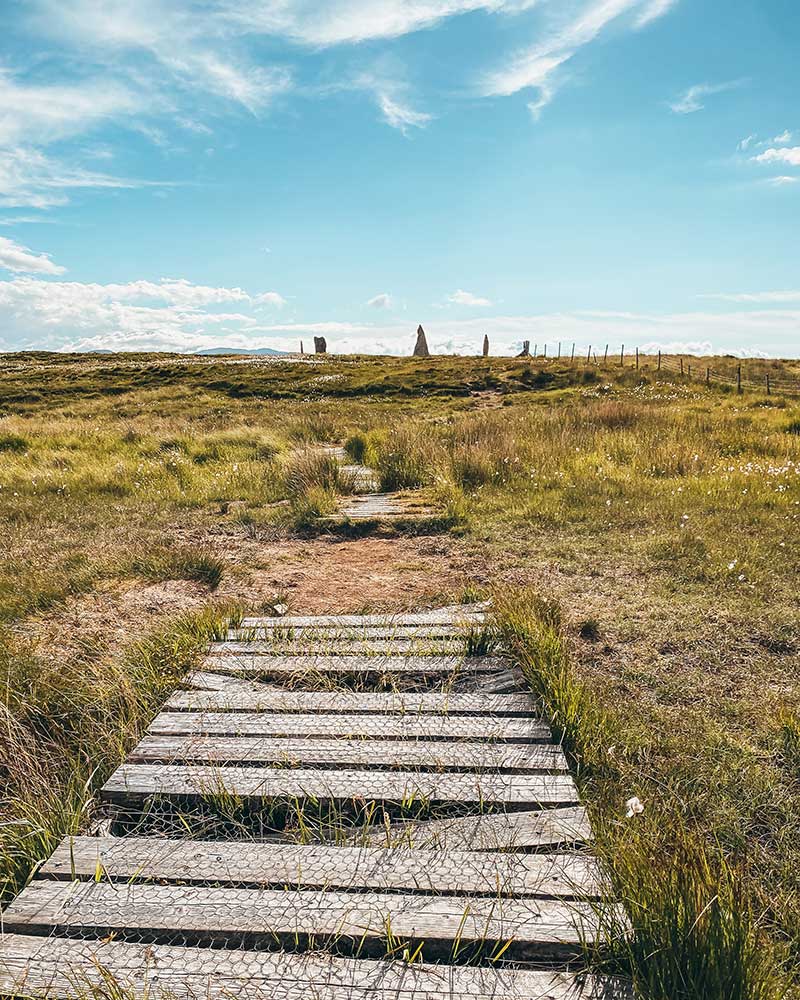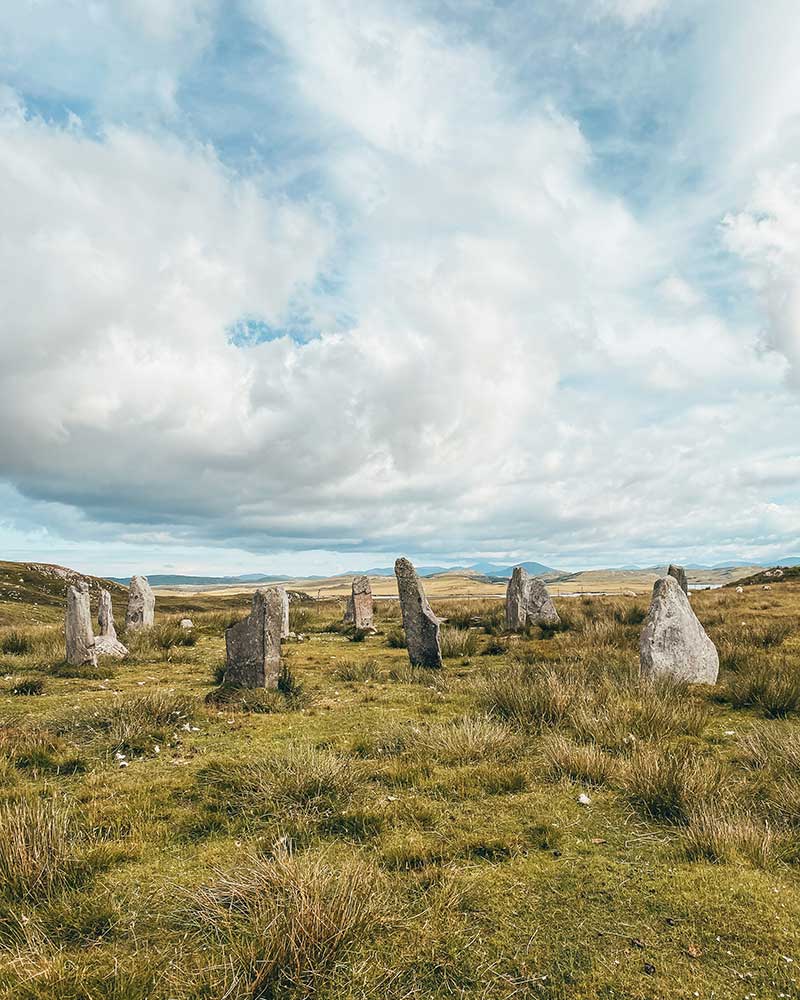 Go for a walk!
Most people that visit Callanish only go to the main stone complex (Callanish I). Whilst it's definitely the most impressive there's a nice short walk you can do over to Callanish II and III which have a much more rugged, rural feel to them.
After exploring Callanish I head down the steep lane that takes you back towards the main road and head along here until you see a sign to the right for Callanish II. You can see the stones ahead of you once you turn.
From Callanish II there's a boardwalk track that leads across the grass/peat to Callanish III, which is definitely still impressive in its own right. Note that sheep graze around here so dogs must be kept on a lead.
For full details and a map of this circular walk head to Walk Highlands.
Were the Callanish Stones used in Outlander?
Sadly, no! Craigh na Dun is a fictional site. The filming took place near Kinloch Rannoch in Perthshire and the stones are actually made from styrofoam. However, we think the stones at Callanish have all the magic of Craigh na Dun, and who knows, perhaps Jamie Fraser is waiting for you on the other side?!
No idea what we're talking about? Check out Diana Gabaldon's Outlander books (or watch the brilliant Outlander TV series) where a stone circle features as a portal for time travel. We've tried our luck at a few stone circles now but so far no success!
Can I park overnight at Callanish Stones?
Technically yes, although we wouldn't advise it. Let me quantify that a little… there are no signs (currently) at any of the parking locations that prohibit overnight parking. The visitor centre car park isn't entirely flat but if you arrive late and leave early I don't see you having problems.
The parking area up by the stones is flat and we certainly saw campervans parked there overnight. Waking up by the stones would definitely offer an impressive view and is very convenient if you're planning some early morning photography. There are, however, quite a few houses overlooking the parking area.
There's a lot of concern about campervans and wild parking on Lewis and Harris at the minute, especially with the number of people heading on 'staycations' due to covid restrictions. It's more important than ever to pick sensible places to park that don't upset local communities.
Whilst it's perfectly possible to park at Callanish overnight there are plenty of more remote, stunning park-ups available nearby that aren't close to houses. We parked up for a few hours, enjoyed a walk around the stones, did some work and decided to move on elsewhere for the night. We encourage you to do the same.
Not visiting in a campervan and looking for accommodation? There are lots of holiday cottages in and around Callanish but anywhere you chose to stay on Lewis and Harris will be within driving distance of the stones. There's numerous hotel options in Stornoway or you could even stay in a traditional blackhouse at Gearrannan Blackhouse Village.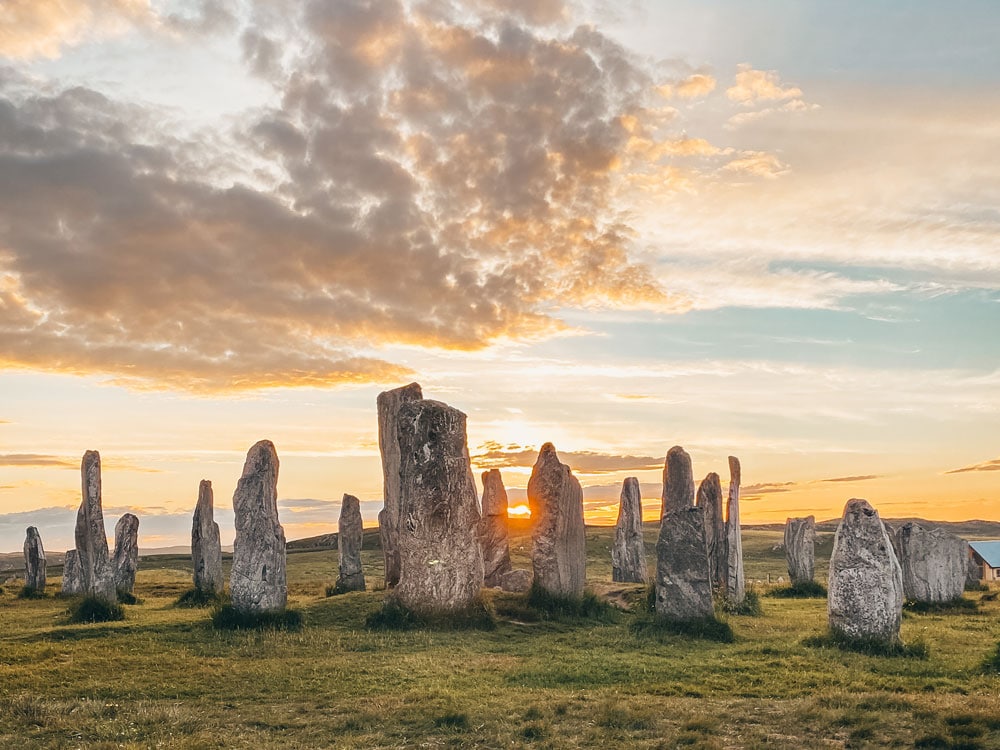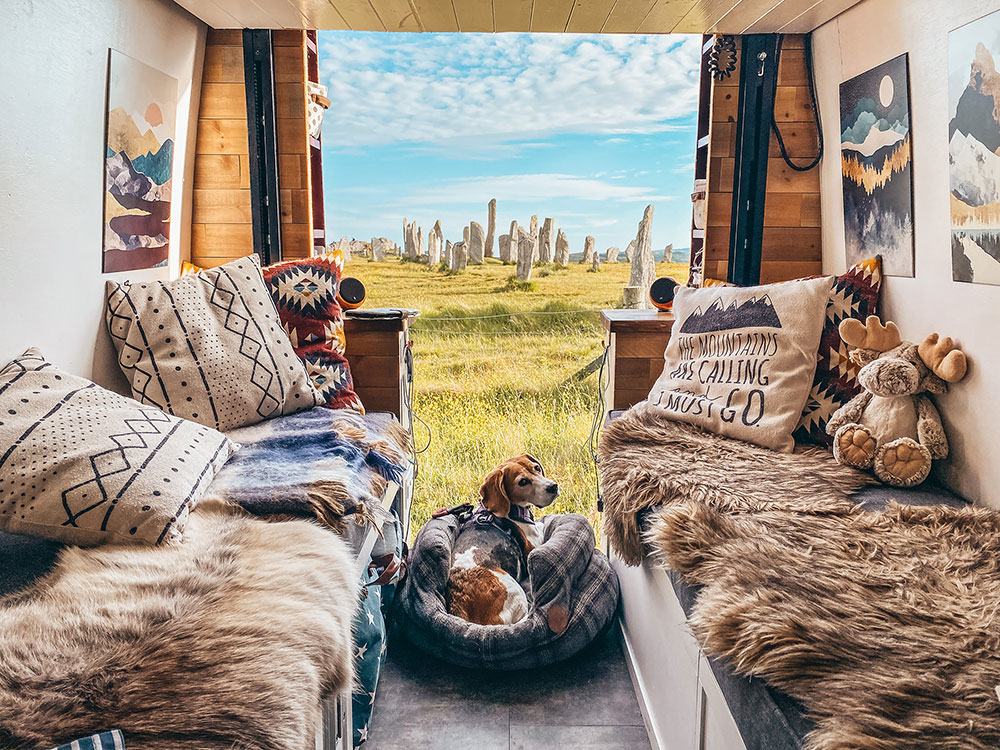 Other useful info
The views around Callanish are stunning with Loch Roag and the hills of Bernera as a backdrop. If you're exploring the area we recommend Uig Sands restaurant around 30 minutes away (booking required). There's also a great little roadside fudge stand on the A858 (on the right if coming from Stornoway) that sells baked goods, eggs, fudge, gifts etc.
If you're visiting by campervan there's recycling facilities on the right just before the cattlegrid as you enter the village. For more info on places to visit in Lewis and Harris we used the Wild Guide Scotland and Lonely Planet Scotland's Highlands and Islands books.
Planning a visit to the Callanish Stones? Let us know if there's any more info you need in the comments below. It's definitely an incredible place to visit, and amazing to think of all the people that have gone there over the last 5000 years.
If you've found this post useful and would like to support our content you can do so by purchasing one of our van life stickers or magnets, or by treating us to a virtual coffee (or tea, or dog treats…you get the idea!)!
This page contains affiliate links to products you may find useful. We make a small commission on purchases made through these links at no extra cost to yourselves.