Our Top 5 Free Campervan Parking Spots of 2020
I think it's fair to say 2020 didn't really work out like any of us planned! We'd hoped to spend around 9 months of the year living in our van and travelling around Europe. In the end, however, I think we managed around 3 months or maybe slightly more. 
At the end of March we found ourselves rushing back to the UK as borders closed around us and the freedom to explore that we'd become so used too was turned on its head (almost overnight!) by Covid. 
I'm not gonna lie, when you've shaped your life to be flexible and always on the move it feels hard to be stuck in one place for so long. At the same time we feel incredibly lucky we have a safe place to head when we can't stay on the road. 
Instead of dwelling on the hard parts of 2020 we're taking a look at some of the incredible places we did make it to. 2020 took us to France, Germany, Austria, Czechia, Slovenia, Slovakia and Poland (briefly!). 
Finding the perfect overnight spot isn't always easy but every now and then you hit the jackpot! We've picked our top 5 free campervan parking spots from last year, and they include mountains, wild pigs, snow and epic sunsets.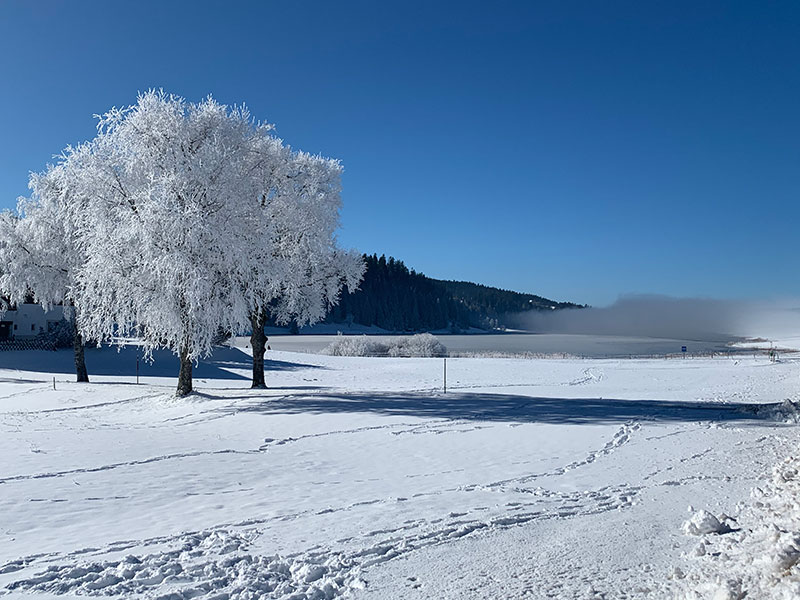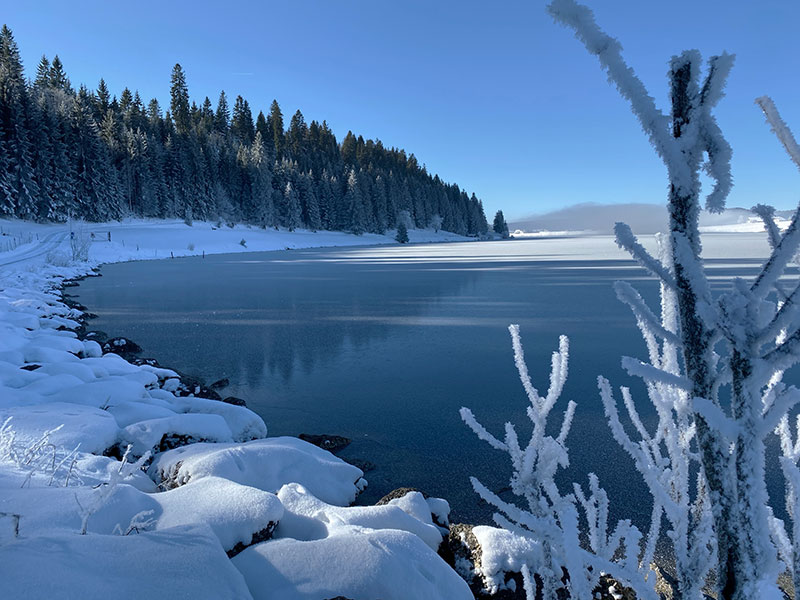 Where?
La Brévine – Siberia of Switzerland
About
Flat Gravel car park with toilets and electricity hook up (honesty box).
Why did we love it?
We found this spot completely by accident, and actually almost didn't make it there! We were en route from the French Alps to Amsterdam and went along the back roads to avoid the tolls. As we were close to Switzerland we picked a free campervan parking spot on Park4night and popped across the border for the night.
Being totally disorganised we completely forgot Switzerland isn't in Schengen and weren't prepared for the passport check. When asked where we were headed I truthfully answered "no idea, we've found a parking spot on the map we're heading towards". The man at the border clearly wasn't impressed with this response, so I then followed it up with "I mean eventually we're going to Amsterdam but not tonight". Cue full passport check, pull over to search the van and a detailed account of exactly where we'd been and why we were in Switzerland for the night!
Eventually he let us in! We're glad he did as the parking spot we were heading to was in an area known as the Siberia of Switzerland. It's an incredibly beautiful place that's apparently always a few degrees cooler than surrounding areas due to the land topography. We'd never heard of it before but really liked it and can't wait to explore more of it.
As a bonus the parking came with free power (we left a donation in the honesty box) and incredibly clean public toilets that were not only open in winter but lovely and warm too! The surrounding area included a beautiful lake and the trees were caked in ice and snow, it was just stunning!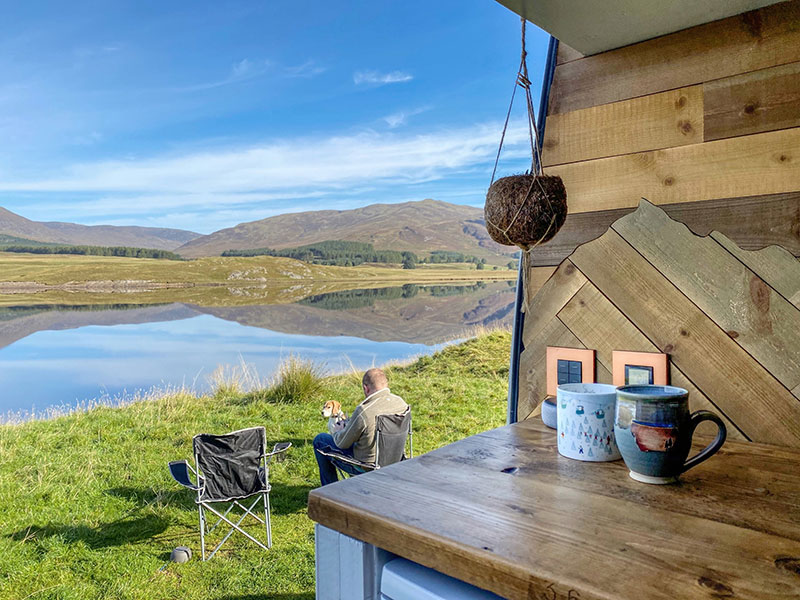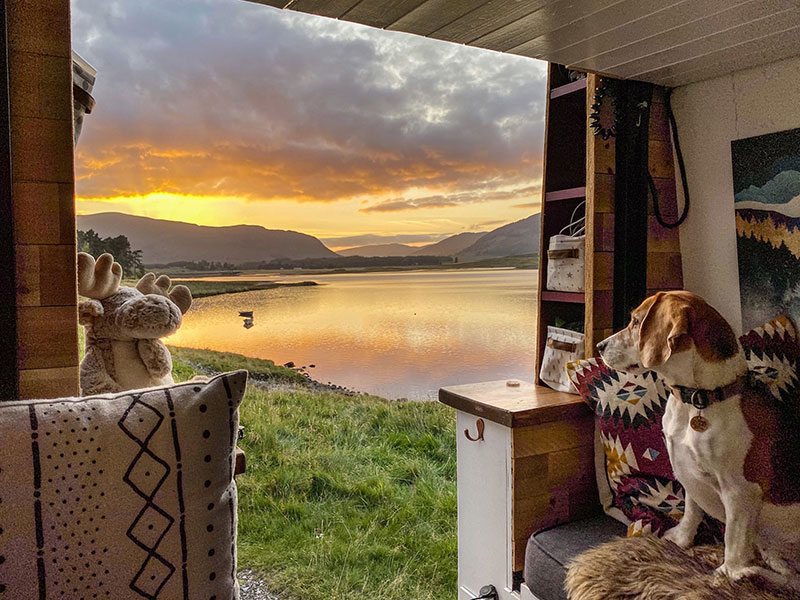 Where?
Laggan – Scottish Highlands
About
Small lay-by on the side of a loch.
Why did we love it?
A friend recommended this free campervan parking spot and we almost didn't go, but we're so glad we did! There's virtually no phone signal here which is usually a no-go for us as we work on the road. It was Saturday night though and we decided we'd earned a night off from our screens. 
We arrived just in time for the most beautiful sunset, and knew we'd made a good decision! This spot overlooks a loch, surrounded by mountains and is so incredibly peaceful. We woke up the next day to clear skies, a completely still loch and some stunning reflections. It was so perfect we actually got our lazy butts out of bed and ate breakfast outside (literally a first for us)!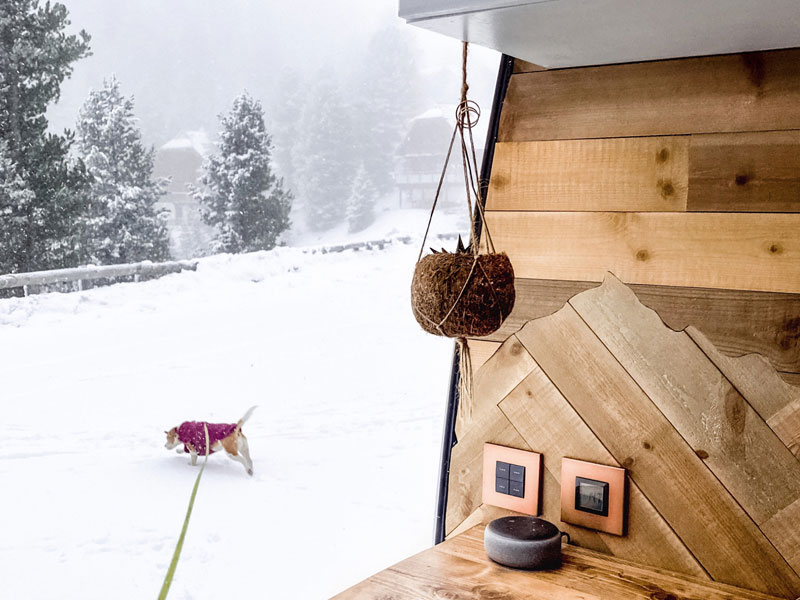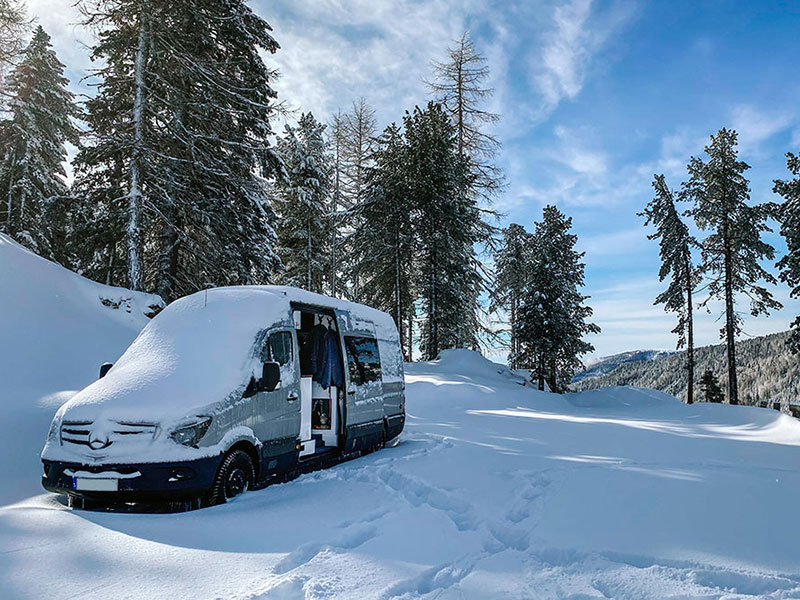 Where?
Turracherhöhe ski resort
About
Gravel car park tucked down away from the road on the edge of the Turracherhöhe resort.
Why did we love it?
I should start this one with a disclaimer! Wild camping in Austria is always risky, and I can't promise you'll always get away with it. Some of the car parks at this resort explicitly said no campers, this one didn't, yet! 
We stayed here for two nights. It's a beautiful little spot overlooked by mountains and tucked away from the road. The first night we were there it snowed heavily, and didn't stop at all the next day. Visibility was rubbish so we had a work day and waited for the weather to clear.
The next day we woke up to blue skies and around a foot and a half of fresh snow. We finally got a glimpse of the view around us and Pigs had a lot of fun diving in the snow and disappearing! 
If you're parked at a ski resort it's always a good idea to move in the morning. This allows staff to clear the snow in the car park easily without having to go around you. As soon as the snow plough arrived we headed out and parked up closer to a ski lift (we're pretty lazy that way!). We had a really good days skiing with so much fresh powder and even a free glass of bubbly each at one of the chairlifts! We'd never heard of this resort before but absolutely loved it, there's even a quirky tractor drag tow over the frozen lake to link the resort up!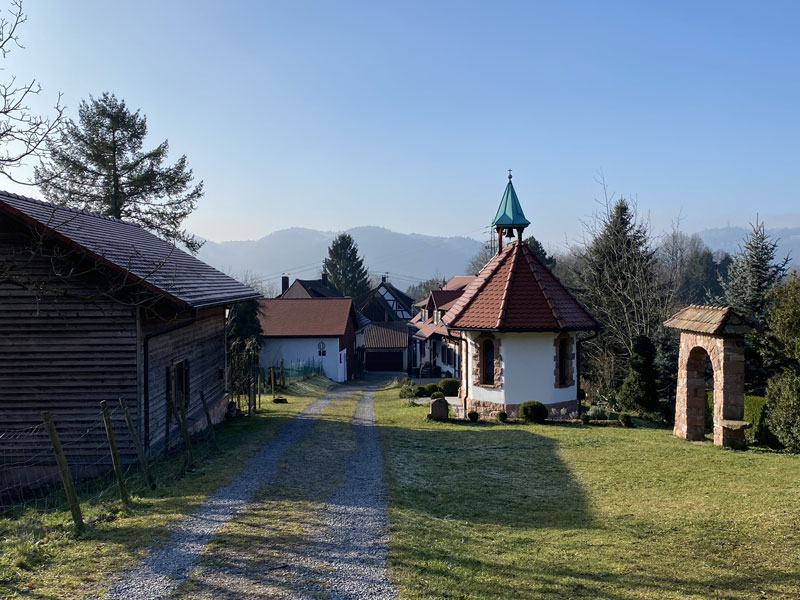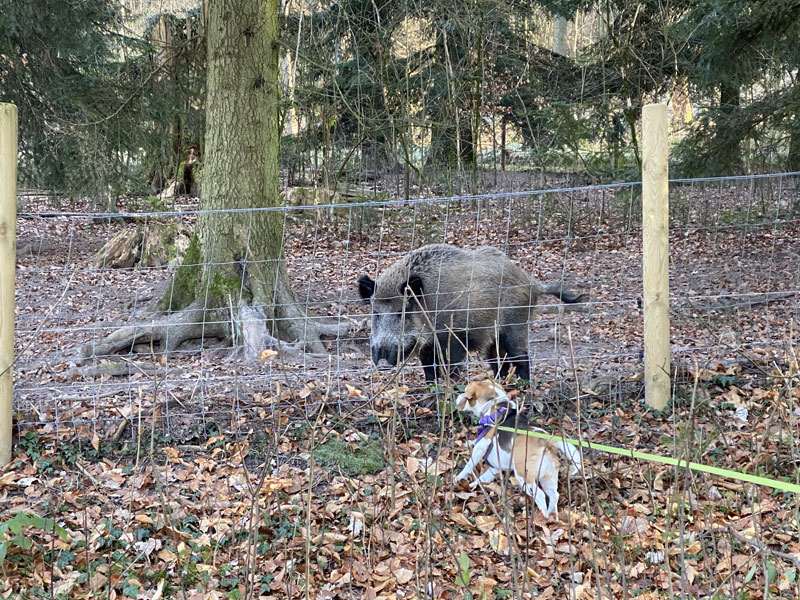 Where?
Baden-Baden – SW Germany
About
Car park near the top of a hill with lots of walks.
Why did we love it?
We love this (unofficial) free campervan parking spot! We've only stayed here twice so far but it's quickly becoming our go-to spot if we're anywhere near!
There's nothing particularly exciting about the park up itself, just a couple of gravel car parks near the top of a hill. They're flat but other than a couple of bins there's no facilities, and the trees block out the view. There's a funicular railway that runs to the top of the hill but they've been upgrading it both times we've parked here so we haven't explored that yet.
The first reason we love it here is the spa at the bottom of the hill! In winter especially this is the perfect place to head; you can't beat thermal pools surrounded by snow on a clear starry night. They also have great (cubicle) showers so perfect for a good clean up! 
The second reason we love this spot is the circular walk that starts from here and takes around an hour. The route takes you around large wildlife enclosures with deer and wild boar, and there's some beautiful views as well. Great for a dog walk to start the day. Piglet loves the wild boar, and weirdly they seem just as excited by her too!
Finally, the location of Baden-Baden is perfect if you're heading south to the mountains or further afield. It's a great stop off en route or a nice area to explore in itself.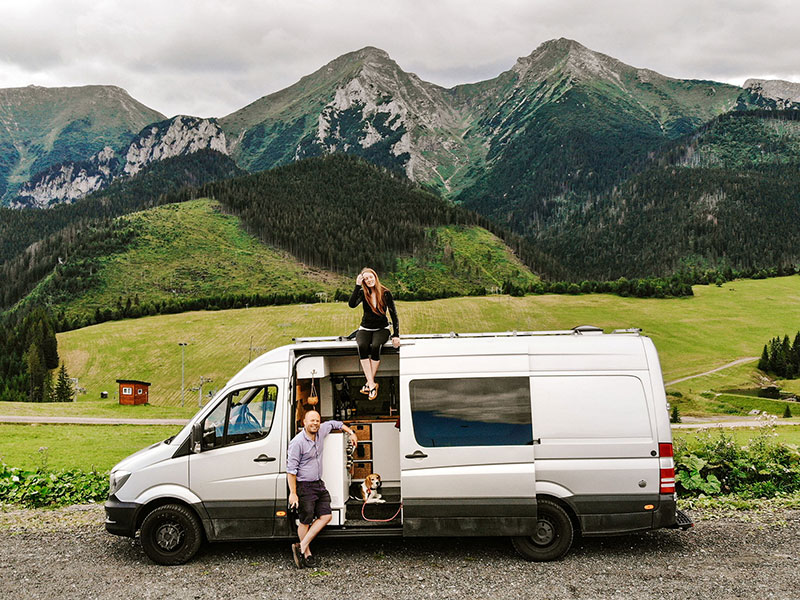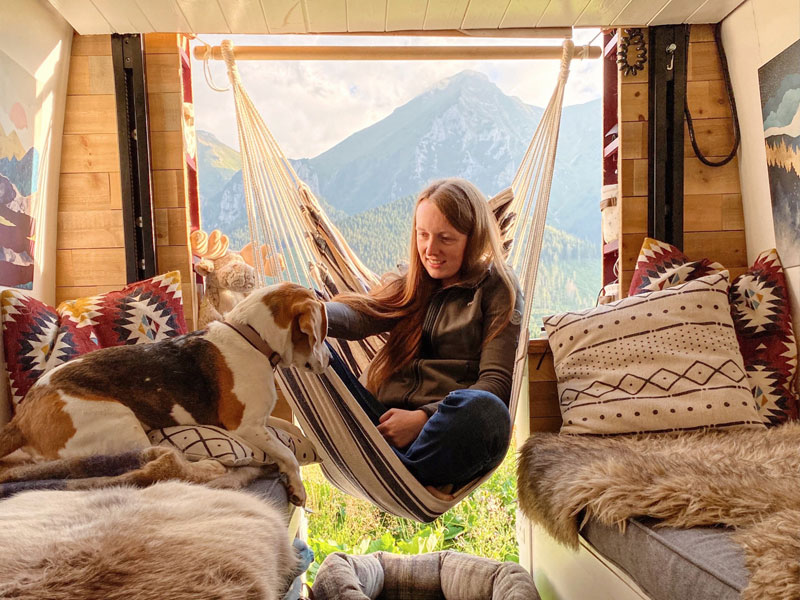 Where?
Strednica Ski Resort – Tatra Mountains
About
Large flat gravel car park for the Strednica ski resort with toilets attached to a cafe.
Why did we love it?
If you've not guessed yet we love it in the mountains! Having been in lockdown for months in the UK it felt so incredibly good to be back up high and surrounded by mountains. 
We found this spot around 3 weeks in to our summer post-lockdown road trip, having spent a couple of weeks in Germany and a week in Czechia. We'd been in some beautiful free campervan parking spots already but the Tatra are definitely proper mountains, and even though we hadn't been to Slovakia before it absolutely felt like home.
The views were 100% the selling point of this park up. Here you're surrounded by mountains with plenty of walks around and endless fresh air. It's the perfect escape from lockdowns and corona restrictions (travel was allowed at this point).
We stayed in the mountains for a week or so in various spots and I can't recommend this area enough. There's great day hikes, incredible mountain lakes and beautiful traditional Slovakian buildings. The mountains over the border in Poland are equally as beautiful too. 
Bonus (paid) parking spot – Germany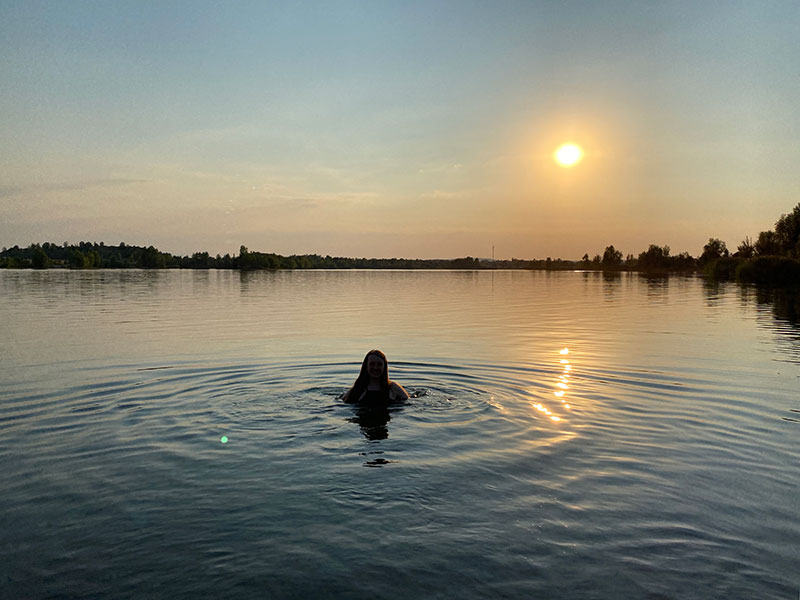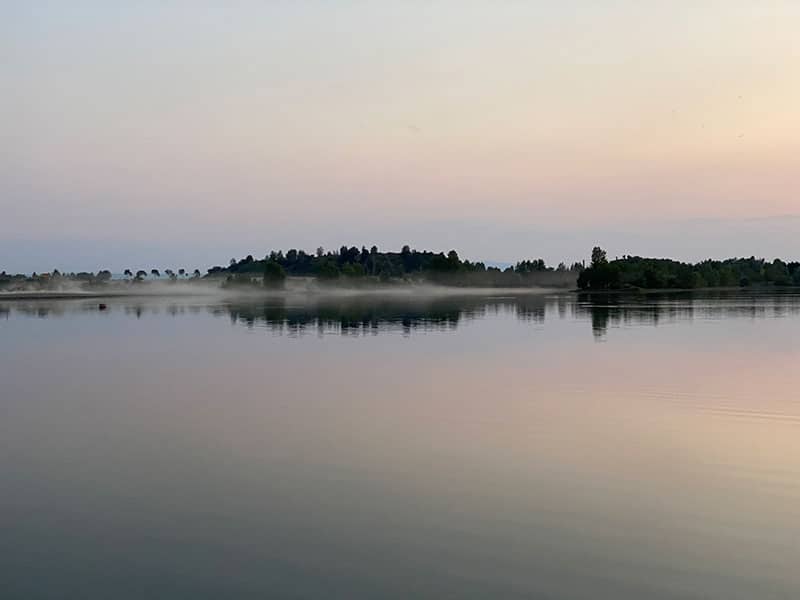 All five places above were free campervan parking spots but I thought I'd sneak in an extra bonus overnight park-up that we paid to stay at. It's rare we pay to park. We usually only do so in very touristy areas or places where wild camping isn't allowed. 
This spot at Gröninger See is next to a swimming lake and whilst there's no facilities it's worth the fee! This summer was hot. We don't cope with heat massively well as a family so when we saw this swimming lake we were straight there! The water was the perfect temperature to cool down and you can't beat a refreshing swim as the sun sets over the lake. Pure bliss after sweaty days in the van! 
See you on the road!
We hope our favourite spots of 2020 have given you some inspiration for your own travels. If you'd like to know exactly where a parking place is drop us a message and we'll send you the coordinates. If you decide to head to one of places listed above you might like to check out our Van Life Travel Guides too with essential tips for travelling in Slovakia and Germany.
Whilst 2020 has definitely had its ups and downs we're incredibly grateful for the time we were able to spend on the road. We'd have loved to have travelled for longer but with everything the world was (and still is) dealing with it just wasn't possible for us. The mountains will still be there when this is all over and we'll be straight there to explore them as soon as we can! We understand more than ever the privilege we have to be able to travel freely, and Brexit is definitely not going to be stopping us in 2021 and beyond!
If you've enjoyed this article you might like to read about our top 5 parking spots from 2019 too. There's lots of great inspiration from Norway, Sweden, Ireland, Spain and Italy packed in to it! Where was your favourite spot from 2020? Let us know in the comments below so we can visit there too!
If you've enjoyed this post and would like to support our content, we'd love a virtual coffee/tea! Alternatively the next time you purchase from Amazon (UK) or Amazon (US) if you use our links we'll receive a small commission (it won't cost you any extra) that will help to keep our content coming.