Mahabis Slippers Review: The Ideal Outdoor Camping Slippers
Mahabis Slippers Review: The Ideal Outdoor Camping Slippers
This post is sponsored by mahabis. The mahabis slippers were donated to us for this review, however, all words and opinions are our own.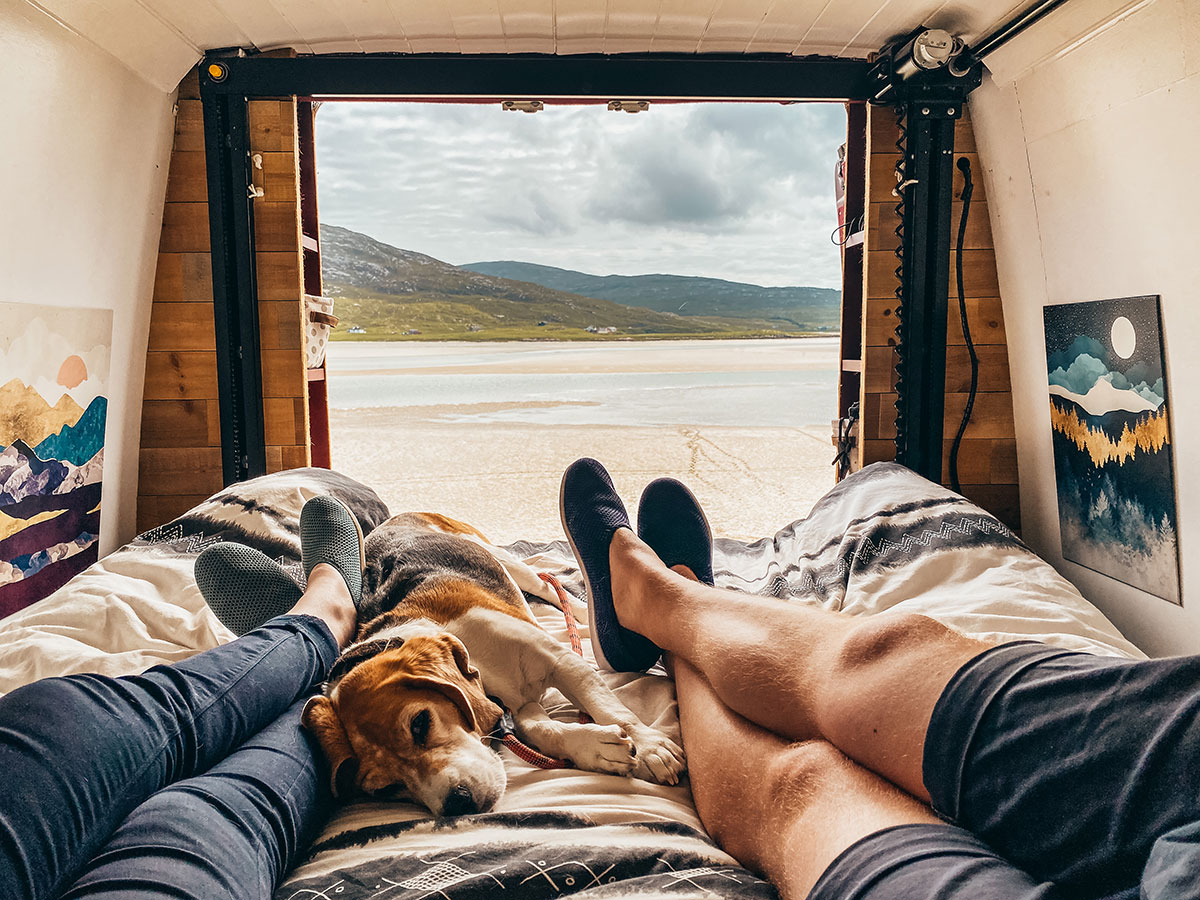 We've been searching for the perfect camping slipper for a while now (anything to get Will out of a certain shoe that will remain nameless!). As we spend a lot of time outdoors, we need something that's really durable with good grip but also super comfy, especially for wearing after a long hike or a day's skiing!
mahabis reached out to us to see if we'd like to give their slippers a try, so we headed to the Outer Hebrides to put our new camping slippers to the test. Cue beaches, moorland, rugged rocky outcrops and wet grass, as well as a few nights inside watching Netflix of course!
Why use camping slippers?
Whether you're camping, glamping, staying in a shepherd's hut or living in a van, being close to nature makes versatile footwear a must. Traditional slippers are cosy and comfortable for indoor use but nip outside to take the dog out and they're probably not going to last long (or you'll end up with wet feet!).
Camping slippers on the other hand also feature a sturdy sole to protect your feet from gravel, rocks, sand etc. This makes them perfect if you're living in close proximity to the outdoors as there's no need to change your footwear. Chill round the campfire, head to the beach, take the dog for an evening walk or relax indoors, all without swapping your slippers!
If you live in a van or frequently go camping, you'll know how crucial it is to pack light. Not only is space at a premium but there's nothing worse than constantly falling over each other's shoes when you're trying to get in/out of the van or tent! We love camping slippers as it means we don't need a second pair of shoes to use every time we need to pop outside.
mahabis camping slippers
The lovely team at mahabis sent us two pairs of slippers each to try (well, except Piglet, although there's a hilarious April Fools on their Instagram for pawhabi dog slippers!). The first pair, curve canvas features a cosy wool fleece lining with a waterproof upper. The second pair, breathe are designed for use in warmer weather and are incredibly lightweight and breathable.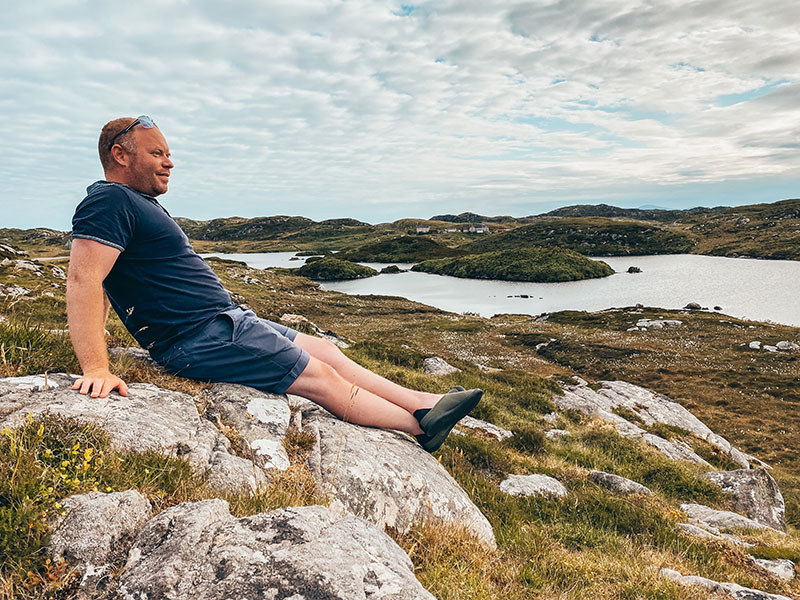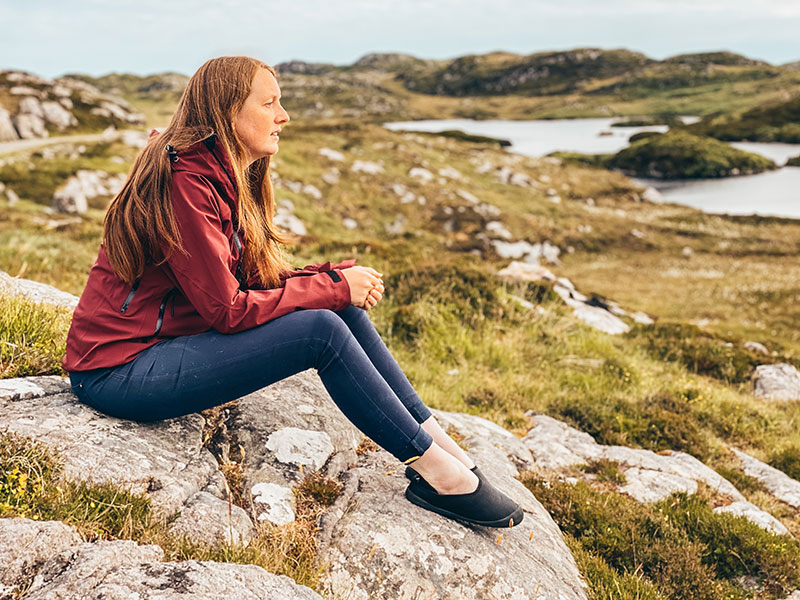 curve canvas outdoor slippers
Will's first comment when he put these slippers on was "these are more like shoes than slippers". Not only are they super cosy and comfortable but the durable rubber outsole means they're definitely not just for indoor use.
These mahabis slippers look super trendy and are more like classic trainers/sneakers than traditional slippers. They're incredibly versatile, you can top up your water without worrying about wet feet, head to the supermarket for supplies and stay cosy on chilly evenings outdoors. They're also super comfy for driving in!
Best bits:
Responsibly sourced Pura-Latex™ rubber sole not only offers shock absorption and grip but it avoids the use of plastic and is 100% recyclable
EcoCert™ organic wool lining from Italy is super cosy for your feet but also certified non-mulesed, meaning the shearing process for the wool doesn't harm the wellbeing of the sheep
Canvas upper has a waxed outer making it water repellent so perfect for quickly taking the dog out!
Upper is made from 100% cotton and these slippers are machine washable
breathe summer slippers
It's never really occurred to me to wear slippers in the summer, so I was more than a little sceptical at the prospect of these breathe summer slippers. I was also pretty sure they were the last thing we needed on a trip to the Outer Hebrides where let's face it, they're not renowned for their endless days of summer! Well, I'm pleased to confirm I was wrong on both counts!
We've been on Lewis & Harris off the west coast of Scotland for nearly three weeks now and had incredible weather. The breathe slippers pretty much haven't left my feet as they're so lightweight you forget you're wearing them! They're perfect for taking the dog out, heading to the beach and keeping feet supported without making them overheat.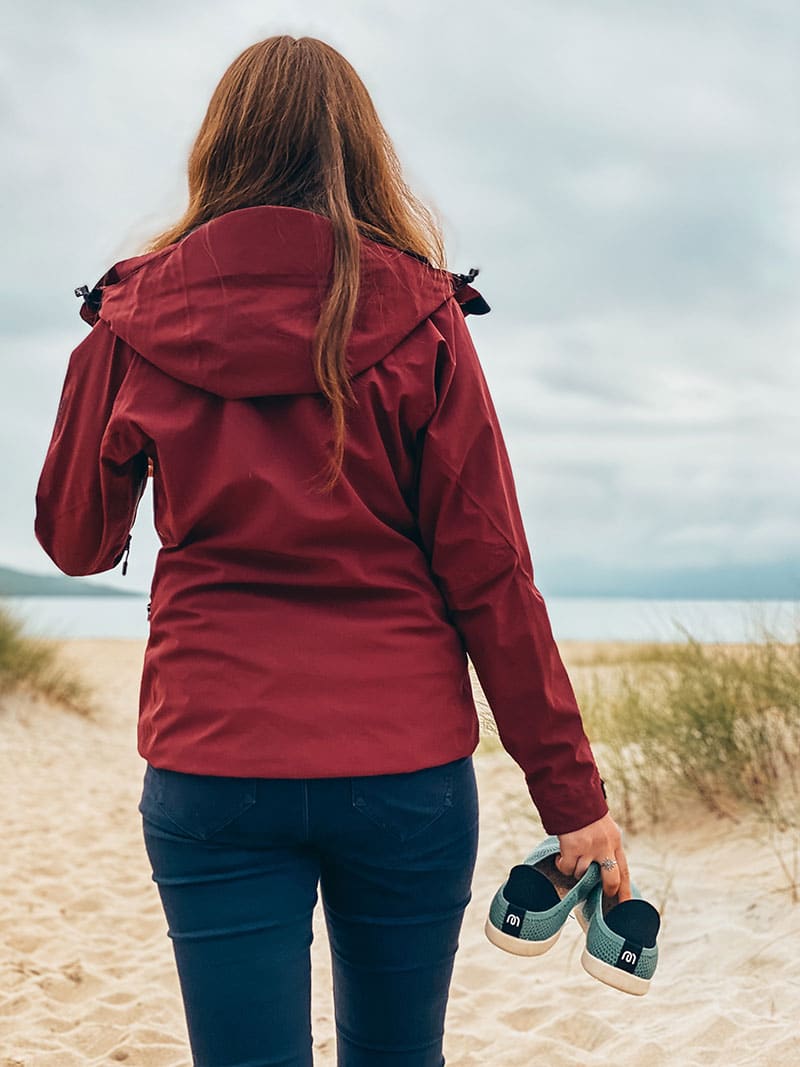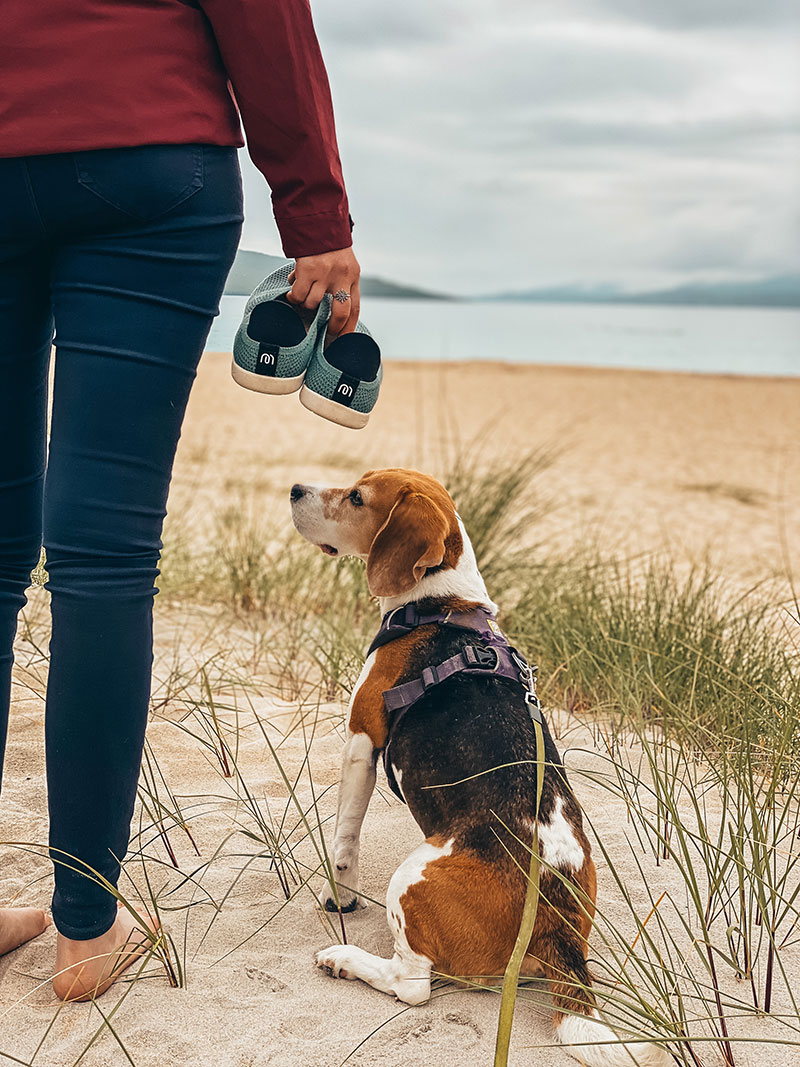 One of my major bug-bears living in the van is how dirty our floor gets in such a short space of time. With two of us and a dog constantly in and out of the van there's pretty much always sand, gravel, mud and wet patches on the floor (no matter how hard we try!). These breathe slippers mean no more standing in whatever Piglet has dragged in, whilst at the same time my feet aren't hot and uncomfortable. Definite win!
Best bits:
Mesh upper is not only incredibly breathable but also made from plant-based fibres which are 100% biodegradable and help to keep feet fresh
Natural Pura-Latex™ rubber sole features 5% cornflour to reduce environmental impact
Comfy natural cork footbed
Neoprene heel cradle keeps your slippers really secure on your feet
Lightweight and easy to pack
Fit and feel
We've been wearing our mahabis camping slippers for around three weeks now. So far, we've found them really comfortable and they didn't require any 'wearing in' at all.
Before discussing fit, we should probably tell you a little about our feet! I have quite narrow ankles and feet but go wider towards my toes. Will has a slightly wider than average foot but doesn't usually require wider fitting shoes.
We're both wearing our normal shoe size and the fit is fine. If anything, I'd say the curve canvas fit a little smaller than the breathe, probably due to the wool lining.
The footbed in both styles is really soft and comfortable, and your feet almost sink into them. The heel cradle keeps them firmly in place on your feet without being uncomfortable, so no worries about them sliding off. The only downside is you can't be really lazy and just slip them on as you need a finger to pull the neoprene back around your heel (although there is a mule version if you prefer).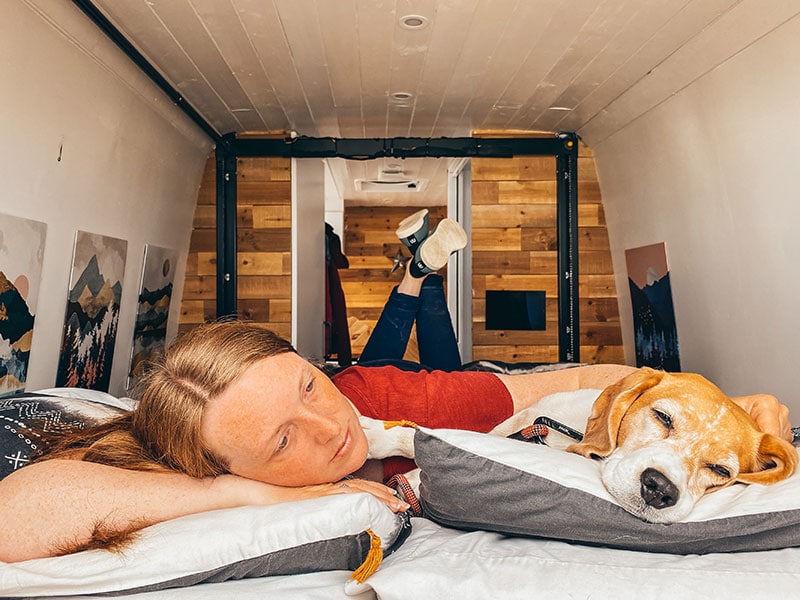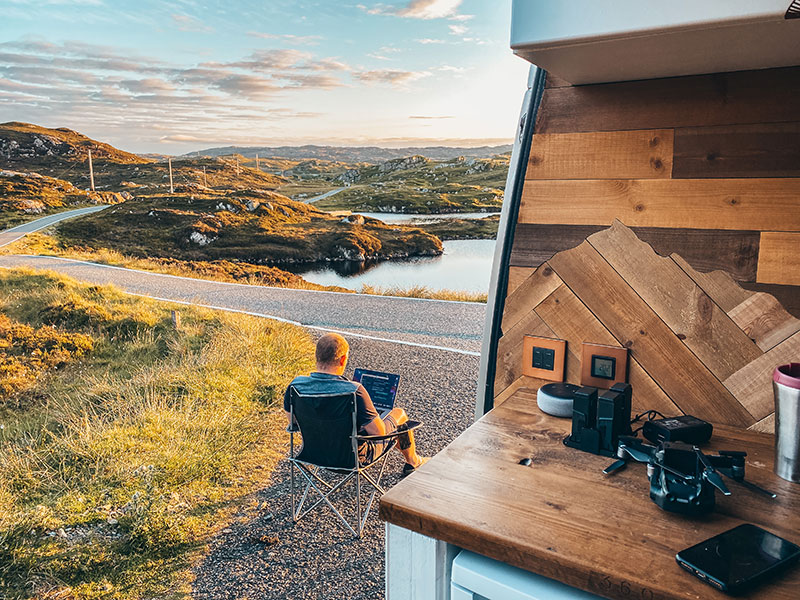 Camping slippers performance
One of the features that we think make the curve canvas perfect for camping and van life is the water resistant upper. So, naturally, we decided to put it to the test with some wet grass! The rubber toe-cap protects the fabric upper from the bulk of the wet whilst any water that reaches the fabric seems to bead on the wax coating.
I'm happy to report my feet stayed nice and dry, although if your ankles are exposed they'll definitely get wet from the long grass first! Granted, I didn't go jumping in any puddles or go outside in torrential rain, but they're slippers after all!
I absolutely love the breathe for heading to the beach. Most of the beaches on Lewis and Harris have a grass or gravel walk down to them, often with sheep or cows grazing freely. The sole protects my feet and is grippy enough to make it safely to the beach. They're then easy to pop off for walking in the golden sand and incredibly lightweight to carry.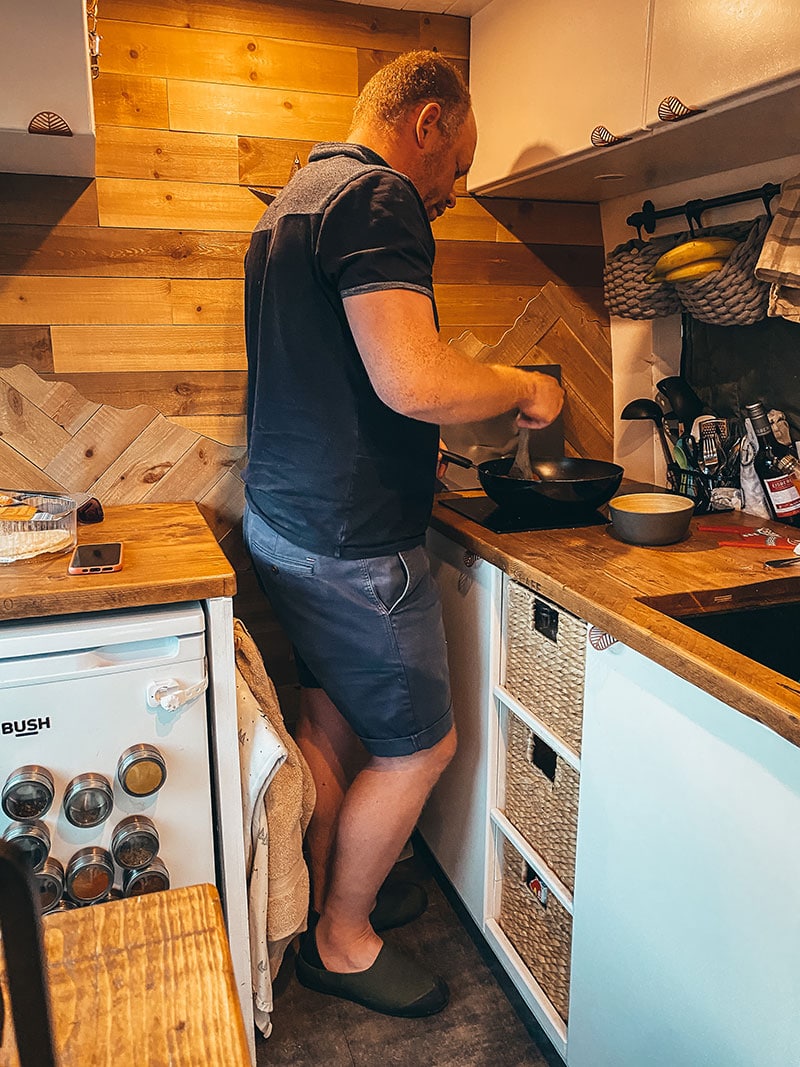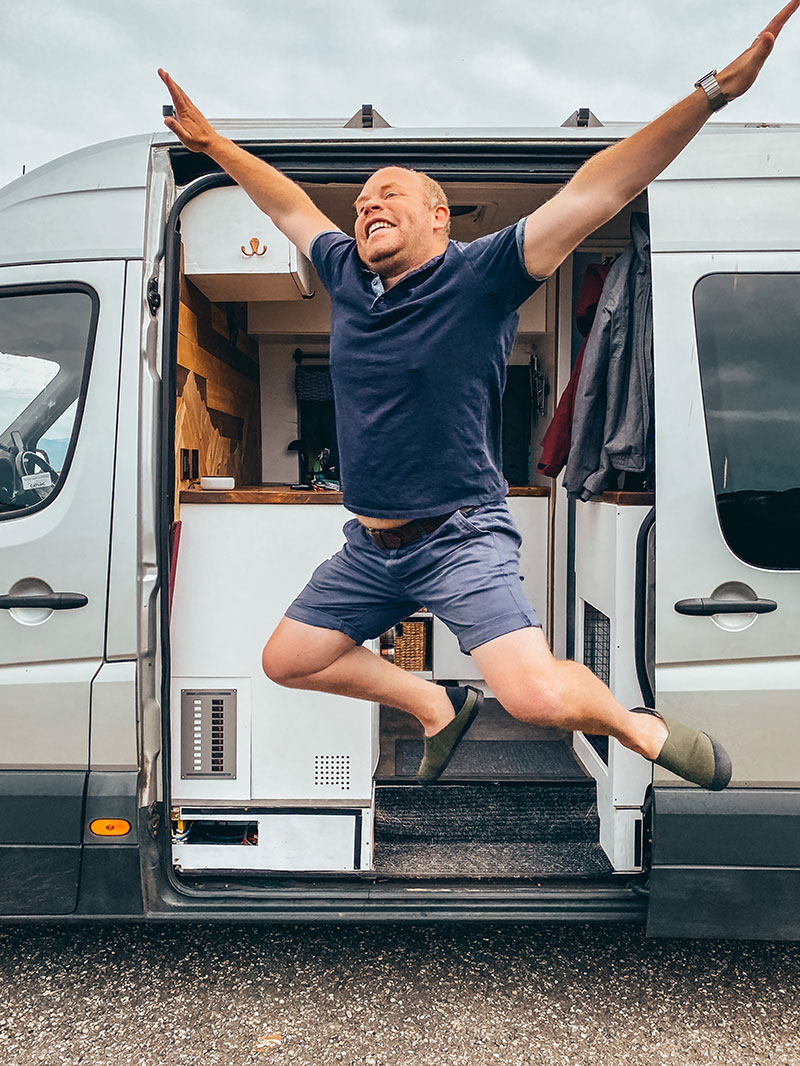 mahabis eco credentials
One of the reasons we chose to try camping slippers from mahabis is that as a company they're actively working on reducing their environmental impact. Not only are they using plant based, recyclable and biodegradable materials in their slippers but they're also offsetting their staff's carbon footprint to ensure a carbon positive workforce and now plant a tree for every pair of slippers sold.
mahabis have also recently started a slipper recycling scheme where pre-loved mahabis can be returned to be taken apart, processed and used to make anything from roads to boxing bag inners!
Where to buy mahabis slippers
We recommend buying your new favourite camping slippers from the mahabis website. That way you can see the full range of colours and sizes available, and they ship to UK, USA, Europe and Australia!

Do you have a favourite pair of camping slippers? Let us know in the comments below. If you've found this post useful and would like to support our content you can do so by purchasing via our Amazon(UK) or Amazon(US) store links, or by treating us to a virtual coffee (or tea, or dog treats…you get the idea!)!
This page contains affiliate links. We make a small commission on purchases made through these links at no extra cost to yourselves.