Visit Lewis and Harris by Campervan
Lewis and Harris are part of the Outer Hebrides archipelago located around 43 miles off the west coast of Scotland. There's an incredible 119 islands that make up the Outer Hebrides but very few of them are inhabited now. Often referred to as separate islands, Lewis and Harris are actually located on one landmass, making them the perfect place to visit by campervan.
We spent nearly a month exploring Lewis and Harris and would 100% recommend adding it to your future travels list. The epic coastline feels more like the Norwegian fjords than the UK and there's plenty of opportunity for wildlife spotting.
We've gathered together all the information you need to visit Lewis and Harris by camper, including, how to get there, facilities on the island, wild camping potential and must-see places to visit.
How to get to Lewis and Harris
Lewis and Harris are connected by land to each other and there is a main road (A859) that runs from Stornoway (the capital of Lewis) to Leverburgh in the very south of Harris.  There are two ways to get to the island; by air or by sea.
Stornoway Airport has regular flights to Inverness, Glasgow and Edinburgh. If you don't have your own campervan it's possible to fly over to Lewis and hire a camper on the island. Otherwise, if you're travelling in your own van you'll need to catch a ferry.
Catching the ferry to Lewis and Harris
There are two main ferry routes that take you across to Lewis and Harris; one from Ullapool on the mainland that arrives at Stornoway (Lewis) and one from Uig on the Isle Skye (connected to the mainland via a bridge) that arrives in Tarbert (Harris). There is also a ferry from Berneray on North Uist if you're already in the Outer Hebrides that arrives in to Leverburgh (Harris) in the south.
Campervans are permitted on all three routes and dogs are allowed on the ferry deck in designated dog areas. We travelled into Stornoway and out of Tarbert. Both routes are really scenic as there's lots of small islands along the route. If you're lucky you might also see dolphins during the journey (we did on the route to Uig) and occasionally whales are around too.
The ferry from Ullapool to Stornoway has an open vehicle deck on the front and back so if you're lucky enough to be parked in these areas you can charge your leisure batteries via solar on the journey.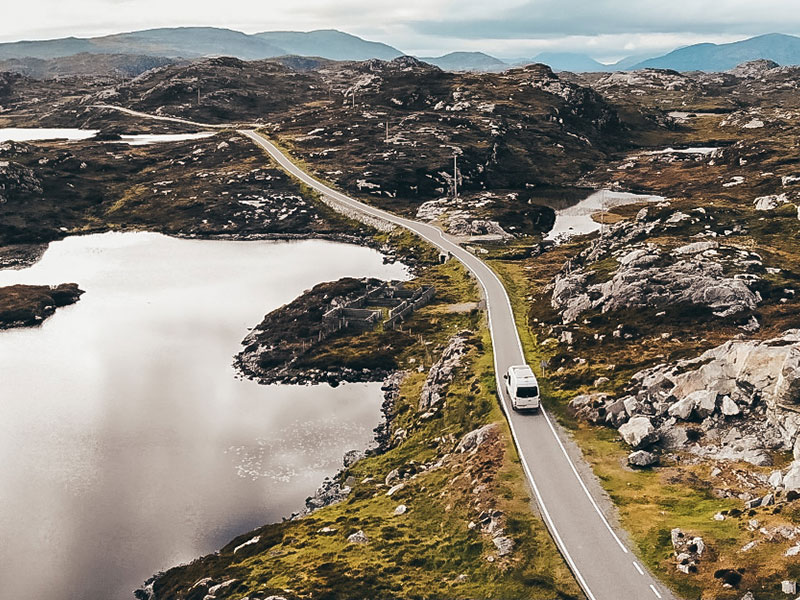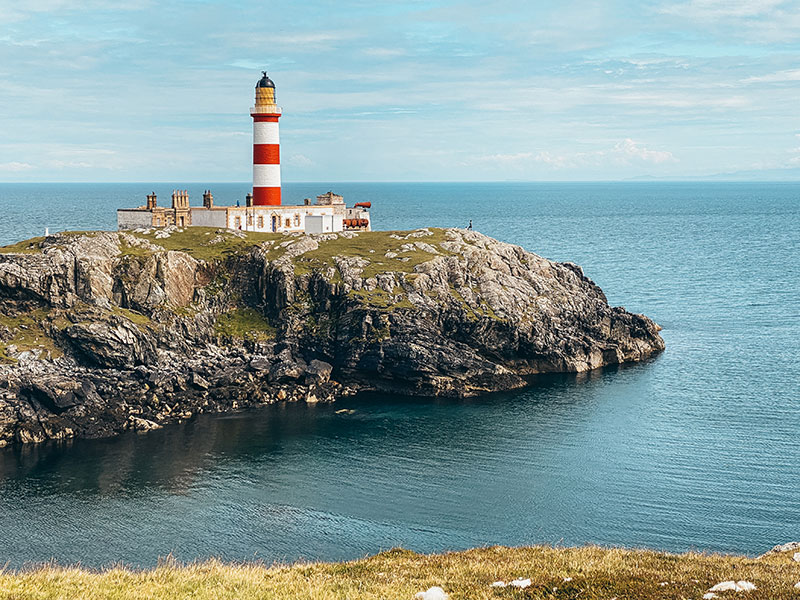 When is the best time to visit Lewis and Harris?
We visited Lewis and Harris mid-June to mid-July and were really lucky to have great weather almost every day. There were, however, a lot of campervans around already and it gets busier still into August. It's not an exaggeration to say probably 40% of the vehicles were campervans.
We found plenty of quiet places, many of which we had all to ourselves, despite how busy it was. There were also lots of smaller beaches where we were completely alone. Whilst it was relatively busy it was a great time of year to go as the weather was incredible and the midges weren't bad. It's also light until nearly midnight so there's lots of daylight for long days of exploring.
If you're visiting end of July or August expect beach park ups that allow overnight parking to be busy. The best way to find quieter places is to drive around and look for unknown spots that aren't on Park4Night!
The famous Scottish midges start to appear at the end of May and are usually at their worst end of July and into August. We didn't find them bad at all, especially if you're near the coast as the wind keeps them away (anything over 7mph wind they can't fly). They're also not a fan of bright sunshine so if you get good weather it's a double win. Overcast, still days are when they'll really come out to play! We recommend Smidge to keep them away or even a face net if you're in a very bad midge area.
We'd love to visit Lewis and Harris in the winter as well as it would definitely be quieter and a very different feel. We're told the island gets snow, particularly on the higher ground on Harris, but it also gets dark very early.
Can I wild camp on Lewis and Harris?
Wild camping in a tent is legal in Scotland, however this does not extend to vehicles. Technically, therefore, wild camping in a campervan is not legal in Scotland, including the Outer Hebrides. It's generally tolerated for a night but it's definitely starting to cause friction in popular areas such as the NC500.
We found there were plenty of places it was possible to park overnight on Lewis and Harris, as well as quite a few specially designated "wild camping permitted" places. There's also plenty of campsites, many of which you don't need to book that are great for spending the night when you need to top up on water or dispose of waste.
There are a few areas where campervans have congregated and caused friction on the Isle of Harris in recent years. A good example is around Luskentyre. The West Harris Trust have created a number of areas where wild camping (in a vehicle or a tent) is permitted and ask for a small donation by text for using them.
This is a great initiative. There's no facilities but they're in beautiful areas and it ensures campervans are parked safely and aren't blocking the roads. They're well used though so if you arrive late at night they may all be full.
Things to think about when choosing an overnight parking spot on Lewis or Harris:
Just because a spot is on Park4Night doesn't mean it's a sensible place to park!
Be mindful of locals and don't park near their houses or block access to crofts
If you arrive at a potential parking place and there's already other campervans there go elsewhere, unless it's a designated spot. Five campervans crowding into a tiny layby is a guaranteed way to frustrate local residents!
Don't drive or park on the machair (coastal grasslands); these areas are easily damaged so stick to areas with gravel or hard standing.
Obey "No Overnight Parking" signs. Seriously, we know it's tempting to just ignore it and spend the night at the beach but it will lead to strict measures for everyone. Many beach car parks on Lewis/Harris are near graveyards. There have been multiple cases recently where funeral mourners could not park due to the amount of campervans.
If a car park permits overnight parking but asks for donations please donate, even if you can't afford much. Many of these areas are owned by local crofting groups and the money goes into the upkeep of the road surface and facilities.
Again, if you're in a car park that permits overnight parking ensure there is room for other visitors. If the car park is full of campers and there's no room for locals or day visitors to park it's time to leave.
I hope this one goes without saying but don't litter or empty your water tank. If there's litter there already pick it up and put it in the next bin you find.
The above list is absolutely not intended to tell you what you can and can't do when you visit Lewis and Harris. We did, however, spot some pretty questionable parking by people in campers whilst on the island. If we all ensure we keep these things in mind and park responsibly we'll continue to be welcome on the island for years to come.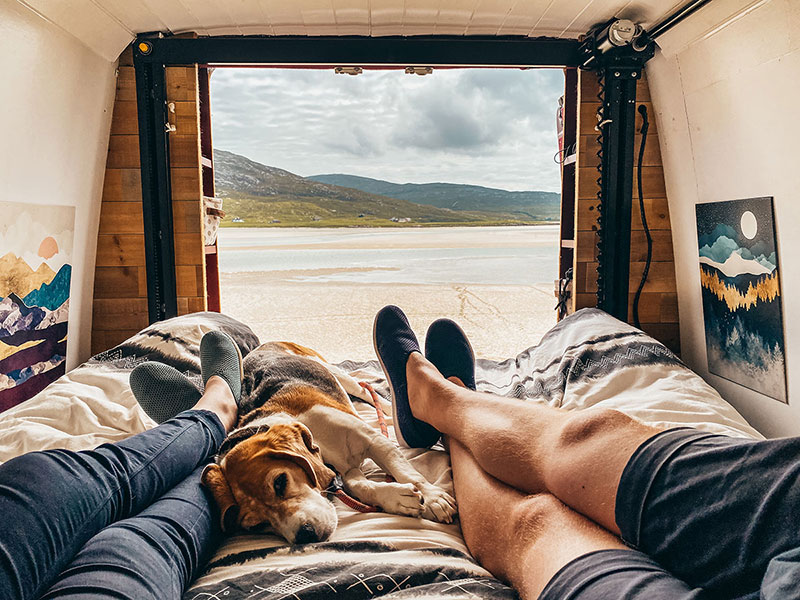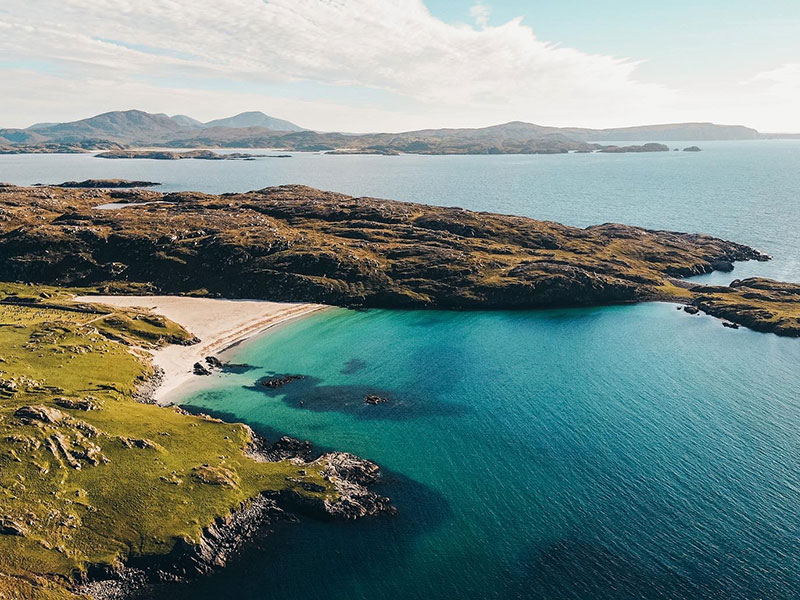 What are the campervan facilities like?
Visit Outer Hebrides have a fantastic map on their website that covers all the facilities available on the island. It includes campsites, permitted parking spots, laundry, waste disposal etc.
We found drinking water was quite easy to find as many of the beaches have public toilets and outdoor taps. We don't need chemical toilet disposal so I can't advise how easy this is to do but there seems to be quite a few places listed on the map. Grey water disposal wasn't the easiest. There was a leisure centre up near Ness that offered grey water disposal but otherwise we relied on campsites.
There are a few laundrettes on the island (mostly up on Lewis), however, we found them very busy and in the end we gave up and hand washed instead. The community store at Uig Sands will do your laundry for you if you drop it off the day before.
The main supermarkets, including Tesco and Co-op are located in Stornoway so this is the best place to stock up. There are smaller food stores located around the island, often attached to petrol stations so it's easy to grab fresh items when you need them. There's also lots of Post Offices too if you have items to send out.
We were surprised how many petrol stations there were, and despite being on an island the diesel was cheaper than back home in Northumberland! Just remember all shops and almost all petrol stations close on Sunday.
Finally, getting rid of rubbish is really easy. There are bins in most lay-bys and recycling points all over the island. If a bin is full just head to the next one as the wind can easily blow exposed rubbish around.
Driving on the island
As well as thinking about the facilities available for campervans when you visit Lewis and Harris you also need to be prepared for driving your van on their roads. There are a few main roads that go north to south and east to west on the island but otherwise the roads are single track. There are lots of passing bays and they're clearly marked. Also, as there's very few trees/hedges you can usually see the next passing place easily.
The passing bays are plenty big enough for campervans; as long as you use them properly you shouldn't have an issue. You may need to reverse if the nearest passing bay is behind you and also never cross the road to pull into a bay. Instead, stop on the left and allow the oncoming vehicle to pull into the bay around you.
Vehicles going uphill have priority so if you're going downhill you need to be prepared to stop. Passing bays should also be used to allow faster moving traffic to pass you. Remember that local residents not only know the roads but they're probably trying to get places a little faster too!
Finally, keep your eyes peeled! Not only could there be livestock on the roads but you might spot wildlife too. We saw numerous stags whilst driving as well as a sea eagle right next to the road.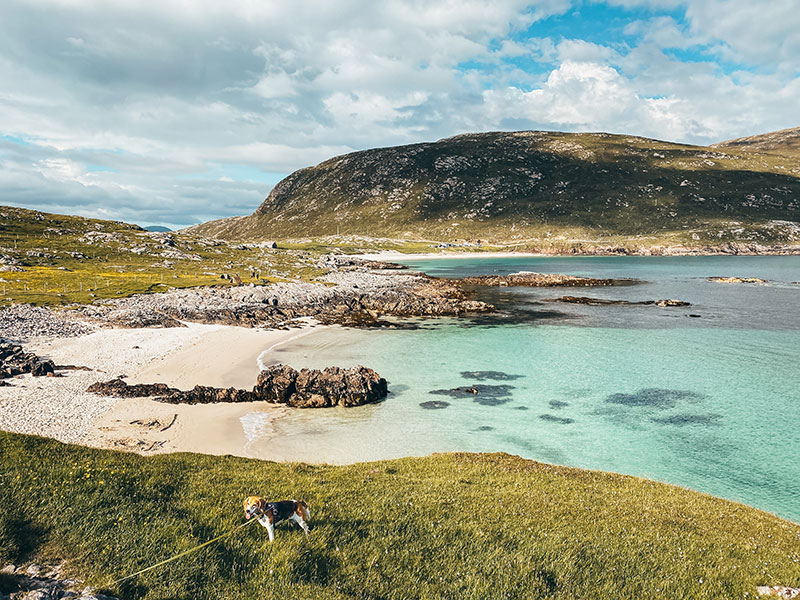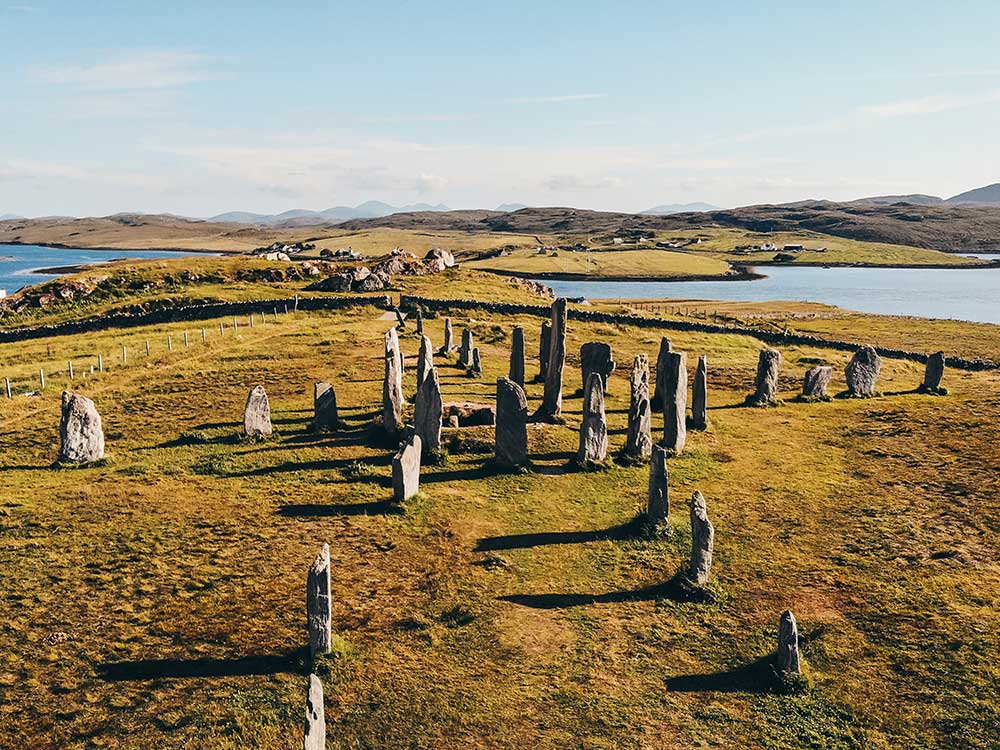 Things to do on Lewis and Harris
The majority of things to do on Lewis and Harris revolve around enjoying the beauty of the island, coastline and the many lochs. The beaches are beautiful with golden sands and turquoise waters. Uig Sands, Huisinis and Luskentyre are definitely worth a visit but there's plenty more to enjoy as well.
If you like being on the water there's lots of opportunity for kayaking or paddleboarding. We love our Bluefin SUP as it folds up and fits beneath our bench so we always have it when we fancy a paddle! You can also take a boat trip to explore the coast and look for dolphins and whales.
A couple of the beaches, particularly Dalmore and Garry beach are popular with surfers. If you've not honed your surf skills yet you can book a lesson with Surf Lewis like we did. We were totally useless but had a great time trying!
One of the best things to do if you visit Lewis and Harris is simply explore. We drove pretty much every road on the island and part of the fun is just driving around and seeing what you can find. There's plenty of opportunities for walks, swimming and even horse riding on the beach.
Make sure you head to Callanish Stones, an impressive stone circle complex that's older than Stonehenge. There's also The Blackhouse at Arnol although it was unfortunately closed due to Covid when we were there. Lews Castle grounds are also a lovely place for a wonder around.
Callanish Stones standing circle
The incredible Callanish Stones are over 5000 years old, which makes them older than Stonehenge! The main stone circle is laid out in a cross shape. It features a 4.8m central stone surrounded by a circle of 13 megaliths and lines of stones to the north, south, east and west.
Read our Complete Guide to the Callanish Stones for all the information you need to visit the stones on the Isle of Lewis.
We absolutely fell in love with Lewis and Harris on our visit. In fact, we liked it so much we nearly bought a house whilst we were there! Lewis and Harris have a very different feel but we really enjoyed the time we spent on both parts of the island. The incredible beaches, beautiful lochs and rugged, deserted hills were exactly what we needed after months in lockdown due to Covid! I'm pretty sure this place is good for the soul no matter when you visit though.
This page contains affiliate links. We make a small commission on purchases made through these links at no extra cost to yourselves.