Happijac Bed Lift: Fast Facts!
We get a lot of questions about our Happijac Bed Lift, and we wanted to share the answers with you. Let me start by saying we love our bed lift! The Happijac was a perfect solution for us and we're so glad we persevered and installed one. They're made in America so if you're based over there they are much easier to get hold of! If you're in the UK like us, or in mainland Europe it's a little harder and certainly more expensive. We're proof it's possible though!
We've compiled answers below to the most frequently asked questions about our bed lift. These are fast facts to help with your research. If you're considering a Happijac yourself or just want to know a little bit more about them then read on! You can also read about why we chose a Happijac here. Feel free to drop any more questions you have in the comments and we'll add the answers into this page.
Please note we're not affiliated with or sponsored by Happijac in any way, this is just the option that worked best for us. All the information is gathered from our experience and research during our van build.
View this post on Instagram
Did you design the bed lift yourself?

No, we're not that skilled sadly! The bed lift mechanism was purchased from a company called Happijac. We assembled and installed it in to our van and built the bed platform that the mattress sits on.
What is a Happijac Bed Lift?

A Happijac Bed Lift is essentially four rails and a motor that allows your bed to move up and down. It means we can stow our bed in the ceiling of our van during the day. This gives us two distinct areas enabling us to have a separate bedroom and a full size living area. When we want to go to bed we simply lower it into place and it's all made and ready to jump in to.
How does it work?

There are four upright rails, one for each corner of the bed. A motor sits on the top of one of these uprights which drives a chain to move the bed platform up and down. The uprights are connected in pairs (so essentially upside-down U shapes) and then a timing shaft connects the pairs to keep the chain on the two sets of uprights turning at the same time. This ensures the bed goes up and down level. The Happijac comes with a small switch for operation but we also connected it to our smart system so we could control the bed from our phones/van touchscreen too.
How much height do you have under your bed?

We have 151cm under our bed when it's up. It's possible to get the bed higher depending on the shape of your van and the depth of your mattress. Bear in mind the motor sits inside the frame (unless you have extra width to mount it to the side). This takes up space that could otherwise have been used to get the mattress higher.
Our van is a high roof LWB Sprinter. In the rest of the van we have 188cm height.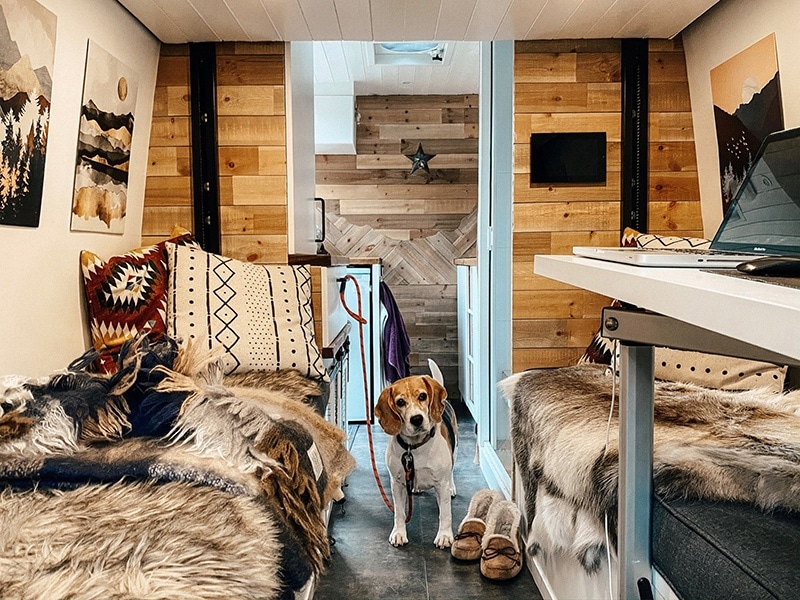 How thick is your mattress?

Our mattress is 16cm deep. This is the thinnest mattress we could find without getting one custom made (it's just from Ikea).
How low down can it go?

As low as you want. It has cut off switches so you just set this to where you want it to stop. We lower our table in the middle of our benches and it sits on this, we could lower it so it rests on our benches instead but we decided not to remove the table each night.
How big is the bed platform?

We have a standard UK double mattress. The bed platform is 196cm x 150cm.
What is your bed platform made from?

The Happijac does not include a bed platform, you need to construct this yourself. We used an aluminium frame with supports through the middle and then mounted plywood on top. We then used a hole saw at regular intervals to provide ventilation beneath the mattress. On the underside of the aluminium we used the same tongue and groove as on the main ceiling.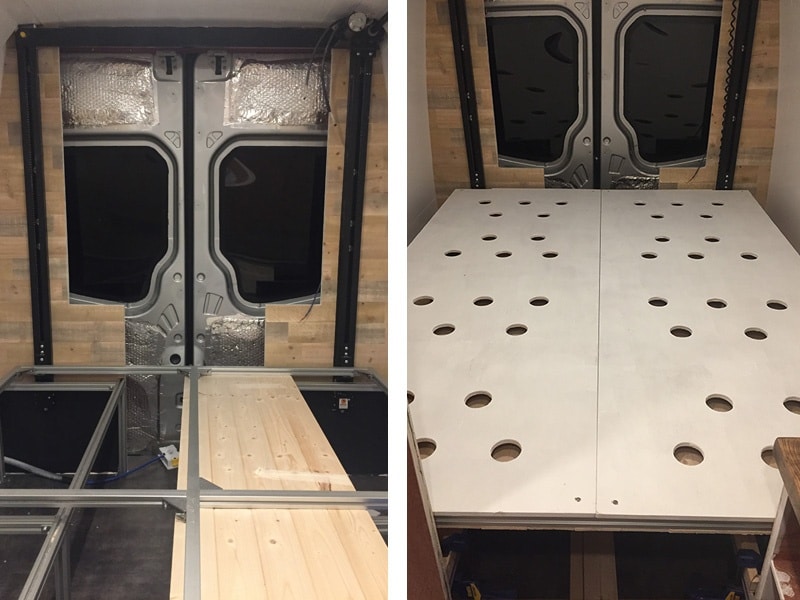 How much did the Happijac bed lift cost?

The bed lift cost us $1099, so around £800 at the time we purchased it.
Total shipping cost from Utah (overland) to UK port (by sea) was $499, so around £380 at the time. We then paid £494 for customs fees, import tax and UK delivery from port to our house.
Where did you buy it from?

When we purchased our Happijac Bed Lift there were no UK or European stockists. We approached Lippert Components (the manufacturers) directly and they agreed to deal with us through Will's company.
How did you ship it to the UK?

The cost of shipping to the UK is almost as much as the cost of the Happijac itself. It's not a cheap option so you need to weigh up what works best for you. We approached the manufacturers of the bed lift through Will's company as they already have shipping connections already for USA. Happijac are based in Utah so there is both overland transport and shipping to be arranged. There are also port fees and customs to sort.
You can fit 10 Happijac bed lifts on one pallet, so shipping individually isn't cost effective. If we had the money we would have imported 10 and sold them on but sadly weren't in that position. Essentially, if you can get a few people together that also want a bed lift you can reduce the shipping costs considerably by splitting the cost as only the weight of the shipment would increase.
Shipping dimensions of one bed lift – Length 56″ x Width 48″ x Height 70″ (Weight 216lbs)
How heavy is the bed lift mechanism?

The shipping weight was 216lbs (97kg). We didn't weigh it before installation so I'm not sure what it was without the weight of the wooden pallet and packaging.
What are the downsides?

They're a bit of a pain to install. It takes quite a bit of time to make sure everything is level and perfectly aligned, especially given you're in a van and can't use a spirit level. So long as you take your time you'll get there in the end though!
Depending on the shape of your van there'll be limitations on where you can position the Happijac for maximum height. Ours had to come further down the van than we'd hoped which meant less space for our bathroom and kitchen. It did allow us to have our cute little book shelves at the back though!
The reduced head height under the bed was our main concern, and to be honest I still hit my head if i'm not thinking! Most of time you're sat down though so you don't really notice it, and there's plenty of head height above you when you're sat.
Can you stop it at any height?

Yes, it stops as soon as you release the switch.
Could you sleep people below the main bed as well?

Yes! You can stop the main bed at any point you want. It's therefore possible to sleep people on the benches below the bed too. If you're doing this regularly you'll need to find a way of getting onto the bed when it's higher up. There isn't a huge amount of space though. I guess each level would have around 60cm of space (maybe a little more) so not a great option if you're claustrophobic but certainly possible!
If you did another van would you put a Happijac Bed Lift in again?

I think so! Unless we decided on a radically different design I think we'd use it again. We're really happy with our bed lift and it makes a great use of space. If we don't include a Happijac in another van it won't be because we we're unhappy with it. It'll be due to finding an alternative way of doing things. If we could get a fixed bed across the van (instead of lengthways) and still sleep comfortably (we're both tall!) I'd be tempted to do that. I'd also look into the possibility of a murphy bed but I wouldn't rule out a bed lift.
Got another question about our Happijac Bed Lift? Drop them below or send us message. If you've found this post useful and would like to support our content you can do so by clicking our Amazon UK or Amazon US links before your next purchase from Amazon (we'll earn a small commission but it won't cost you any more), or by treating us to a virtual coffee (full disclosure it'll most likely be spent on dog treats!)!