Best Gifts for Outdoor Lovers and Vanlifers
Best Gifts for Outdoor Lovers and Vanlifers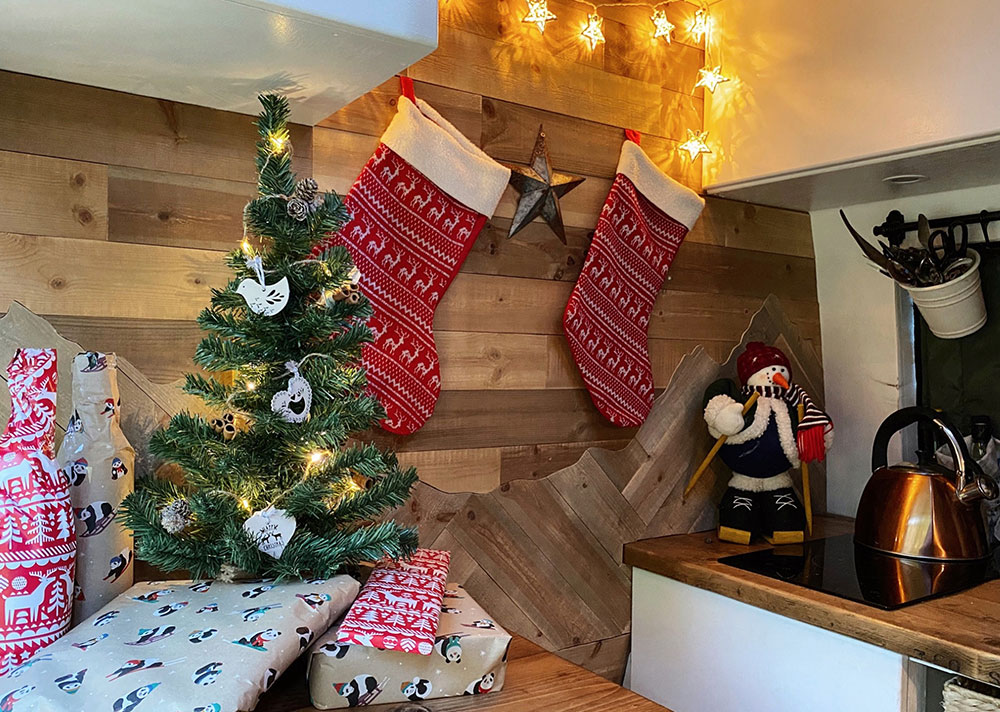 Looking for the perfect gift for outdoor lovers or vanlifers this Christmas? Look no further! We've pulled together a list of some of our favourite products, some of which we already use and others that we'd love to try. Whether you're shopping for an adrenaline junky, a weekend adventurer or even a travelling dog, we've got you covered!
We've also included some beautiful gift ideas created or designed by vanlifers, helping you to support small businesses whilst getting an amazing unique gift for a loved one.
Browse our gift guide to pick the perfect gifts for outdoor lovers and camping enthusiasts, and make this year's gift shopping easier than ever! Scroll for the full list of ideas or jump straight to the category you're interested in.
Best Gifts for Outdoor Lovers
Looking for the perfect gift for outdoor lovers? These days the gadgets and gear options are pretty much never ending, so we've rounded up a few of our favourites. We hope it helps!
Renogy E.Tunes Solar Bluetooth Speaker
Take your music with you wherever you are with this solar powered speaker. This highly portable speaker offers 10 hours of playtime, is compact, lightweight and splash proof. What's more, you can even charge your phone from it via the inbuilt lithium battery.
Solo Stove Ranger Fire Pit
Whether you're on the beach, up a mountain or in your back yard, this fire pit will keep you warm and cosy! Solo Stoves feature a Signature 360° Airflow Design™ that's incredibly efficient, thereby producing less smoke and burning everything to ash. Super portable, lightweight and perfect for gathering your friends around.
Salomon Max Socks
Whether you're hiking, skiing, boarding or cosying up in a sleeping bag, warm feet are an essential. These lightweight merino wool socks are warm, quick drying and stay perfectly in place. Above all, they'll keep feet happy all day (or night!) long.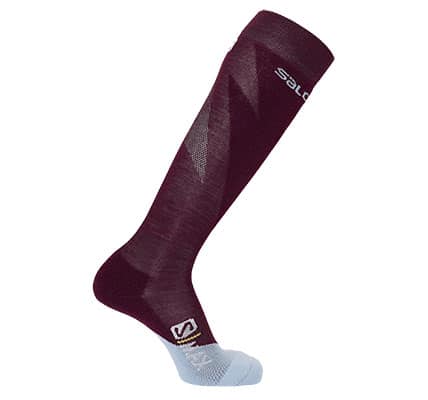 Check the Price: Salomon
Unigear Hammock
High on our list of perfect gifts for outdoor lovers is this lightweight, portable hammock that's made from highly durable parachute fabric. Tree straps are included, therefore allowing you to set up your hammock with ease so you can relax and watch the world go by! Perfect for camping, hiking and travel.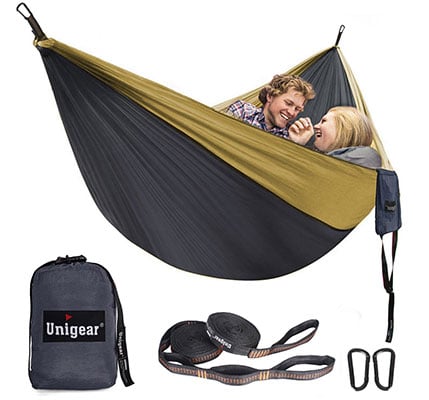 We think these gifts are perfect for vanlifers and campervan enthusiasts. If you're looking for additional practical ideas for people just starting out in their van then check out our van life essentials list too.
Wolf and Grizzly Campfire Trio
We're hoping to get one of these for Christmas as they look genius! Consisting of a Fire Safe and grill that fold up incredibly small as well as being lightweight. Perfect when space is at a premium but you want a safe and easy way to cook outdoors. Can't wait to give this a try!
Omnia Muffin Ring
If you don't know what an Omnia Oven is yet you're missing out! These brilliant ovens can be used on the stove top so you can bake, roast and casserole anywhere! This muffin ring fits inside the Omnia Oven making it perfect for baking treats this winter. It's definitely on our Christmas list!
Jackery Explorer 240 Portable Power Station
This Lithium power station is a really easy and convenient way to charge your devices whilst in your van or camping. It can be used to charge your laptop, camera, phone and even a small cool box. It's also really easy to re-charge either by plugging in to mains, using the 12v car charger or attaching to a solar panel.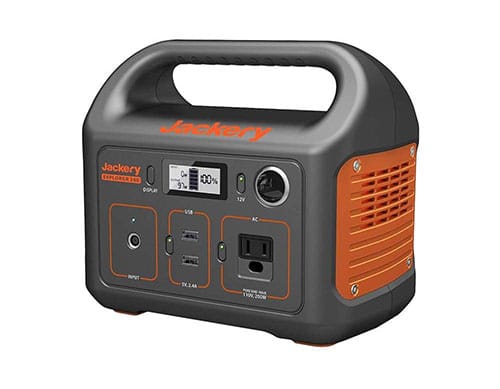 LifeStraw Water Bottle
When you're living on the road finding clean drinking water can be a challenge. These LifeStraw water bottles let you fill up from any water source making them great for camping and hiking as well as van life. Water is filtered as you drink it to remove bacteria, parasites, micro plastics and chemicals.

Check the Price: Amazon
Vanlife Diaries
This book is stuffed full of pictures and stories from nomads across the world. If you have friends or family members that are vanlifers or aspire to converting a van they'll love this book for inspiration.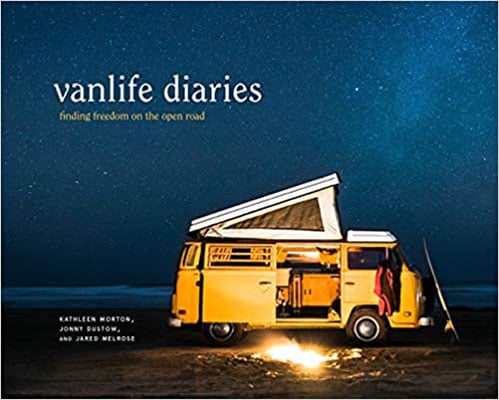 Check the Price: Amazon
We haven't just trawled the web for the best gift ideas for outdoor lovers, we've also found some great options for snow lovers too! The skiers and snowboarders in your life are bound to love these ideas as much as we do!
Unigear 50L Ski Boot Travel Backpack
Large backpack designed to carry everything you need for skiing or snowboarding. Offers space for boots, goggles, helmet, spare clothing as well as pockets for valuables and snacks. You can also strap your skis or board on too whilst the durable and waterproof fabric will keep your gear safe.

Salomon Ivy Beanie
This cable knit beanie with faux fur pompom is the perfect choice for keeping cosy whilst playing in the snow! Whether you're having a serious snowball fight, enjoying a winter walk or having a hot chocolate around the fire pit we think this beanie is the perfect choice!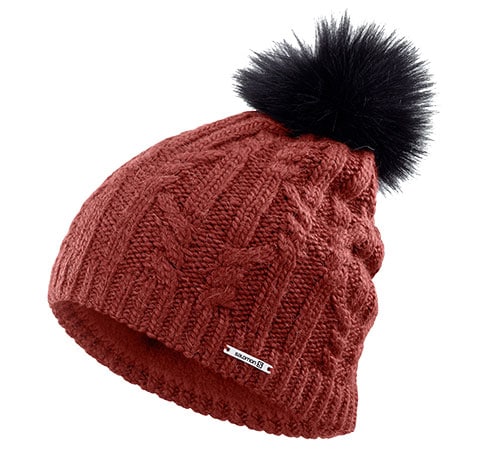 Salomon Lo Fi Sigma Goggles
These innovative goggles feature SIGMA™ lens technology for improved colour contrast in grey and low light conditions. They also adjust to fit your face for improved comfort and offer a wider field of vision so you can see as much of the terrain as possible.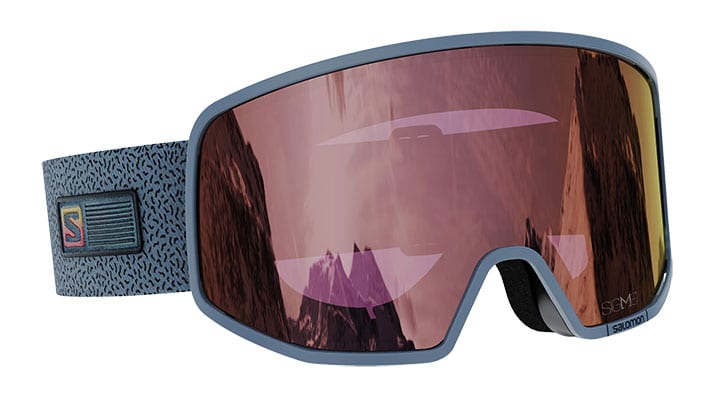 Check the Price: Salomon
Polar Thermal Buff
Buff's multi-functional head and neckwear is the perfect choice for winter. This thermal buff has a fleece section to really keep out the chill and is therefore ideal for snowy adventures.

Check the Price: Amazon
Portable Boot Dryers
There's nothing worse than wet and cold ski boots in the morning! These portable boot dryers are a great option if you don't have access to a drying room. They're therefore perfect for winter van life as they don't use any power and you can stick them by your heater or on the radiator in a cafe to recharge them.

Check the Price: Amazon
We couldn't possibly compile a list of the best gift ideas for outdoor loves without including some ideas for the dogs that accompany you on their adventures. These are some of Piglet's favourites, and let's be honest, she always has more gifts under the tree than we do!
Ruffwear Fernie Dog Sweater
Piglet absolutely hates wearing dog coats, she refuses to move and frankly looks horrified! She really loves this jumper though and it's the perfect thickness to give her extra warmth in the snow without overheating or being too bulky. It's really great quality too, and don't worry if you're not a fan of pink, there are other colours!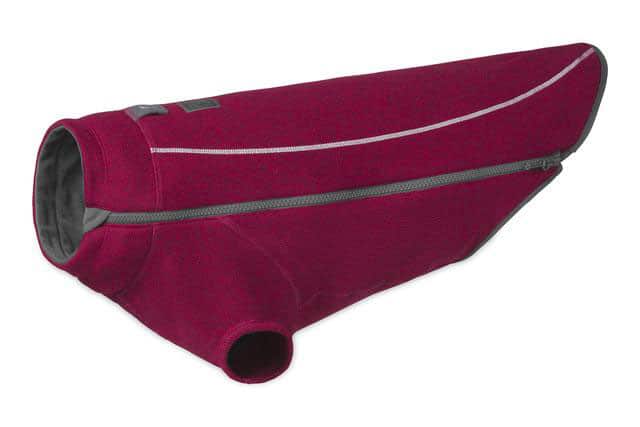 Milk Yak Dog Chews
Himlalyan Yak Dog Chews are a totally natural dog chew that are great for entertaining your dog. Apparently they last some dogs days but Piglet usually gets through one in a couple of hours, although this is actually pretty good going as nothing else lasts her this long!
Check the Price: Amazon
Ruffwear Roamer Bungee Dog Lead
This is another of our favourite Ruffwear products we couldn't live without. This lead has a stretch bungee section to allow your dog some freedom to wonder with an adjustable handle you can hold in your hand or secure around your waist to keep your hands free. It's therefore perfect for hiking as well as securing around things whilst camping.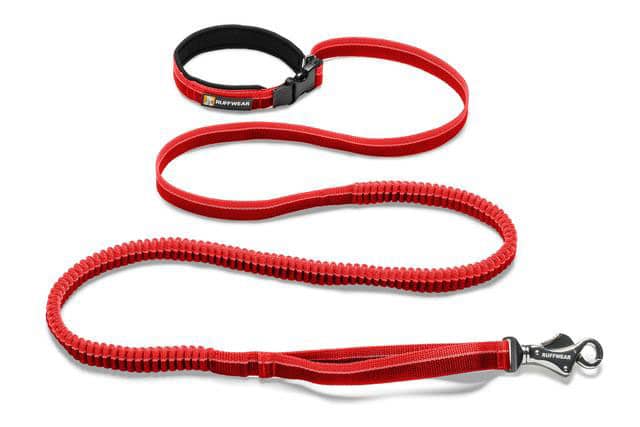 Petface Memory Foam Crate Mat
We love this crate mat. Not only is it perfect for using in our van but it's also soft for sleeping on and the microfibre cover helps to clean the mud from Piglet's coat and paws. Trust me, keeping the van mud free is a constant battle!

Check the Price: Amazon
Gifts Created by Vanlifers
The van life community is full of incredibly talented and creative people. We could have listed hundreds of ideas within this category but we had to rein ourselves in! The best thing about buying one of these gifts? You'll be supporting a small business and getting a truly unique gift.
VandogWanderer Art Prints
Sarah and James have a beautiful selection of art prints available, showcasing different parts of the Peak District National Park. They also do a range of van life stickers that would make perfect stocking fillers!

Check the Price: Etsy
ThisCabinVan Woven Bookmarks and Carved Spoons
ThisCabinVan have an Etsy store full of beautiful woven coasters and bookmarks, as well as hard carved wooden spoons. They make everything whilst travelling in their camper and use scavenged materials where possible. Every item is unique.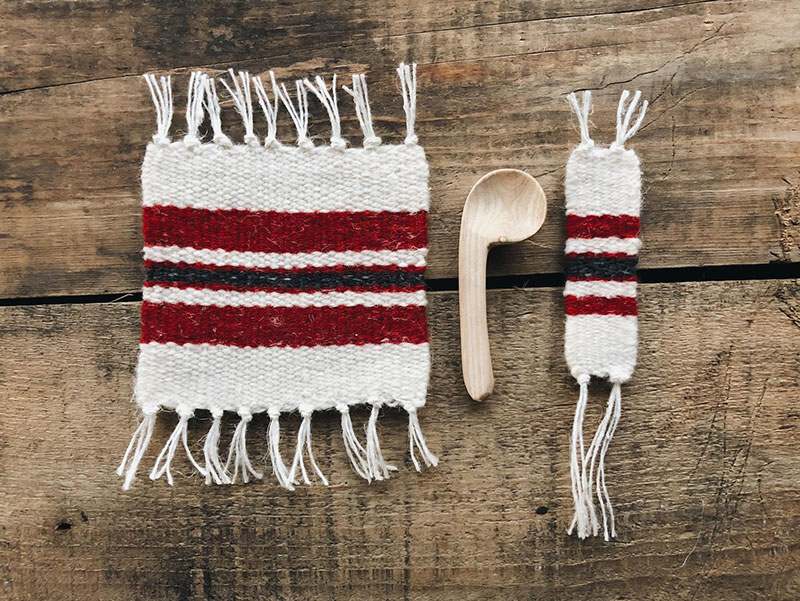 Check the Price: Etsy
BreakAwayToday Stickers
Tanja is an incredible artist who has used her talents to create a huge selection of stickers based on her van life inspired illustrations. These stickers are the perfect gift for vanlifers and camping enthusiasts. The only problem you'll have is trying to pick which of the many great designs to go for!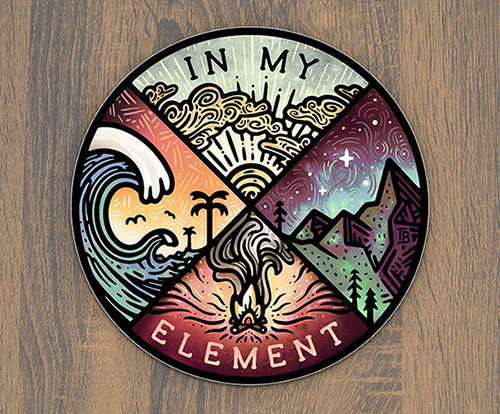 Home is Where Your Park It Magnet
We absolutely love this magnet, but granted we're a little biased as we designed it ourselves! Made from sustainably sourced plywood with engraving at multiple depths and in the shape of a Mercedes Sprinter van. It's therefore perfect for camper vans, RVs and vanlifers.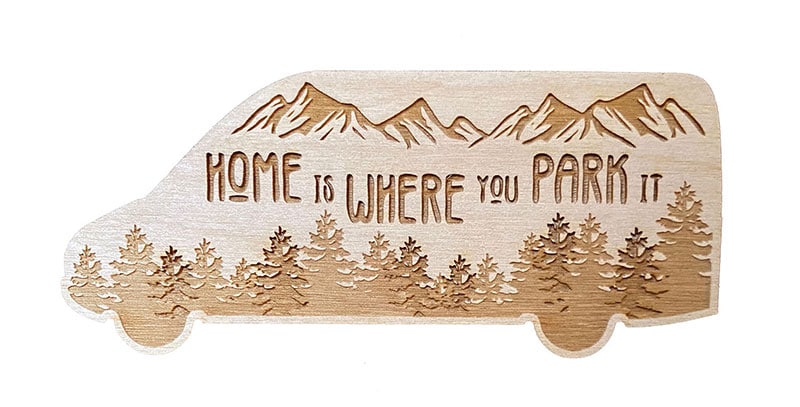 Indie Projects Travel the Nordics eBook
This beautiful eBook from Bee and Theo is packed full of information including the best places to go and how to get there without breaking the bank! Filled with stunning imagery from their travels in Scandinavia, if you're not currently planning a trip to the Nordics you will be soon!
Some of the best gifts for outdoor lovers and vanlifers are under £10 in cost! These items are great as stocking fillers or gifts for friends, and what's more, many of them are good for our planet too.
Copper Fairy Lights
Battery powered copper fairy lights not only look warm and cosy but they're a great low power option for vanlifers and campers. What's more, they're really easy use and don't require any complicated electrics… perfect!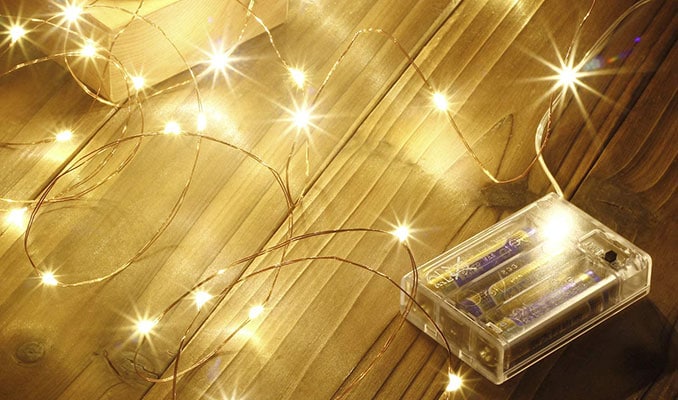 Check the Price: Amazon
Bamboo Dish Scrub
Life on the road requires functional, durable items. If they can be eco-friendly too that's even better! This sustainable bamboo dish scrub has a replaceable brush head and can easily loop over a tap for easy storage.

Check the Price: Wearth
Monopoly Deal
I mean who doesn't love a game of Monopoly?! Ok, how about one you can play in 15 minutes? Sounding better! This game is perfect whether you're at home, gathered around a campfire or after some evening entertainment in your van.

Check the Price: Amazon
Travel Mug
I mean you can never have enough mugs right? Well, we think so anyway! Travel mugs are perfect gifts for outdoor lovers and vanlifers alike. For example, you can drive, walk the dog and or set off on an hike, all without missing out on a brew!

Check the Price: Amazon
We hope you've found this round up of the best gift ideas for outdoor lovers useful. Less time hunting for gifts means more time outdoors, which is always a good thing! We hope you and your loved ones have a safe and enjoyable Christmas.
This page contains affiliate links. We make a small commission on purchases made through these links at no extra cost to yourselves.