LifeSaver Jerrycan Review
LifeSaver Jerrycan Review
The lifesaver jerrycan was donated to us for this review; the words and opinions are our own.
The Lifesaver Jerrycan is a water carrier and filter in one. It's perfect for life on the road as it allows you to take water from anywhere and make it safe to drink. It stores 18.5lt of water which is filtered as and when you need it, perfect for drinking, cooking and washing.
Functionality
The Lifesaver Jerrycan uses ultrafiltration technology to filter out bacteria, viruses, cysts and parasites from contaminated water. It gets rid of an impressive 99.9999% of bacteria and 99.99% of viruses without using any chemicals or requiring any electricity. 
This 18.5lt jerrycan features a hand pump, ultrafiltration cartridge, tap and optional carbon filter (to remove unpleasant tastes). The system is designed to work under pressure and filters the water as it leaves the jerrycan. When you need some water simply use the hand pump to build up some pressure. This forces the water through the filter, out of the tap and provides you with safe drinking water. 
The Lifesaver Jerrycan we're reviewing can filter up to 10,000 litres of water. The filter has an automatic indicator that lets you know when the filter needs replacing so there's no need to worry about contaminated water after you've been using it a while. A 20,000 litre version is also available, as well as a shower attachment.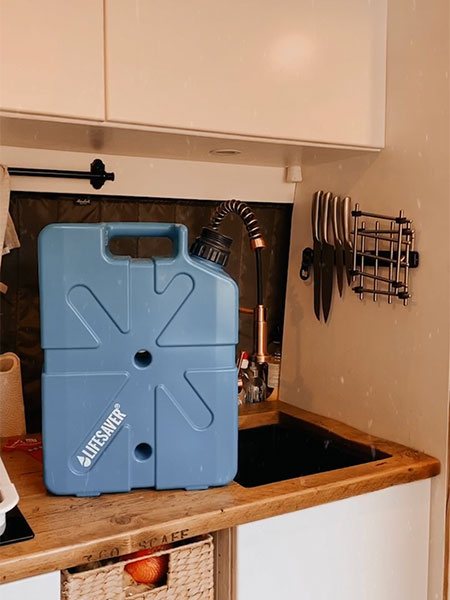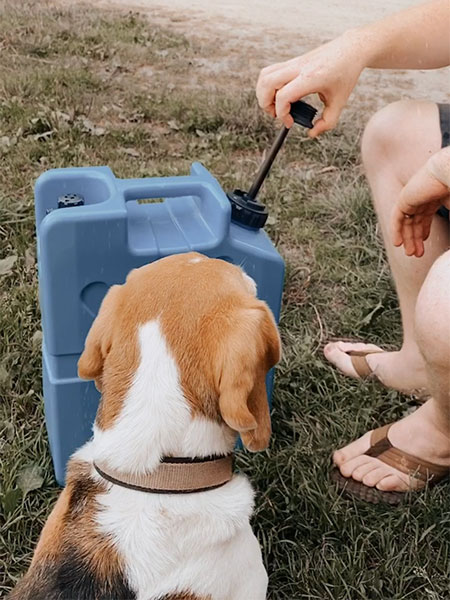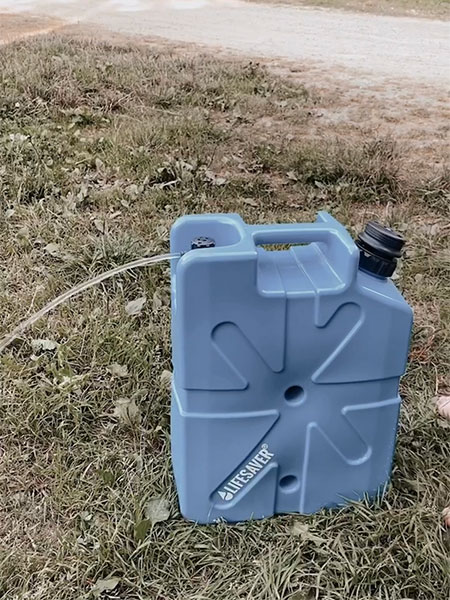 Usage
This water container is perfect for camping, van life and living off grid. You can fill it up with water from taps, lakes and streams, use rain water or even a muddy puddle (we haven't tried that yet)! You can store the water as long as you like, safe in the knowledge it will be filtered just prior to use. 
We think this jerrycan would be perfect if you're overlanding in off-road vehicles or pick up trucks where there's no room for a fixed kitchen. It's also ideal if you want to make you camper van plumbing easy, hassle free and freeze-proof in winter.
Why use a water filter?
We have a fully plumbed in kitchen in our Sprinter van conversion with a 100 litre fresh water tank situated internally under one of our benches. When we were planning our van build we concluded we'd mostly be filling up at designated drinking water taps and therefore didn't install any kind of filter in our plumbing system.
Once we hit the road we soon realised this was maybe a little naive! Drinking water (from a tap you can attach a hose to) is not always easy to find, particularly in winter. Even in countries well set up for camper vans the drinking water tap is often very close to the toilet emptying facilities and you can't be sure how clean the hose pipe used by the person before you was. Whilst the water may be fine there is every chance of contamination from the tap itself or indeed from bacteria that has built up internally within our tank and pipes.
Over the past couple of years there's been quite a few times we've had to resort to buying bottled water. Usually this is because we can't find a tap, the taps are frozen, the water is heavily chlorinated or the locals advise us not to drink it! The Lifesaver Jerrycan would have saved us in all these situations. It would have also significantly helped reduce our plastic waste from buying bottled water.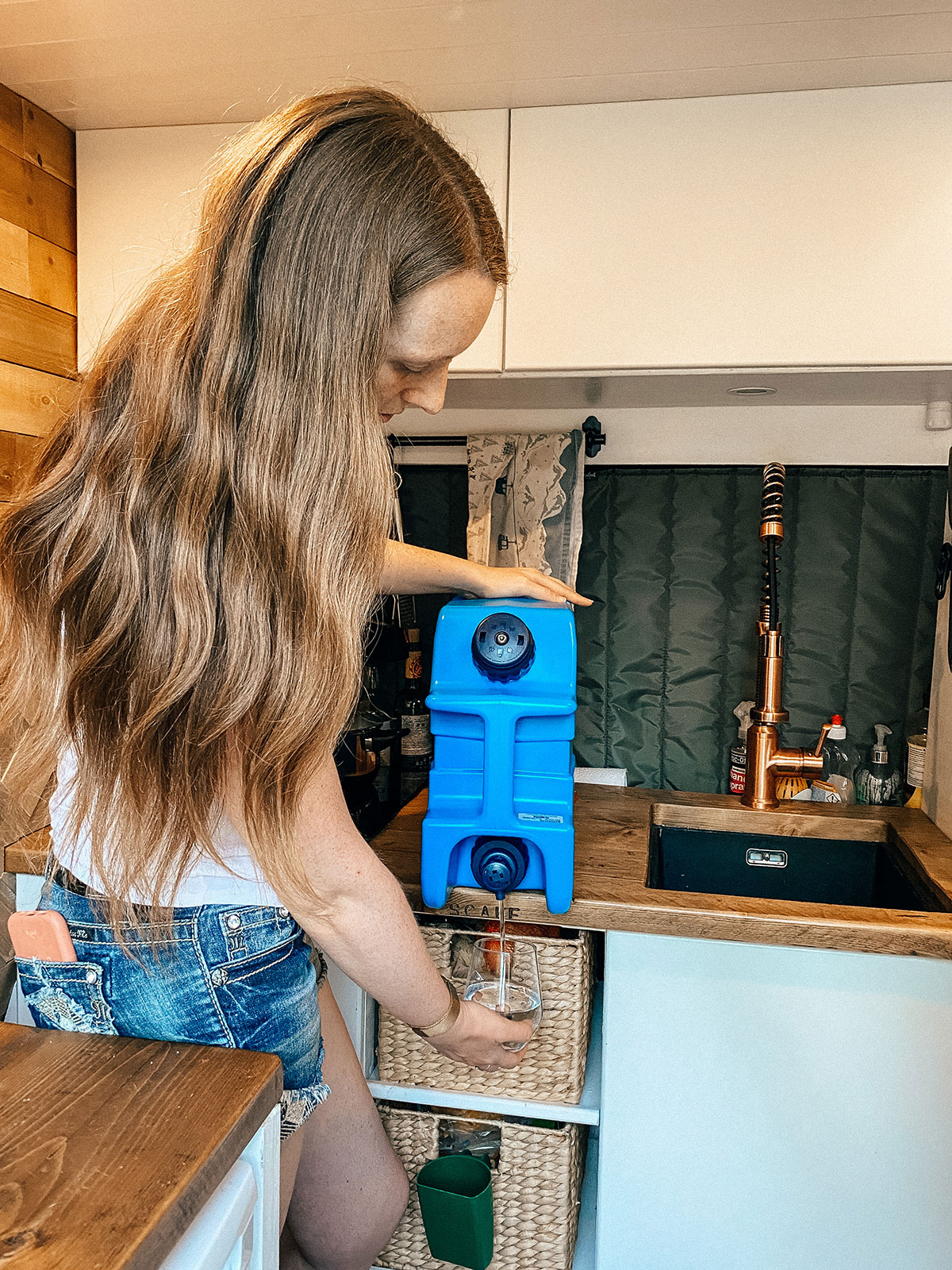 Lifesaver Jerrycan Review
Due to Covid-19 travel restrictions we haven't been travelling as much as we'd hoped over the last few months. So far we've used the jerrycan for a 6 week trip to Czechia and Slovakia where finding water wasn't easy! We pretty much live off tea but with temperatures above 30ºc throughout our trip cold water was essential.
The Lifesaver Jerrycan meant we didn't have to search for hours for a suitable tap and instead could fill up from water fountains and streams. It's really easy to use and we didn't have to buy any bottled water. 
We haven't used the carbon filter so far but there's been a few times in France particularly we've found the water to have a very strong chlorine taste. We'd definitely make use of it then.
The main disadvantage for us was having nowhere to store the jerrycan. The water container holds 18.5lt of water so it stores a really good amount but is also pretty big (36x18x51cm). Make sure you have somewhere accessible you can put it. Ideally we'd advise building a space for it during your van build to get maximum use out of it.
After you've received your jerrycan you need to prime it before use. To do this you need clean drinking water. We recommend doing this before you hit the road or you'll be pouring away your precious water supply! 
Lifesaver water filters were created originally (and continue to be used) to provide safe drinking water to survivors of natural disasters and humanitarian crisis. We love that a product we find so useful for travel and life on the road is also saving lives around the world, turning contaminated water in to safe drinking water for those that need it most. 
This page contains affiliate links. We make a small commission on purchases made through these links at no extra cost to yourselves.