Happijac Bed Lift Review
This is not a sponsored post. We are not affiliated with Happijac in any way. All words and opinions within this Happijac bed lift review are our own.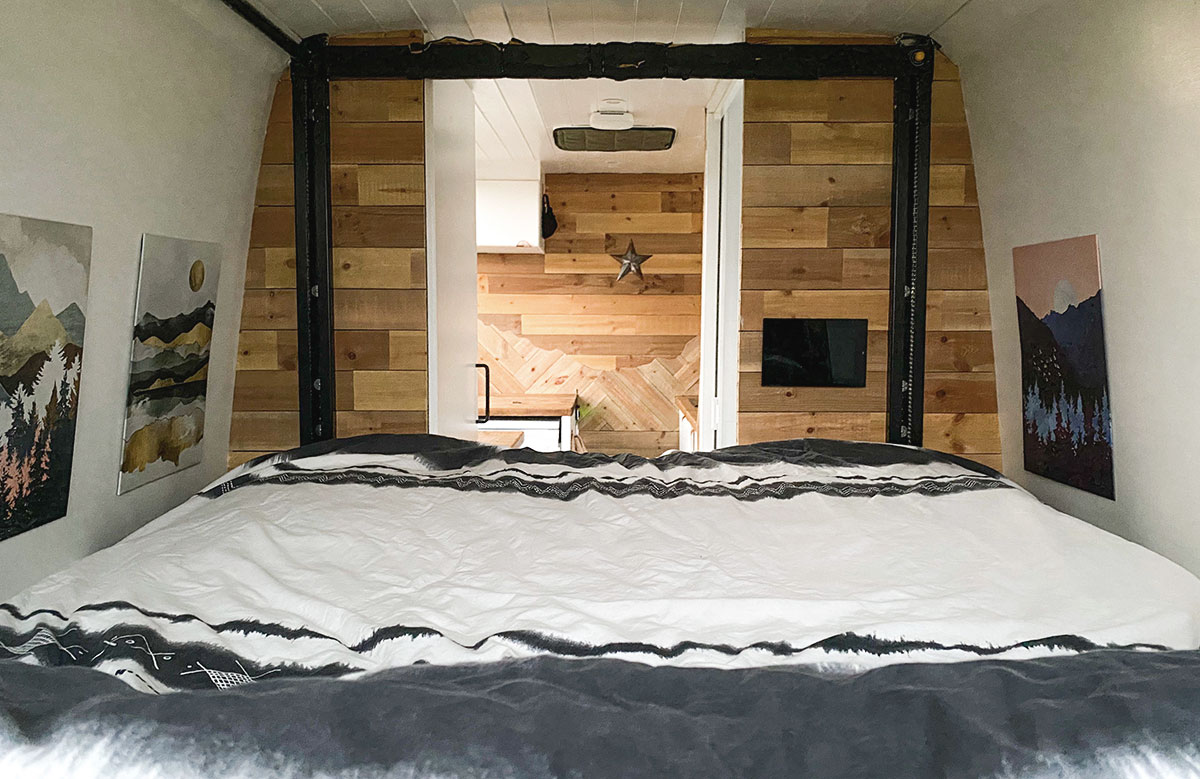 Want to know what we think of our Happijac bed lift? We're always being asked whether we like it and if we'd fit another one if we did another van build, so, by popular demand, here's our Happijac bed lift review!
The Happijac bed lift is a system that enables your bed to be stored in the ceiling of your camper van during the day. When you wish to use the bed it simply lowers down with the touch of a button and is ready within a few seconds. It maximises space enabling us to have a full size bed as well as a large office/dining area. It also means we don't have the hassle of making and unmaking our bed every day.
What is a Happijac bed lift?
The Happijac bed lift consists of four upright rails/tracks, a powerful motor and a drive shaft. It enables a bed to move up and down effortlessly so the space below it can be better utilised. We use this space for a large sitting area so we have somewhere comfortable to work, eat and watch Netflix! You can also add a bunk bed feature to the bed lift to enable your vehicle to sleep 4 people or use the space below for the storing of larger items such as motorbikes.
How does a Happijac bed lift work?
The four upright tracks are supplied joined together in pairs in an upside-down U-shaped configuration for either end of the bed. Each U-shaped track contains a unique nickel plated chain that's driven by the motor to raise and lower the bed. A drive shaft then connects the two U-shaped channels to ensure the chains operate at the same speed thereby keeping the bed level.
The motor is operated using a small switch. The bed stops as soon as you release the switch and can be stopped at any height. It automatically cuts off when it reaches its highest or lowest point. The motor draws less than 8 amps but is also only powered for a few seconds whilst the bed is raised or lowered.
Happijac Bed Lift Review
Let me start by saying, overall we're really happy we opted for a bed lift within our van. We believe it's a great option for flexibility of space and making our bed is pretty much effortless! As with all van layout decisions it's all about your individual priorities and what you're prepared to compromise on. We hope the below advantages and disadvantages will help you to make an informed decision on whether to install a bed lift or not.
Advantages of a Happijac bed lift
Creates distinct spaces
When we lower our bed it feels like we're in a completely different space. It's almost like creating another room so we have distinct living and sleeping spaces. We really like this as it makes our van feel even bigger.
During the day the bed is completely hidden away. This is really useful when Will is using the van as a work base, especially if his colleagues are working from it too, as it doesn't feel like you're sat in a bedroom!
Allows for a huge seating area
You can put anything you want below your Happijac. We knew we'd be spending long hours at our computers so wanted somewhere comfortable to work as well as relax. Our seating area is nearly 2m long so there's lots space to spread out.
Having so much seating is perfect for having friends round too. You can easily fit 6 people around the table and could definitely fit 8 if you were a little cosier with each other! Although, let's remember Piglet will (somehow) take up the space of three people and steal all the cushions!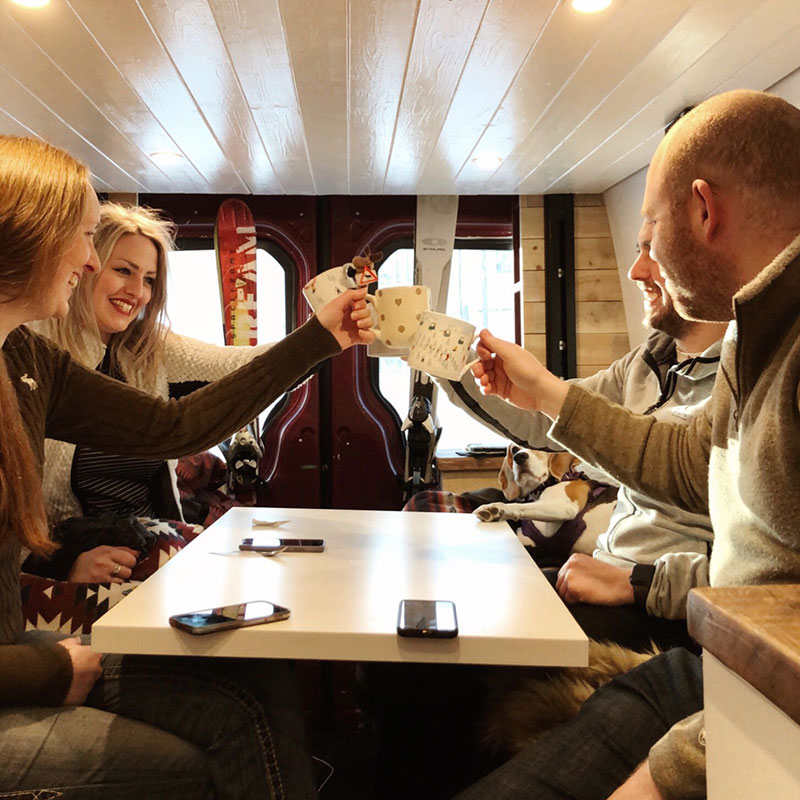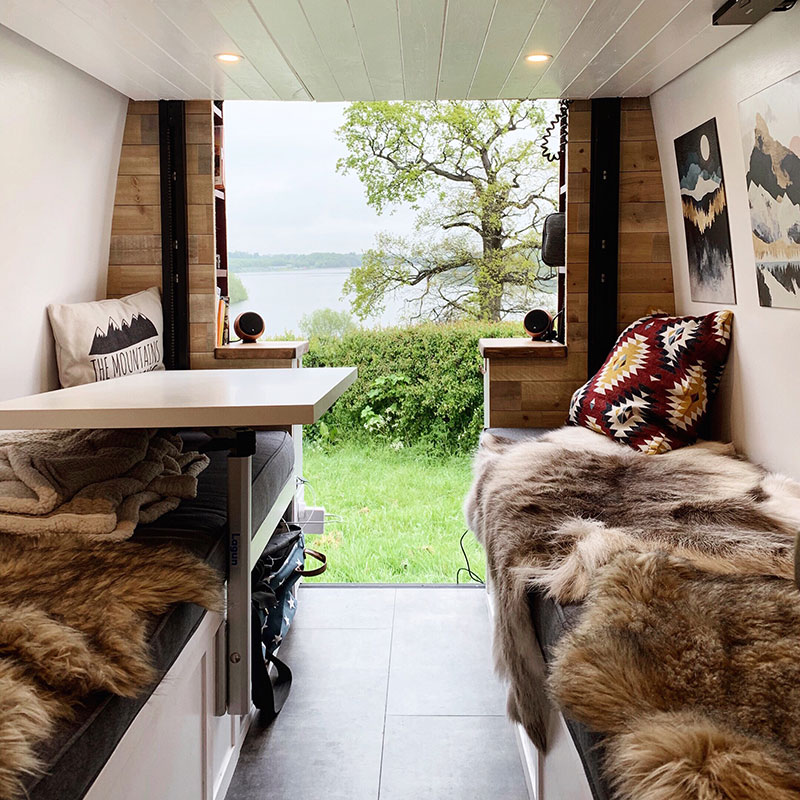 Full size bed
You can build your bed platform to any dimensions you choose, within the limitations of your vehicle. This means you can easily have a standard sized, off-the-shelf mattress. We have a UK double although we're still debating if we can squeeze a king size in (it's tight at the top due to the curvature of the van).
Easy to use
Once installed the bed lift is incredibly easy to use. There's no manual pulleys or operation required you simply hold down a button. You can also operate it manually if required, although we've never done this to date. We've had ours installed for nearly three years now and haven't had a single issue with it.
Your bed is ready and waiting
Simply lower the bed and climb in! We were adamant when we bought our van we didn't want to have to make and unmake a bed twice every day to convert it to a seating area. Everything, including the pillows and duvet stay on the bed throughout the day so it's ready for when we need it. This also means you don't have to find somewhere to store your bulky duvet and pillows during the day.
Disadvantages of a Happijac bed lift
Reduced head height
Our number one drawback with the Happijac is the reduced height beneath the bed. We have 151cm below the bed when it's in the raised position. This is absolutely fine when you're sat down, it doesn't feel cramped or claustrophobic, but it is annoying if you stand up and hit your head!
The space below your bed is dependent on how high you install the bed lift frame and the depth of your mattress. When we were doing research on the Happijac we were confident we could get it much higher than others had managed in the pictures we'd seen on Instagram. How wrong we were! What didn't we take in to account? The depth and positioning of the motor.
The motor is 6.5cm deep and sits within the frame of the bed lift. Your mattress therefore has to stop below the motor and can't go all the way up into the ceiling. Our best advice is to get the frame as high up into the roof of your vehicle as possible (the legs don't need to reach the floor). We cut away the wooden ceiling and some insulation in places to tuck it up as high as possible.
It then all depends on how deep your mattress is and how chunky your bed platform is. The thinner you can make both of these (without compromising on strength) the better. We opted for the thinnest off-the-shelf mattress we could find (16cm).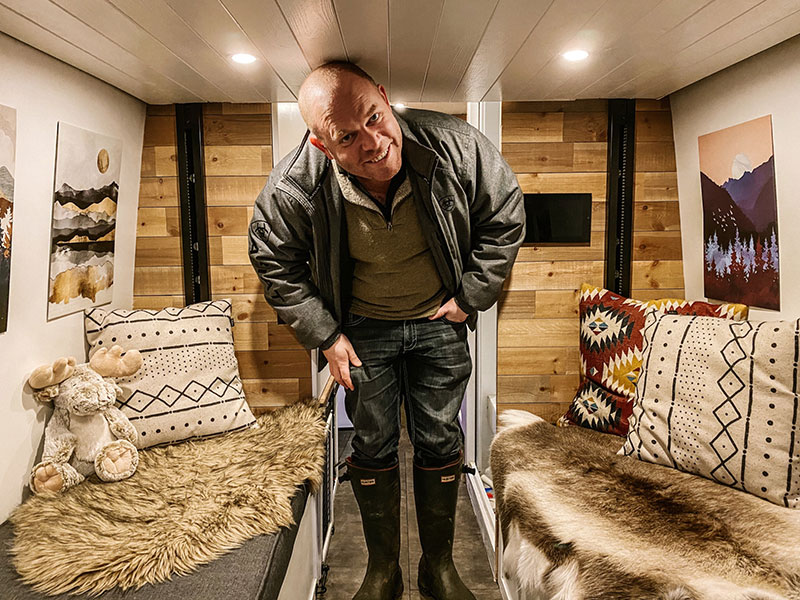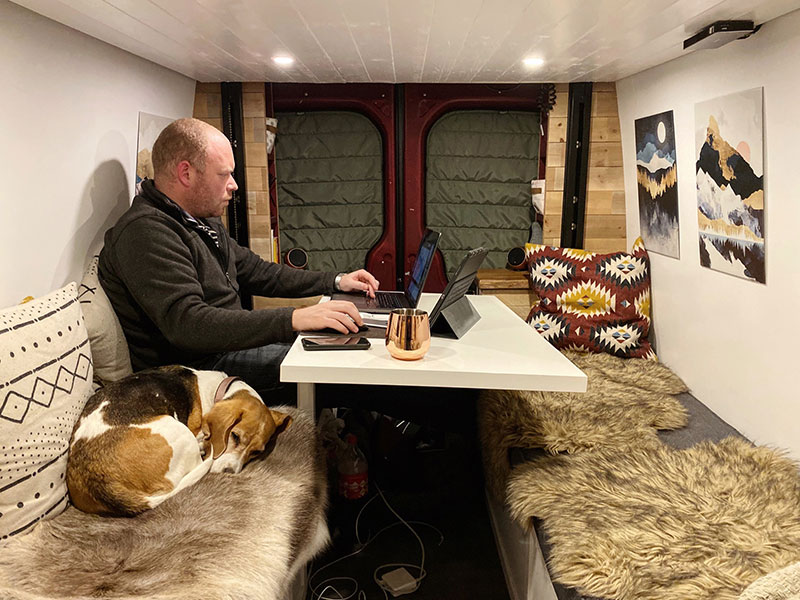 Weight
If your vehicle is limited to 3.5t you need to be very mindful during your build of the weight of everything that goes in to it. The Happijac bed lift is made from heavy gauge steel so isn't light. We're not sure of the weight of the mechanism but the shipping weight was 97kg (including the pallet and wooden supports).
As with all things in a van build it's a balancing act. All bed construction methods come with some weight implications. With a different layout you might opt for upper storage cupboards or a large garage area which both add weight but aren't possible with a bed lift. So long as you're mindful during your build there's no need for the weight to cause an issue but if you plan on carrying lots of heavy sports equipment it's one to think about.
Installation
I'm not gonna lie, they're a pain to install! If you were installing one in a tiny home and could use a spirit level it would be a breeze. In a van, that's not necessarily level, with curved walls and a not-quite-flat roof it gets a little trickier!
Once you've got it level and square you simply screw it against your upright supports (18mm plywood in our case) and install the motor and drive shaft as per instructions. Getting it level, square and high up is the challenge. I think it took us a full day with some tweaking to follow.
No resistance sensors
This isn't really a major problem but would be a nice feature to have. The Happijac can't sense resistance and therefore if there's something beneath it that shouldn't be it will just keep going and squash it! Sounds dramatic? In reality it just means you need to avoid being distracted when lowering the bed.
To lower (and raise) the bed you have to hold down the power switch. The bed stops instantly when you release it, therefore, so long as you're watching it there shouldn't be any problems. There's been a couple of times our duvet has got wedged between our touchscreen and the bed without us noticing. Whilst this didn't cause any major damage (the touchscreen clips on and off) a resistance sensor so the bed cut off at this point would be a nice extra feature.
No garage space
If you plan on carrying bulky sports equipment or mountain bikes this might not be the best option for you. It's all about what your priorities are for your space. For us, our main priority was somewhere comfortable and spacious to work on the road. We carry some bulky items but so far we've managed to fit these in our benches below the bed and are yet to fill all our storage space.
It's cold in winter!
Having a mattress, duvet and pillows pushed up against the roof of your van is great for insulation during the winter! It does mean, however, your warm heated air isn't getting to your bed. When you drop the bed down and first climb in it feels incredibly cold in winter. Ok, so it's not a major issue but for a few minutes there, until it warms up, it's definitely not cosy! Maybe we need to invest in a 12v heated blanket?!
Looking for more information on our Happijac bed lift?
You can find answers to lots of common questions, including cost, shipping and dimensions on our Happijac Q&A page.
If you'd like to know more about why we chose to install a bed lift during our van build check out our Van Layout article.
Would we install a Happijac bed lift again?
We hope you've found our Happijac bed lift review useful. As I've already mentioned, choosing what to include in your van build is all about individual priorities. To us, a huge seating area is a major positive, to someone else it might be a complete waste of space! Likewise, having no garage space hasn't been a problem for us at all, but if you plan on carrying climbing equipment or kite surfing gear it's definitely more of an issue.
I wouldn't hesitate to install another Happijac. We love our little home and having the bed lift has worked out perfectly for us. That being said, we have a completely different layout in mind for if we ever do another van build. This isn't a reflection on the Happijac or any other part of our van, we just think it would be fun to try something different second time round.
Where to buy a Happijac bed lift
This is a hard one to answer as it very much depends on where you are in the world! We're based in the UK and at the time there weren't any European distributors. We purchased our bed lift from Lippert Components (the manufacturer) and shipped it across. If you're based in America there are some re-sellers that stock the bed lift and you can find a dealer locator on the Lippert Components website. I believe there is also a distributor in Australia.
Have you got a bed lift in your van? Let us know your thoughts on it in the comments below. If you've found this post useful and would like to support our content you can do so by purchasing one of our van life stickers or magnets, or by treating us to a virtual coffee (or tea, or dog treats…you get the idea!)!
This page contains affiliate links. We make a small commission on purchases made through these links at no extra cost to yourselves.