Our Top 5 Favourite Overnight Spots of 2019
2019 was our first year on the road in our home on wheels. We travelled a lot of miles and stayed in some pretty memorable overnight parking spots. I'll be honest, we stayed in some rubbish ones too but that's all part of van life! Whilst Covid-19 has stopped us travelling I thought it would be fun do a mini re-cap on our 2019 travels by sharing our 5 favourite overnight spots. They include mountains, a shop car park, bioluminescent plankton and the time we got completely stuck on sheet ice! In at number 5, Sweden:
#5 – Sweden

Where?
Fredriksberg
About
This is a small parking area set back from the road on the shores of Lake Lisjön.
Why did we love it?
This remote spot is by a beautiful lake in the woods with a cosy little log cabin free to use by all, featuring a fireplace and table. This one was a very memorable spot… and we almost didn't leave. I'll be honest though that was mainly because we were totally stuck!
We happily drove down a snowy little track (at night) to find the spot marked on Park4Night only for the track to become sheet ice. And then we got stuck. Very stuck. This was ice like I'd never seen before except on an ice rink! It was completely smooth, very thick and completely impossible to walk on never mind drive. Our trusty snow tyres had no chance here! We donned our ice cleats and spent the next couple of hours (in the dark!) trying to get the van to grip so we could either leave or at least park up somewhere we weren't going to slide into a freezing lake in the middle of the night! 
We tried everything! The ice was rock solid so digging did nothing, snow trax gave a little traction but the moment you were off them you slid further than you'd come and we (cleverly) didn't have any snow chains at that point! In the end patience, our coir door mat and a lot of luck got us enough traction to turn around and park. So why does this warrant the number 5 slot in our list of favourite overnight spots? It was memorable! It was the point we realised we could get out of most situations and learned what our van was and wasn't capable of handling. In fairness it was a pretty beautiful location too!
#4 – Italy

Where?
Cortina d'Ampezzo
About
Car park for the Pian de Ra Bigontina ski lift, during off-season it was completely empty and very quiet.
Why did we love it?
Views wise this was one of the best overnight parking spots we had on our trip to Northern Italy. We visited at the end of May/beginning of June and The Dolomites still had a lot of snow. A few of the places we wanted to head were buried and the roads still closed from winter snow. Finding picture perfect overnight places wasn't the easiest but this was pretty close. 
Here we had beautiful views of the mountains and were close to our hike for the next day, a walk up to Lago Di Sorapis. I'll be honest we weren't expecting there to still be heavy snow on the trail so it took a lot longer than anticipated but we had a beautiful walk. It also never occurred to us that the very lake we were walking to see would still also be buried in snow, but hey, you win some you lose some! We'll just have to go back.
#3 – Spain

Where?
Meandro del Melero
About
Small parking area along a gravel track overlooking the Meandro del Melero.
Why did we love it?
This one is all about the view! We arrived late, and drove down a pretty bumpy track in the pitch black to get to a very small and pot-holed parking area. There's probably only room for two vans of our size and little turning space so we were glad to be the only ones there! It was also chucking it down with rain and the phone signal was sketchy but we stuck it out, and boy were we glad we did!
We woke up in the morning and had the most incredible view. The Meandro del Melero is an impressive horseshoe bend in the Alagón River. There's a short path down to get to a viewpoint and a few other hikes in the area but we were dodging very heavy rain showers so gave them a miss this time! With the sunlight and stormy skies it made for an incredibly atmospheric view and is definitely one of my favourite discoveries on our travels around Spain.
#2 – Norway

Where?
The Arctic Circle Centre
About
The Arctic Circle Centre is a shop and information point on road E6 in the Saltfjellet Mountains. It's a stopping area at the point you enter the Arctic Circle (66.5524° N, 15.3225° E). 
Why did we love it?
This is a bit of an odd one to be in the number two spot of our favourite parking places. It's essentially a shop car park! We'd seen pictures of this place on Instagram when we were planning our trip and set it as our goal for a parking spot as we were driving north. What didn't occur to us was it was winter! Yep, we headed north in to the Arctic in February, and why not, we love snow! It didn't occur to us though that other people wouldn't be taking that trip and therefore the Arctic Circle centre was firmly closed! Not just closed, buried in a couple metres of snow. So, other than a small lay-by cleared by the sign there wasn't even a car park! 
We'd had a long travel day to get here, it was long since dark and the next town was still quite a way off, so we decided to sleep in the little clearing just off the road. It was so quiet, the sky was clear with a million stars (sadly no Northern Lights) and we'd made it to the Arctic circle, in winter no less. We made it a lot further north afterwards but it still felt like a pretty amazing achievement. If you've been to this spot you'll know it's pretty exposed. The temperature dropped to a chilly -29.7ºc overnight, luckily our diesel heater kept going and after a few attempts the engine started in the morning!
It wasn't much warmer in the morning, and far too cold for the hound to be outside. We trekked through the snow to the building without her, more to say we'd been there than anything else! This one makes our list of favourite overnight spots more for the journey and the fact we made it there than anything else, but it's still a pretty impressive place to visit.
#1 – Ireland

 

Where?
Caherdaniel, Ring of Kerry
About
Wild camping spot with room for around three vans. It's the end of a single-track lane at a small boat launch/harbour. 
Why did we love it?
We had the perfect day here! It's a beautiful, remote and quiet spot with stunning views over the sea. It helped we had incredible weather. It was a hot sunny day so we sat outside alternating between the grass and our hammock chair and just took it all in! There's a stunning sandy beach back along the lane, approximately 20 minutes walk away which Piglet absolutely loved. She even went for a swim which is very unusual for her! There were a few people around, mostly coming to fish from the pier.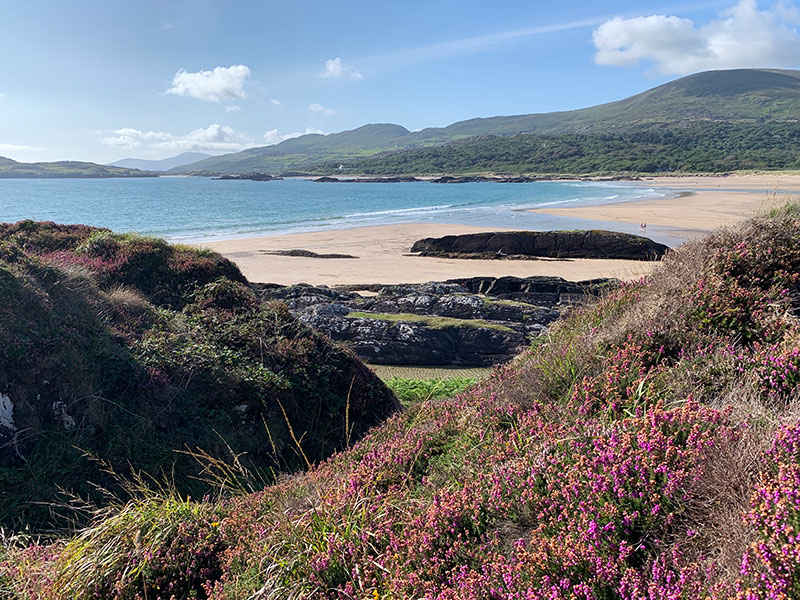 We're often alone when we park up overnight but there were a couple of other vans here and we got chatting to their owners. One of them dropped us a message on Instagram at around midnight and told us to come outside if we were still awake! Intrigued we headed outside to discover the sea was glowing! This is a natural phenomenon that occurs in County Kerry caused by bioluminescent plankton. If you disturb the water it glows a ghostly blue colour (under the right conditions) that's really beautiful to witness.
We loved this spot, and would have stayed longer than one night but sadly we were tight on time whilst driving the Wild Atlantic Way. The combination of scenery, weather and people ensured this little piece of Ireland earned the top spot in our favourite overnight spots of 2019! 
Bonus Spot! – Ireland
Had to sneak in a little bonus parking place too! Inch Beach in Ireland was the first time we slept overnight in our van on the beach. I had no idea you were even allowed to drive on to a beach before this trip so was very surprised when we were first directed to a car park on sand! There's something pretty amazing about opening up your doors straight on to sand. Piglet definitely loved it! I only woke up twice in the night convinced the tide was going to come up and wash us away. Needless to say it was all fine! I would recommend checking for high tide events though just to be on the safe side! Sadly there wasn't room in our Top 5 for Inch Beach but it definitely deserves a mention as one of our favourite overnight spots.
This page contains affiliate links. We make a small commission on purchases made through these links at no extra cost to yourselves.