Driving the Wild Atlantic Way
Ah Ireland. How do I put this? If you've not been yet you need to go! Seriously, stop reading this (please don't!) and go book a trip! Hitting the road is the perfect way to explore and there's no better route than the Wild Atlantic Way.
Let me start by saying I really didn't want to go to Ireland! Don't get me wrong, I've been a few times before to Dublin and to Belfast in Northern Ireland and always loved it, but it didn't seem like an adventurous enough place for van life. The Alps, The Dolomites, The Arctic Circle, these are the stuff of van life dreams, but Ireland? 
We headed there as Will had some work obligations, we planned on just staying for a couple of weeks but we stayed for five! We drove the length of the Wild Atlantic Way and found some amazing hidden gems. I promise I don't work for the Irish Tourist Board so I can be completely impartial when I say this; exploring Ireland by road is one of the best trips we've done!
We headed over in our van and found some incredibly beautiful wild camping spots; it was one stunning deserted sandy beach after another. We tried our hand at surfing (yeah we were rubbish!), fell in love with paddle boarding and galloped on horse back along the golden sands. I'm fairly sure there's more pubs than people too so even in the middle of nowhere you're guaranteed some good Irish craic!
What is the Wild Atlantic Way?
The Wild Atlantic Way is a driving route that winds its way all along the west coast of Ireland. It's 2,500km of rugged landscape, stunning beaches, charming villages and ancient monuments. It starts in Muff in County Donegal and snakes its way south around the coastline all the way to Kinsale in County Cork.
We spent around 3 weeks on the route and managed to cover it all (albeit in a slightly odd order). If you're going to drive the full route (which I recommend you do) you'll need at least 3 weeks but ideally longer. The more time you can spare the better; there were lots of places we wished we could have spent extra time.
The route passes through nine counties and is really well signposted. We relied completely on the blue Wild Atlantic Way signs (they indicate the route for both travelling north and south) and only went wrong once. All the main points of interest are well marked too with information signs and places to pull off the road.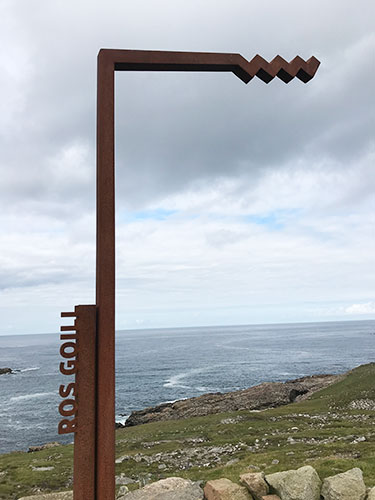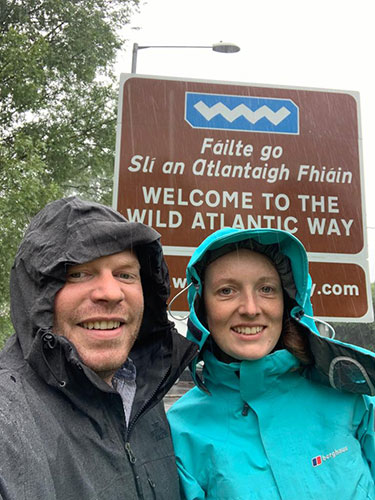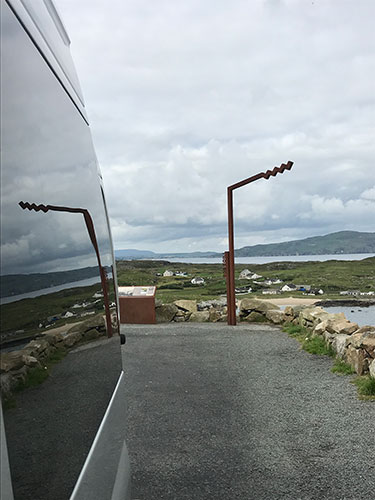 Is it van life friendly?
Definitely! In fact, I can't think of a better way to explore this amazing route than by camper van. We wild camped along the whole route and only paid to park once in a little marina. There's campsites along the route but we didn't use any as we had no problems finding overnight parking places. There's also plenty of local stores for groceries, abundant opportunities for a Guinness and laundry facilities at numerous petrol stations/supermarkets.
The road is narrow in places. Our van is a 7m long Mercedes Sprinter with high roof but we managed to get down all the roads. If you're not comfortable on narrow, winding, single-track country lanes there's a few sections you might want to avoid. We took a couple of detours that were a little sketchy. I'm pretty sure at one point we were driving down a footpath but we found a road again eventually!
We drove the Wild Atlantic Way in the peak of summer and expected it to be really busy. It wasn't! Most of the narrow lanes were empty, except for the occasional sheep, and we only really had any traffic in larger towns. The Ring of Kerry, Dingle, Killarney National Park and Kinsale were by far the busiest areas.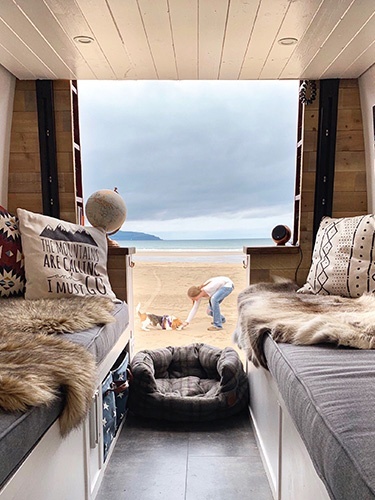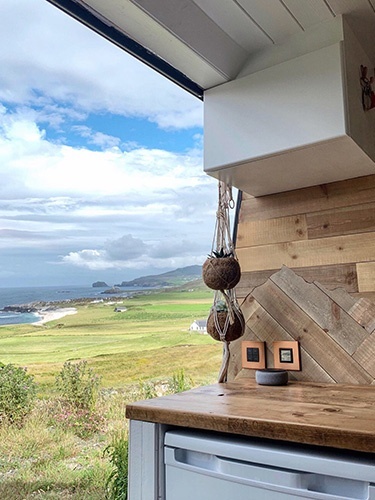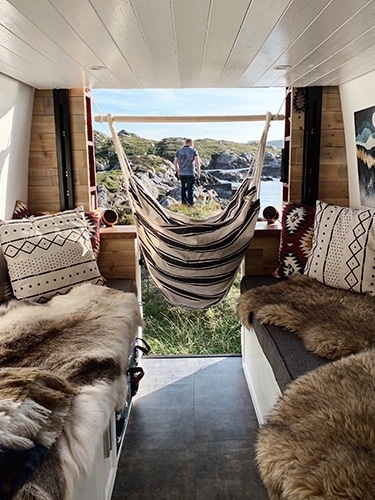 What to do
There are so many activities and places to see along the route so we'll just pick out our favourites for you, or we'll be here all day! Our biggest tip though is to slow down and enjoy the drive. We found some of our favourite spots either accidentally or by chatting to people along the way. I'm pretty sure we started a business with a guy in Dingle over a pint of Guinness but more on that later!
Activities along the Wild Atlantic Way
If outdoor activities are your thing then you'll love the west coast of Ireland! Assuming you don't mind dodging a bit of rain (it was actually amazing weather in-between the showers!) there's all sorts of things on offer:
Surfing – I'll be honest I had no idea surfing in Ireland was a thing. Apparently County Donegal is even home to one of the world's biggest waves! There are surf spots all along the Wild Atlantic Way including Inch Strand and Lahinch Strand, both of which are ideal for beginners under the right conditions. We tried surfing for the first time here and whilst we enjoyed it we really weren't that good!

Paddle boarding –

Another first for us this trip was paddle boarding, and we absolutely loved it! There's places all along the route you can paddle board but we went on a lagoon in Rosscarbery on the south coast.

Horse riding –

Nothing beats galloping along a sandy beach for miles on end. I was spoilt for choice but chose Rossbeigh Beach to jump in the saddle. I'm pretty sure there's slower options too if you don't fancy a gallop!
Hiking – Ireland isn't known for its mountains! Don't get me wrong there's some lovely National Parks and ample opportunity for walks but we only went on one real (short) hike. The Diamond Hill loop in Connemara is a beautiful, popular hike that's around 7km long with stunning views across Connemara from the peak. There are lots of other hiking opportunities along the Wild Atlantic Way if you have more time than we did.

Other activities –

If you're still after more things to do there's plenty of opportunity for swimming and the sea is a nice temperature in summer. Kayaking is possible both on the sea and at various lakes and I'm told there's great kitesurfing spots too, particularly on Achill Island.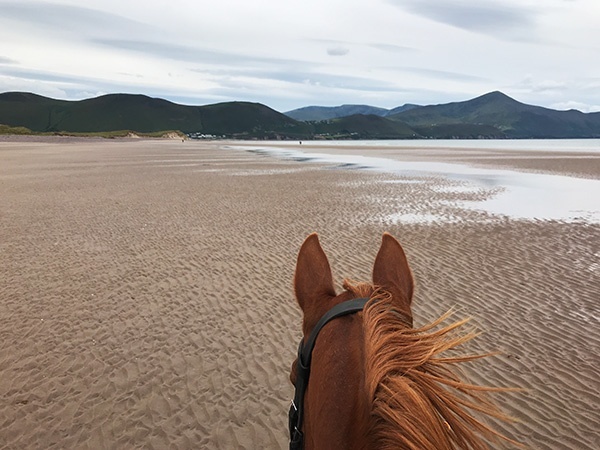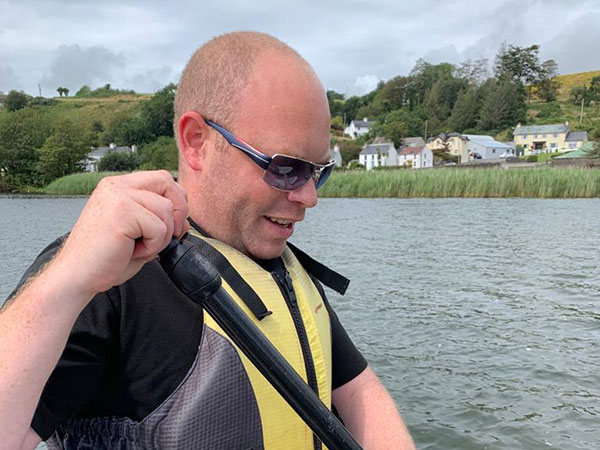 Places to see along the Wild Atlantic Way
It's amazing how varied the landscape is along the west coast. There were times it felt similar to Norway's west coast, albeit on a smaller scale. Other times in The Burren it feels more like you're on the surface of the moon! Our four favourite counties were Donegal, Kerry, Galway and Mayo. If you're tight on time we advise focusing your travels in these areas.
The great thing about driving the Wild Atlantic Way is that you really can't go far wrong. There's so many stunning little spots, and many of our favourite places were found just by pulling off and exploring. The below places (found on our map above and listed here from north to south) are some of our must-see locations but we definitely could add more to this list.
Malin Head
Malin Head is one of the first places we stopped to explore on our trip. It's the most northern point in Ireland and can be pretty wild. It was windy and rained most of the night but don't let that put you off! It's wild and rugged and a lovely spot to explore. We stayed the night here and were treated to a stunning sunset.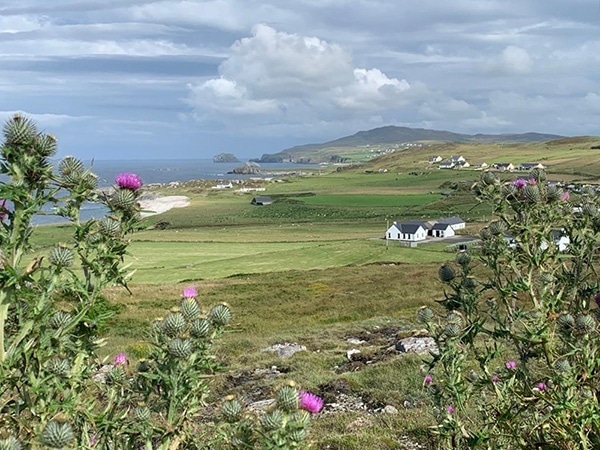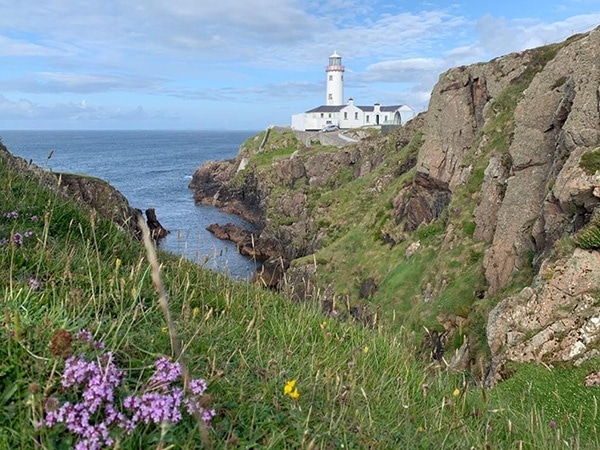 Fanad Head
Fanad Head lighthouse has been a working lighthouse since 1817 and sits on a really beautiful peninsula. I'm sure I read it was voted one of the most beautiful lighthouses in the world, and I can absolutely see why. You can go on tours of the lighthouse but we opted to explore the walks in the area instead. We spent the night here without any issues.
There's also many tales of tragic shipwrecks in the area, including that of the SS Laurentic that sank with a secret cargo of gold on board. 22 gold bars are still to be recovered if you fancy your chances!
Crohy Sea Arch
Crohy Head Sea Arch is slightly off the official Wild Atlantic Way route. We absolutely loved this spot as it's off the beaten track and feels really secluded. The road to get there is narrow and there's no real signage to say you've arrived, just a small pull-in large enough for our van and maybe one car. Opposite the lay-by is a stile to cross a fence and then you can just about make out a path that heads towards the shore.
Keep following the path and you'll soon start heading downwards towards the shore (watch your footing). The arch comes in to view and is a really stunning rock formation. It's a great spot to watch the world go by, although again the weather can be quite wild!
We continued on the road around the peninsula instead of turning round. It gets even narrower and I'm not convinced it's used very often by vehicles – there were a few hikers very surprised to see us there! It does link up though and we made it through fine but it did feel like we were driving on a footpath at some points!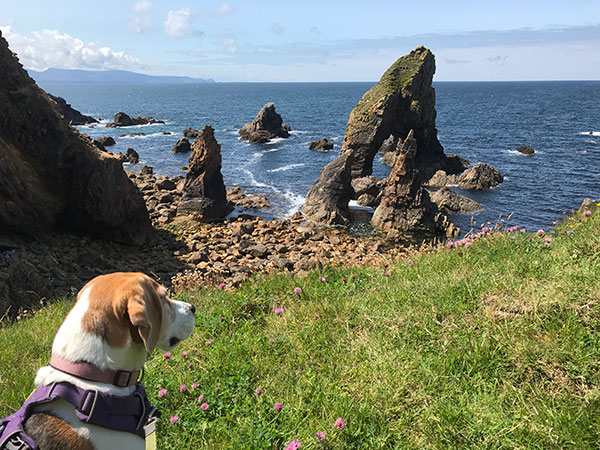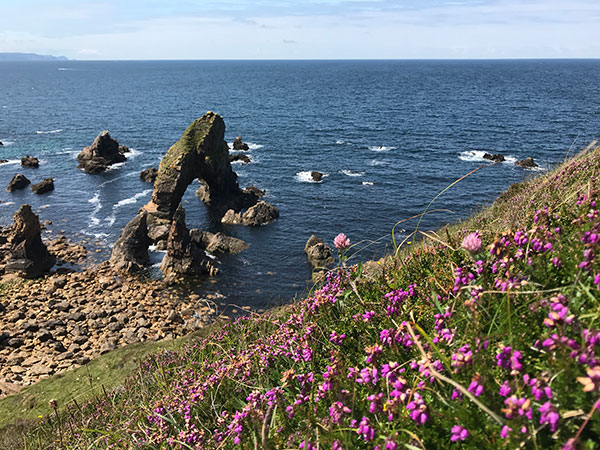 Slieve League
The Slieve League cliffs are three times higher than the famous Cliffs of Moher and are some of the highest cliffs in Europe. The landscape is rugged but full of atmosphere and there's plenty of hikes in the area if you have time.
Whilst there's far less people around than the Cliffs of Moher it does still get busy and parking in a large van can be difficult. There are a few unofficial car parks on the road up to the viewpoint but we managed to find a space eventually in the lower car park and walked up to the cliffs. It's around a mile uphill to the viewing platform or you can drive through the gate (close it behind you!) to the upper car park although this fills up quickly.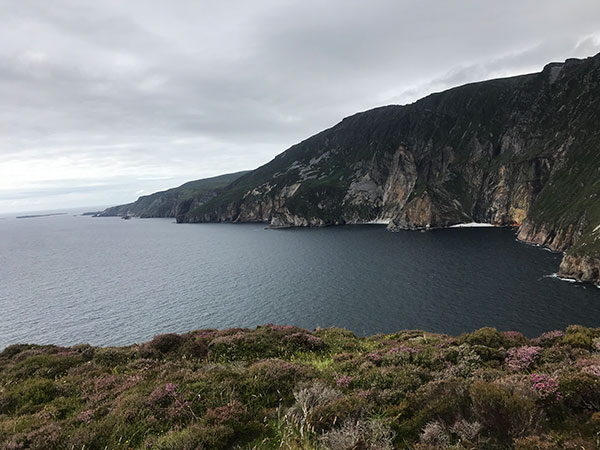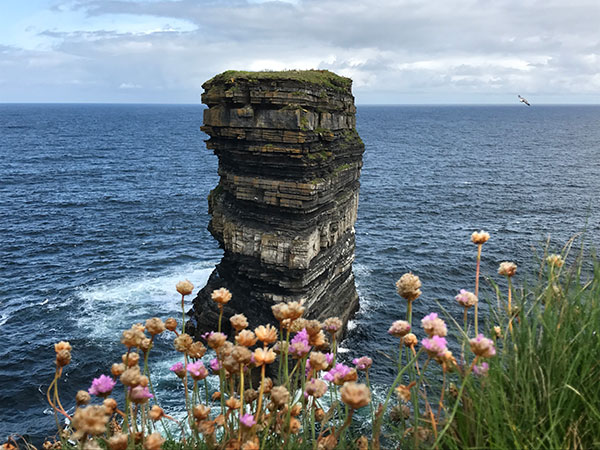 Downpatrick Head
Downpatrick Head is another rugged yet beautiful area of coastline, situated in County Mayo. The main attraction is a sea stack featuring striking multi-coloured rock layers. It's a great area to stretch your legs and there's various holes where the ground has crumbled away and the sea rises in its place.
Achill Island
We only had time for an afternoon on Achill Island. I really wish we could have explored more of it. There's some beautiful beaches and quite a bustling little town that had a really friendly, chilled-out vibe to it.
There were a lot of camper vans around, both on the roads and in official campsites so if you're looking for a bit of company for a few days this is the perfect spot. I think we could have happily spent a week exploring here.
Connemara
Connemara National Park was one of the busier places we visited. There's lots of hiking opportunities and whilst the Diamond Hill Loop is busy it's worth it for the views. We did it late afternoon and had the peak mostly to ourselves. You can't park overnight in a camper at any of the official National Park car parks.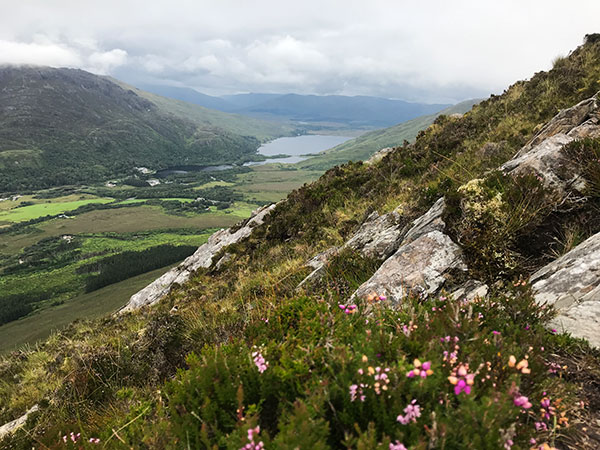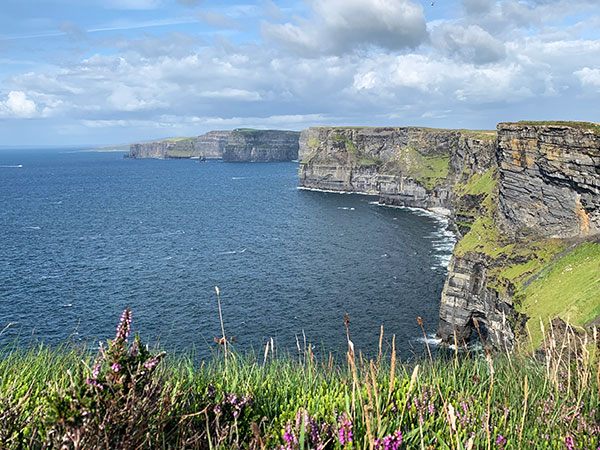 Cliffs of Moher
The Cliffs of Moher in County Clare get extremely busy, and most visitors tend to condense along one stretch of the 14km long cliffs. The cliffs themselves are beautiful and whilst not as high they're arguably more dramatic than those at Slieve League. It was incredibly windy when we were there and I think that's fairly standard!
There's an official visitor centre and viewpoint but we didn't actually head there, choosing instead to view the cliffs from the coastal walk that runs along the top. We parked at the Liscannor Walk car park, provided for a fee by a local farmer as it was a convenient, quieter place to explore from.
The Burren/Father Ted's House!
Burren National Park is a really interesting, stark landscape. It looks more like the surface of the moon in places as it's incredibly rocky with an almost stepped profile. The limestone rock was originally formed as part of a tropical sea floor millions of years ago and so contains fossils of coral and sea urchins, amongst other things.
This area is also the location of the house made famous by Father Ted! It's a private house but you can see it from the road, it's easy to spot as there'll be people at the gate taking photos!
It's also the filming location for the Very Dark Caves visited by Father Ted and Father Dougal. The sign is still at the caves (real name Aillwee Caves) but you have to pay to get to the area the sign is in. The caves themselves aren't the most spectacular show caves you'll ever visit but are an option if you're in the area.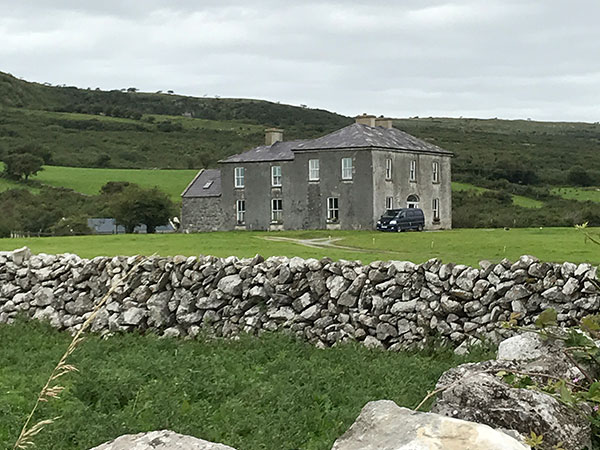 Dingle
Dingle is a charming little town with a bustling tourist scene mainly formed around the resident dolphin Fungie! This wild dolphin has an affinity for humans and has apparently lived in the sea around Dingle since 1983. There's even a bronze statue of him near the harbour!
The weather was rubbish (torrential rain) when we were in Dingle so we didn't go on a boat trip to meet Fungie but there are various trips that almost guarantee a sighting of the famous dolphin. Instead, we headed to Dick Mack's pub! This place is really quirky and a lot of fun. It's half pub, half leather shop and from the outside you definitely don't expect the bustling atmosphere you find inside.
Dick Mack's is full of Irish charm and good craic with the locals. We got chatting to a guy who wanted to put technology into campers (what are the chances?!); a few Guinness later and he and Will already had a business plan in place! He called us the next day asking us to join him at the annual Dingle Races but sadly we'd already headed north and that was the end of a potential goldmine!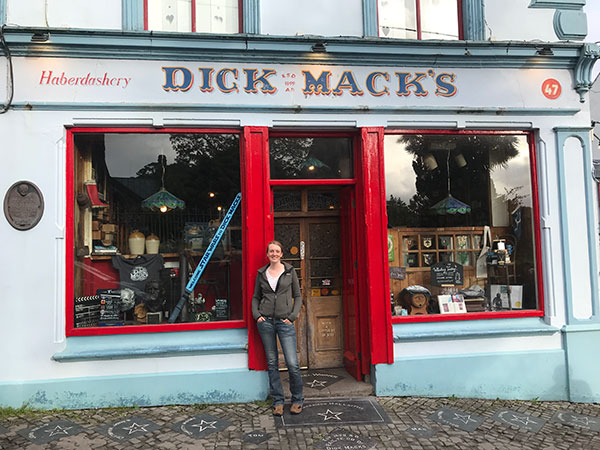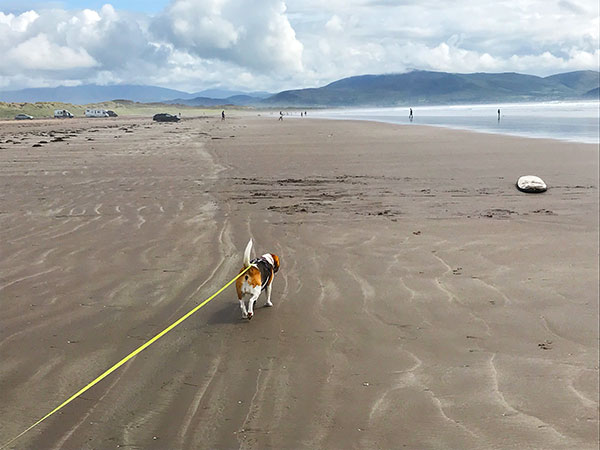 Inch Beach
Inch Beach is 3 miles of golden sand. It's a haven for surfers and there's numerous surf schools if you fancy giving surfing a go. You can drive on to the beach and park on it both during the day and at night. I'll be honest I woke up in the night convinced the tide was coming up and we were going to get washed away but if you stay behind the surf shacks and parking cones I'm pretty sure it's safe enough!
Caherdaniel
Derrynane Bay near Caherdaniel on the Ring of Kerry was our favourite overnight spot of 2019! The beach is absolutely beautiful and the weather was perfect when we visited. If you turn left just before the bay (if heading north on the Wild Atlantic Way) and drive to the end of the road there's a beautiful parking spot at a small pier.
We spent a lovely afternoon working, relaxing, walking the dog and swimming in the sea at the beach. In the evening once it was dark the bioluminescent algae in the water glowed as the water was disturbed. I think I could happily move permanently to this spot!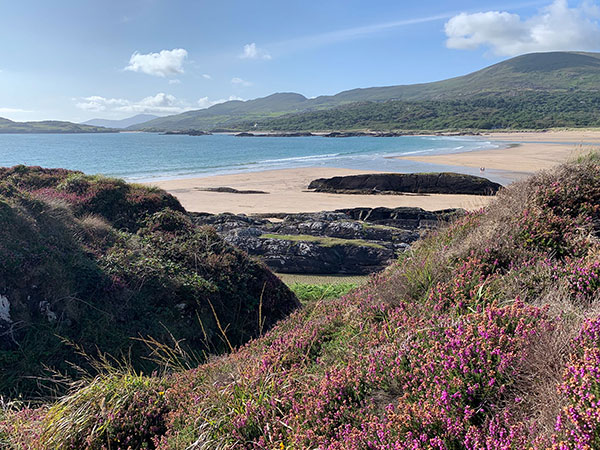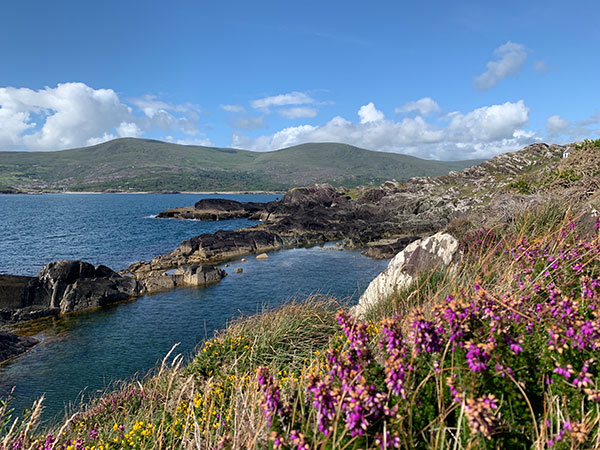 Mizen Head
Mizen Head is Ireland's most southwesterly point. There's a signal station you can walk out to which offers spectacular views of the coastline. It's also one of the best places in Ireland to spot whales and dolphins. We spent the night in the car park (it's a little sloping) but sadly didn't spot anything in the water despite hours of staring out to sea!
Drombeg Stone Circle
I'll admit I'm partial to a good stone circle (any Outlander fans reading this?!). This one is slightly off the main route down a narrow lane but we think it's worth a visit. The circle consists of 17 stones, the tallest of which are around 1.8m high (not all above ground) and there's remains of houses nearby too. It's a great spot to stretch your legs or grab some lunch and admire the view.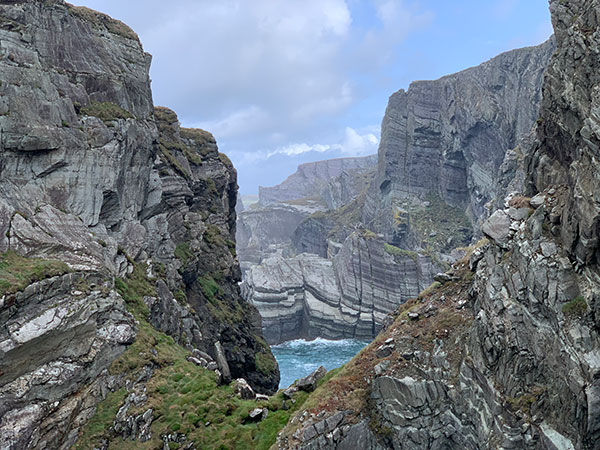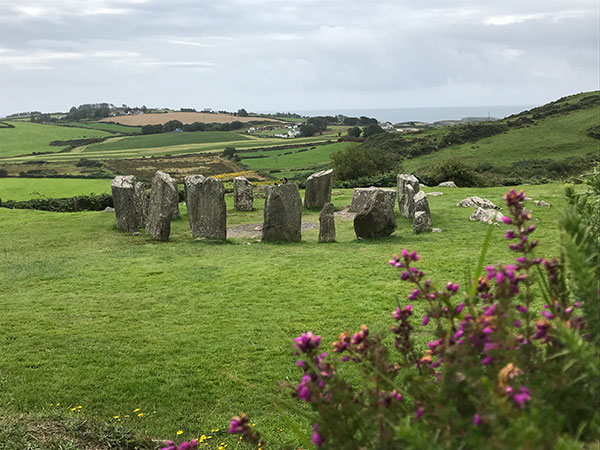 Enjoy the drive!
I hope this has inspired you to head to Ireland and explore? We'd love to know what you think of our Wild Atlantic Way Itinerary and what other places you would add to our list. We love feeling like we're driving with a purpose and this route definitely delivered. I'm certain we could drive it again and find endless new places to explore.
If this post has inspired you or helped you plan your perfect Irish adventure we'd love to hear about it! Drop us a comment below or contact us if there's anything you'd like to know more about.
If you'd like to support our content, we'd be really appreciative of a virtual coffee/tea! Alternatively the next time you purchase from Amazon (UK) or Amazon (US) if you use our links we'll receive a small commission that will help to keep our content coming.