Finding Overnight Parking Places
If your only experience of van life so far is through pictures on Instagram you'd be forgiven for thinking it's one stunning view after the next! If you're about to hit the road or are thinking about exploring in a camper van you'll soon discover this isn't always the case. Finding overnight parking places can be really stressful! Sometimes you'll nail it first time, other times you'll be driving around for hours before settling and occasionally you'll be told to move on. 
Our first few weeks in the van were pretty stressful when it came to finding overnight parking places. In fact I'm pretty sure in our first week on the road I was so deflated by it all I declared to Will we'd failed as vanlifers and were clearly not cut out for a life as nomads! Luckily he's generally more optimistic than me! We soon got a feel for the kind of places we like and honed our skills to find these places. I can't say we always find them, and there's definitely still days we drive around for a lot longer than we'd like before settling but we're a lot more relaxed about that now!
So, whether you're about to head out on the road or you're just curious where we sleep every night, here's our guide to finding (mostly free) places to park overnight. Oh, and if you're looking for those picture-perfect Instagram shots make sure you read about our Top 5 Overnight Spots of 2019.

Check the rules!
The rules on wild camping (spending the night outside of official camping areas) vary considerably! They can be different between States/provinces as well as on a very local basis. If you're travelling within Europe you can be in a different country without even noticing it (current Covid 19 border checks excluding!), so it's important to be informed about all relevant laws and regulations. What you choose to do with this knowledge is entirely up to you. We'd recommend always knowing the consequences though as many places won't let you off for ignorance! 
It can be hard to get accurate information. We look online, chat with other vanlifers and read reviews of places on apps. Our van life guides detail country-specific information that we've learnt on our travels and are a great starting point. We've travelled to places where wild camping isn't an issue (Scotland, Norway, Sweden), countries where it's on the whole tolerated (Spain, France, Italy) and places where you're very likely to get high fines (Slovenia, Austria, Netherlands). Sometimes we chance it in these places, other times we use an official camping area for a few euros. On rare occasions, if it's a really touristy place, we'll book a campsite. 
Use an app
The main way we find our overnight parking places is through apps, usually Park4Night. There's a few others out there that are popular, including iOverlander, Camperstop and Campercontact, but Park4Night is our go-to.
This app features all sorts of parking spots including campsites, stellplatz (official campervan areas), wild camping and car parks. It also gives details of what facilities are available; great if you're searching for fresh water, laundry facilities or need power. The information on these apps is provided by other travellers. Sometimes the content is out of date or a location is slightly wrong but it's usually not far off.
We usually check out the "surrounded by nature" spots first as we're pretty self sufficient and like peace and quiet! Many listings have photos that are usually helpful and it's always worth reading a few reviews. Sometimes a spot has lost access or people have had issues recently. Taking the time to read a few reviews can save a wasted trip and avoid disappointment.

Tips for using parking apps
We've found on the whole it's so much easier when you're flexible about where you want to be. The times we've had to be in a certain place have been the most stressful by far! There is inevitably nothing listed on Park4Night or nowhere is suitable for our van. Our usual tactic for finding overnight parking places is to look at the general area we want to be in, see what parking is available, head there and explore our surroundings. If there is a specific place you have to be it often takes a bit more advanced planning than looking on the app a few hours before. It may be easier to book a campsite to ensure you can stay close by.
Get lucky!
Occasionally we'll find our spot for the night without even looking! It doesn't happen often but sometimes we'll head for a hike somewhere or visit a place that ends up to be perfect for spending the night. We love it when that happens! Many of the places we stayed at in Ireland on the Wild Atlantic Way were places we just happened across. It was so quiet, even in summer so we were pretty much spoilt for choice!

Look on satellite view
Another useful tip is to use satellite view on maps. If you're wondering what's at the end of a track or if there's room to park near a lake you're at you can usually see enough detail on satellite view to avoid getting stuck somewhere! Occasionally we'll use this trick for places we find on apps too where there's no photos. It can be very useful to see how big an area is before you get there, especially if there's only room for a couple of vans.
Park at a business
Some businesses are happy for you to park overnight if you've used their services. This is a lot more common in America where you can often park at Walmart or Cracker Barrel for example, but it can be done in Europe too. Many pubs/restaurants in England are happy for you to stay overnight if you've purchased drinks or food the evening before. Always remember to check with staff first though! We've found a few places in Europe on our travels that were happy with this as well. Some places have attached Stellplatz's to their property so they'll charge you a few euros but they're usually very reasonable.
Avoid cities where possible
We avoid cities on the whole. Occasionally there'll be somewhere we especially want to see but it's not very easy to park a large van in big cities, and it's often expensive. Pigs doesn't really enjoy exploring cities either and having a dog with you definitely limits the places you can see. If we do head into a city we read the reviews on Park4Night carefully. We avoid anywhere people have been broken in to and hide computers etc just in case. We usually head out of cities overnight but have found great places in Bruges, Venice and Amsterdam, amongst others, to stay.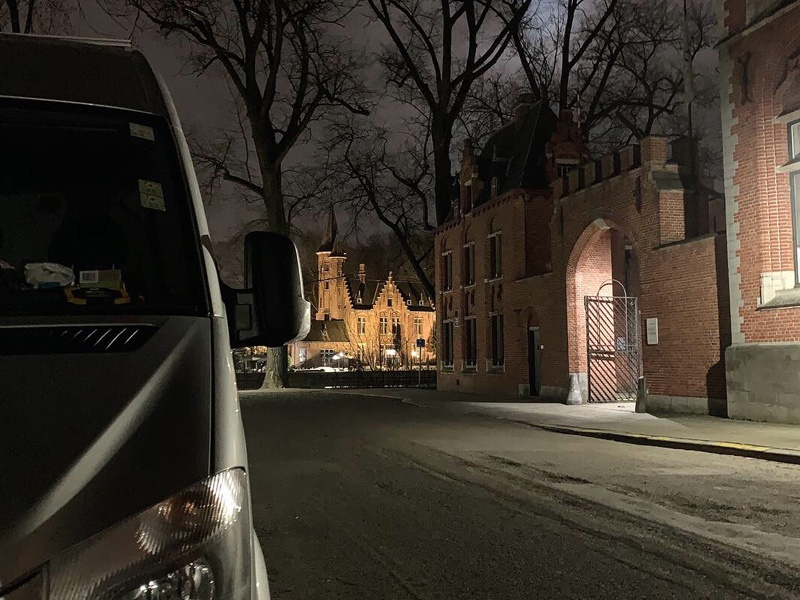 In our experience it's rare to find free overnight parking places in big cities. If we're staying a few nights in a city we usually opt for a specific camper van area or campsite and use public transport to get into the centre. This can be pricey but it means you can relax and enjoy the city without worrying about your van!
Avoid restrictions
We try to avoid parking where there are explicit no overnight or no camping signs. Obviously this is entirely up to you but we've found it's just not worth the hassle! We've risked it a few times out of desperation and sometimes you get away with it, other times you get a knock on the door and get moved on. I hate having to move if we're settled or it's late, and I absolutely do not want to be woken up in the middle of the night; I value my sleep far too much! We're also huge fans of lie-ins and rarely want to move at first light so we usually play it safe.
It's harder in winter!
We started travelling in our van in winter and headed straight for the snow. Others may disagree but I think finding overnight parking places in winter is much harder. For starters, roads and mountain passes can be closed due to snow which cuts down on options. Roads that are open often have laybys and parking areas that are still shut or covered in snow/ice. There's been more than one occasion we've headed to a potentially perfect spot only to have to abandon it as we couldn't get there. There was also one time we should have abandoned it but persevered only to get stuck in nearly a meter of snow, whoops!
Some ski resorts are more than happy for you to park overnight in their parking areas, others not so much! Off season they're great places to park but during ski season there's often no overnight parking/no camping signs. We find it especially difficult in Austria. Sometimes we chance it if there's other vans there (safety in numbers!) but other times we park elsewhere and head back to the resort in the morning. French ski resorts are a lot more welcoming, many have campervan areas that aren't too expensive, and certainly cheaper than other slope side accommodation options!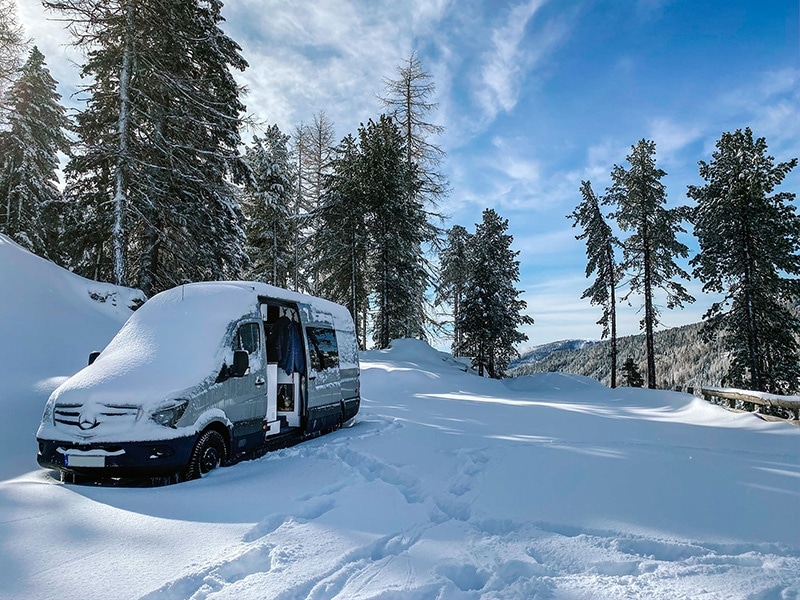 There are a few advantages to travelling in winter though. Unless you're at a ski resort it's off-season and therefore you can usually get away with parking at places that would normally be risky. There's a lot less people travelling in campers during winter so you often have places all to yourself. Many of the places you have to pay for in summer are also free during the winter months.
Be stealth!
Depending on the type of vehicle you have you can also choose to stealth park overnight. We have very little on the outside of our van that points to it being a camper van so it's possible to park up for a night or two on streets without people realising you're not a standard work vehicle. We find this easier to do in the UK as we think our number plate is a bit of a giveaway when we're abroad! This isn't something we do very often as we prefer to be away from roads, traffic and residential areas but that's very much personal choice!
Wherever you decide to park please remember to be considerate towards people that live there. Always leave a place as you found it, or better… pick up litter left by others and don't leave anything behind that wasn't there before you arrived. Hopefully this will mean areas are left available for us all to enjoy! Oh, and don't worry if you don't find those picture-perfect parking places every night, it just makes it so much better when you do!
If you've found this guide to overnight parking useful and would like to support our content you'd make us very happy! You can do so by clicking our Amazon UK or Amazon US links before your next purchase from Amazon (we'll earn a small commission but it won't cost you any more), or by purchasing one of our van life magnets or stickers.
This page contains affiliate links. We make a small commission on purchases made through these links at no extra cost to yourselves.