Campervan Heating Guide: How to Stay Cosy all Winter
It's that time of year again! The weather is getting colder, it's dark ridiculously early and you're desperately hunting for all your winter layers. Unless you're planning on chasing the sun this winter you're definitely going to need some form of campervan heating to keep you cosy and comfortable.
We're huge fans of snow so we'll be hitting the slopes (Covid permitting!) and we couldn't survive without our diesel heater.  We did lots of research during our van build to make sure we could cope with cold temperatures. Two winters, a trip to the Arctic in February and many meters of snow later we're pleased to confirm winter van life is not only possible but it's also a lot of fun!
Do I need heating in my van?
Installing heating in your van might seem like a luxury you can do without but even a well insulated van will get cold at night outside of the hot summer months. If you're travelling in winter some form of campervan heating is a must, after all, it's no fun being cold all the time!
There's numerous things you can do during your van conversion to ensure your van is ready for winter. Our winter van build guide includes everything we did to ensure we were prepared for whatever winter threw at us. First and foremost insulate you van. For instance, we used a mixture of insulation boards and recycled plastic insulation on the walls, ceiling and floor of our van.
The other main consideration if you plan on spending a lot of time in cold conditions is windows. A huge amount of heat is lost out of windows, especially if you don't opt for camper van double glazed windows. For us windows were essential so we use insulated window covers to help minimise heat loss.
If winter isn't your thing and you plan on following the sun year round you may get away without any fixed heating in your van. There's a few temporary options including a Mr Buddy portable propane heater or Pro Breeze fan heaters that may help in emergencies.
What type of campervan heating should I use in my van?
Diesel
We have a Webasto AirTop 2000STC in our van and we're really impressed with it. We had a few issues during our first week of van life with the thermostat but it was (thankfully) easily fixed. 
Diesel heaters use fuel from your van's main fuel tank as well as a small amount of electricity from your leisure battery. They pull air in from outside and mix it under pressure with diesel which then ignites (combustion). This heats up the heat exchange which subsequently warms the air in the outer chamber that is then blown around your van by an in-built 12v fan. The exhaust ducts straight outside your van from the sealed combustion chamber so it never enters the van itself. 
Our diesel heater uses between 12 and 24ml of fuel per hour when combusting, and 8-30w of power. There's a few factors that determine fuel/energy consumption, for example, set temperature, altitude and ambient air temperature. 
Advantages of using diesel:
Disadvantages of using diesel: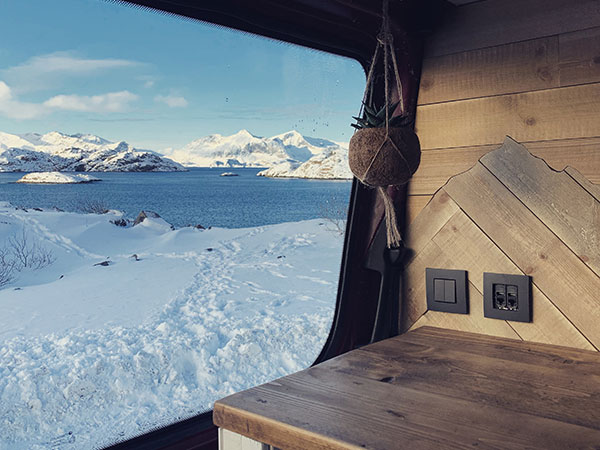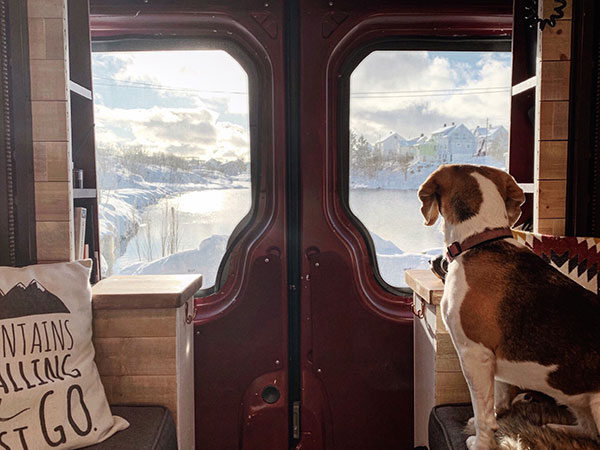 Propane/Gas
If you're putting an LPG/propane tank into your van build to cook with it makes sense to also make use of it for your heating, and potentially your hot water too. Fixed gas heaters work in a similar way to diesel heaters but use gas in the combustion process instead of diesel. 
Gas heaters are efficient and also slightly cheaper than the big brand diesel heaters. The Propex range seems to be popular among self-builders and we've met a few people using these on the road. They're around £500 depending on the model but don't forget to take into account the cost of your tank as well. Propex advise the HS2000 uses around 142g gas per hour (temperature and size of van dependant).
If you decide to install gas campervan heating there's a few safety things to consider, for example, we'd recommend getting a specialist to install your LPG system and heater to ensure everything is safe. Always make sure the exhaust and inlet pipes are venting correctly and not blocked (check for snow and ice around them in colder weather). You'll also need to check the regulations for warning symbols on your vehicle and the rules whilst using ferries or the Channel Tunnel. 
Disadvantages of using gas: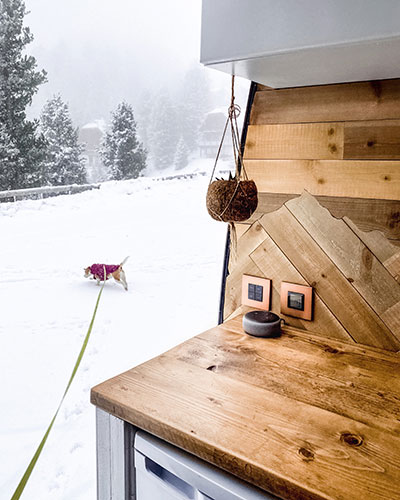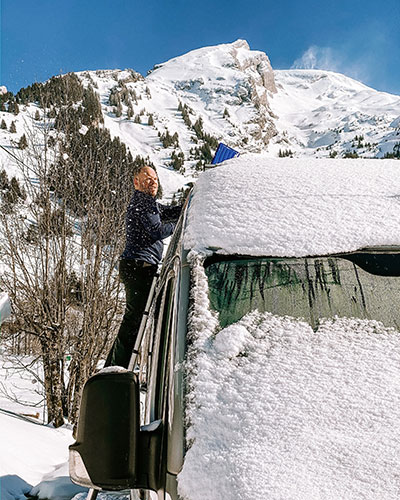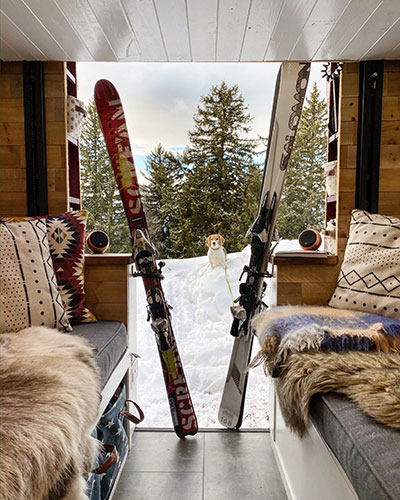 Wood Burner
A wood burner is definitely the most romantic heating option! We would have loved to squeeze one in to our van conversion but sadly couldn't find the space when we were deciding on our van layout. 
Wood burners give an instant cosy feel to a van. Not only are they perfect if you're going for a Scandinavian wood cabin vibe but there's also some beautiful stoves on the market now for tiny spaces. Some can also be used for cooking, and other than keeping them clean the maintenance and running costs are very low.
The great thing about wood burners is how simple they are. Find some dry wood, set it alight and enjoy the cosy, warm heat. It's best to avoid using wet wood as this produces more soot that can eventually build up in your flue making it harder for harmful gasses to escape. 
The disadvantage of burning wood in a camper is the high amounts of carbon monoxide produced. Carbon monoxide is an incredibly dangerous gas as you can neither see it nor smell it. 
A wood burner can produce up to 100 times more carbon monoxide than a gas hob. However, assuming your fire is venting correctly and the flue isn't blocked these gases will escape out of the chimney and not in to your van. Always make sure you have a carbon monoxide detector in your van though just in case.
If you plan of using a wood burner for your campervan heating make sure you think about its positioning during your build. For instance, stoves must be away from flammable materials and a heat shield used on surfaces close by. If the flue will run through wood in your ceiling a double insulated flue will be required. Camper Dreamin have a beautiful mini stove in their van as well as lots of information on their website about the safe use of wood burners in campers.
View this post on Instagram
Advantages of using a wood burner:
Disadvantages of using a wood burner:
Electric
The final campervan heating option is electric fan heaters, although these are only really a viable option if you're connected to shore power. Electric heaters use a lot of power and will quickly deplete your battery. We carry a small electric fan heater with us and use it if we find somewhere with free power, otherwise you're better off with one of the options above. 
Advantages of using electric:
Disadvantages of using electric: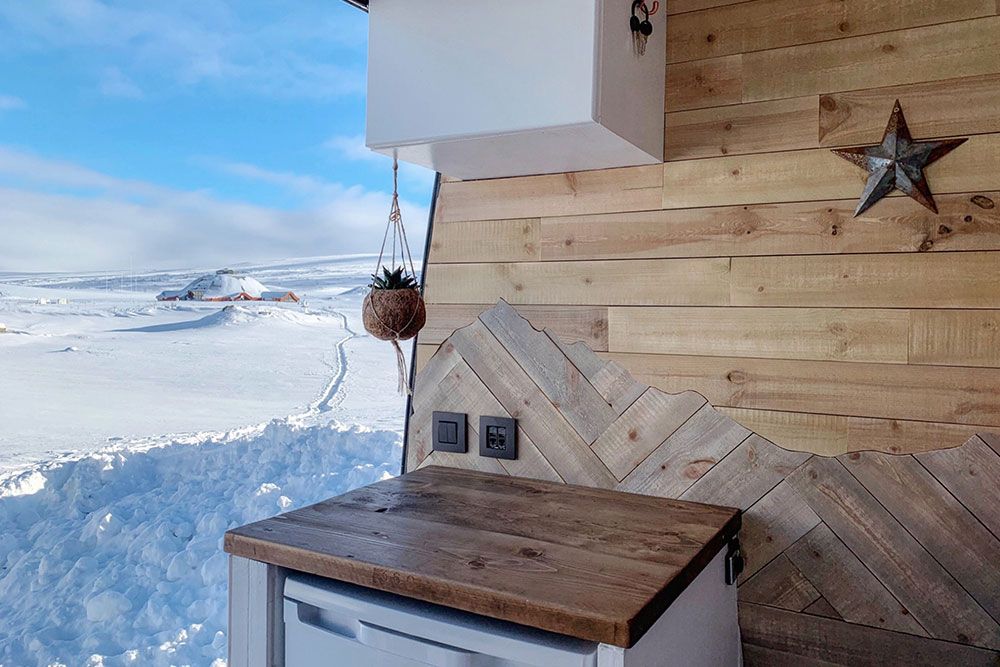 Which type of campervan heating is best?
There's no easy answer to this I'm afraid. In our opinion diesel heaters are best as they're safe, reliable and not too noisy. There are, however, a few things to think about when deciding on the best solution for your van:
What fuel sources do you have? Most vans currently run off diesel, so you already have diesel on board. However, if you're cooking on LPG/Propane and have installed a tank this gives an alternative option.
How big is your van? Calculate the space you need to heat to get maximum efficiency from your campervan heating. There's no point spending a fortune on a powerful heater for a small space, likewise a heater that's not powerful enough in a larger van won't give you enough heat.
Where are you travelling? This doesn't just determine whether you need heating, but can also influence how easy it is to get fuel. Finding LPG in some remote parts of Europe can be a challenge.
Fuel Cost – It's important to consider the running costs of your heating, especially if you're full time in your van. Whether you opt for diesel, LPG, wood or electric there's a cost involved to generating heat.
Installation Cost – Our diesel heater was fitted for us, mainly because we were short on time by that point of the build. If you don't plan on installing your heating yourself the installation costs can vary considerably. Some also require on-going maintenance that should be factored in to long term costs as well.
Do you need hot water? Some campervan heating options can also heat your water. If you're travelling in winter a hot shower is really nice to have so it's definitely something to think about. We use the heat from our engine to get hot water instead of a dual-purpose heater.
Are there any other campervan heating options?
Staying cosy and warm in your van makes all the difference to your van feeling like a home. Above all, installing some form of campervan heating means you're always prepared, no matter what the weather throws at you. If you have the space and funds having a backup source of heat is also a great idea in case you're low on gas/diesel.
There are a few other options to keep warm and cosy in a van but none are really long term solutions (sadly!):
Cuddle your dog – I mean no excuse needed but dogs act as a great hot water bottle on chilly evenings!
Hot water bottles – Great for warming up your bed before climbing in
12v electric blanket – Again, great for warming up your bed but don't leave them on too long as power consumption can be an issue.

 

Blankets – Our van is full of blankets! They're cosy for evenings and great for popping on the bed for extra warmth.
Block out draughts – our side door lets in a small draught at the bottom, when it's cold out it makes a huge difference popping a towel down to block it.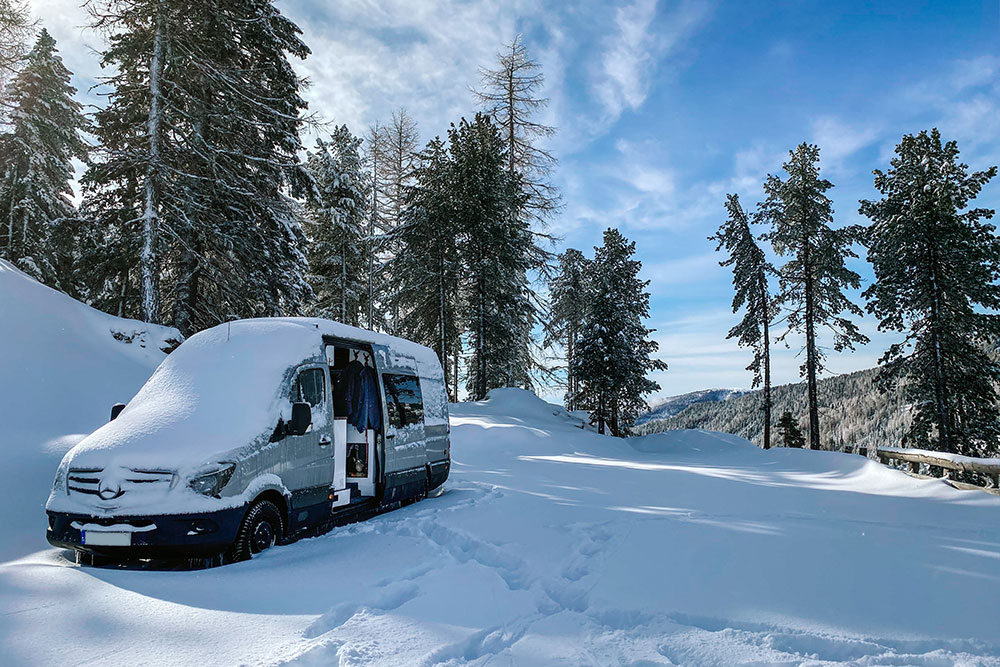 Safety first!
We hope you've found this guide to campervan heating useful. Whichever option you choose we would always recommend installing a smoke detector and carbon monoxide detector to ensure you're safe. We use the Nest Smoke Alarm and it doubles as a handy night light in the dark (activated by motion).
One final thought! @great_big_exploring_old_hector passed on a tip to us recently about heater positioning (after learning the hard way!): Don't install your heater or run ducting near your fridge as the heat means your fridge will have to work a lot harder to stay cool! Similarly, it's also a good idea to keep your ducting short to avoid heat loss (ours comes out under our kitchen cupboards) and insulate it if possible.
Which heating option do you have in your van? Have we missed anything? Let us know in the comments below! We've been reading about Carbon Electric Paint (known as heat paint) and would love to hear from anyone using it.
If you have found this post useful and you'd like to support our content we'd love you to check out our custom van life magnets and stickers. Alternatively,  clicking on our Amazon (UK) or Amazon (US) links before your next Amazon purchase will allow us to make a small commission on your purchase (at no extra cost to you).
This page contains affiliate links. We make a small commission on purchases made through these links at no extra cost to yourselves.