Living the Van Life: Week One!
We've spoken to so many people recently who have just finished, or are close to finishing their van conversion and looking forward to moving in to their vans and living the van life. We were in a huge rush towards the end of our build and a few finishing touches had to wait as we had a date we needed to be on the road by. We 'finished' (seriously van builds are never finished!) building our van one day, cleaned and packed it the next and that night set off driving 345 miles to the Channel Tunnel for a 5am crossing! After our crossing we drove a further 750 miles, arriving around midnight at our destination in Austria!
If your first week living the van life is anything like ours it won't be plain sailing! But, don't despair! We battled snow, frozen pipes, leaking pipes, angry Austrian men, an over zealous heater and -15ºc temperatures. Assuming your first week of van life isn't in January, in Austria during record snowfall you'll probably not have the same issues but even if you do we found it definitely gets easier with practice!
I wrote the below blog post after our first week in the van back in January 2019. I had all good intentions of blogging regularly. In actual fact this was the only thing I wrote in the whole of 2019! As we can't travel at the minute due to Covid-19 I thought I'd share it with you so you can re-live our first week of van life with us. Hopefully it will reassure you that whilst it might not always be easy it's usually worth it in the end!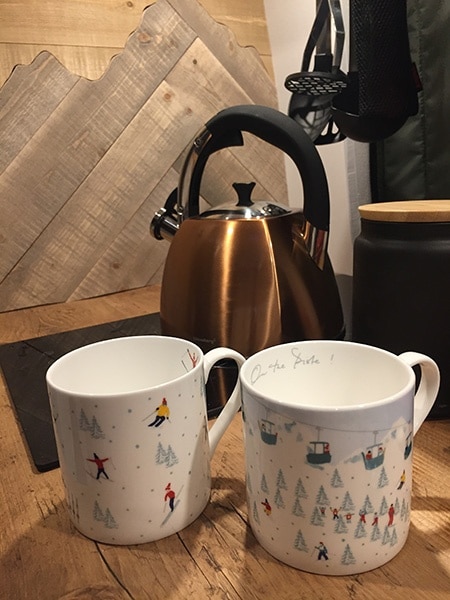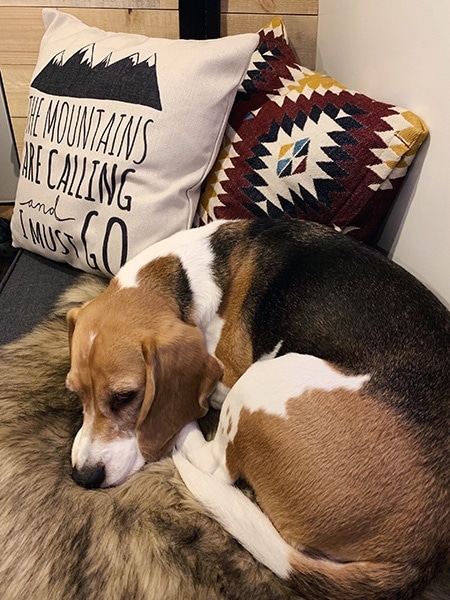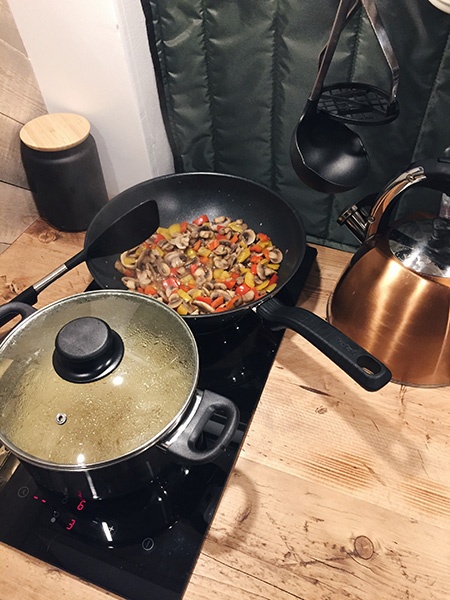 Week One in Our Van
We've just completed our first week living the van life, and so far it's been a little bit hectic! 
In our first seven days we've travelled nearly 3000 miles, passed through 5 countries, skied at 4 resorts, watched a World Cup Ski Slalom and drank a fair few Gluhwein! We've also become very aware of how much power we use on a daily basis, battled frozen pipework, a few water leaks, regular frozen windscreens (on the inside) and a heater that had two modes: hot or off! But we definitely can't complain, Austria has been a blast!
We were a little late on our travels. It took a lot longer than we thought to finish off the van and finally get on the road. In the end I think we were around two weeks behind schedule but we made it, just in time to open Will's birthday cards at 5am 40 meters under the English Channel on the Eurotunnel (which is pretty luxurious when you can pop into your rolling home for a cuppa and breakfast!).
We planned to travel to Grenoble, Annecy and La Clusaz before meandering slowly to Austria to meet up with friends. In the end our last minute dash to get everything ready meant a 19 hour road trip straight to Bad Hofgastein. It was actually pretty pain free until we tried to find an overnight parking spot on arrival. We braved it and ignored the no overnight parking sign (as a last resort) and only had one slightly angry Austrian gentleman speak to us in the morning!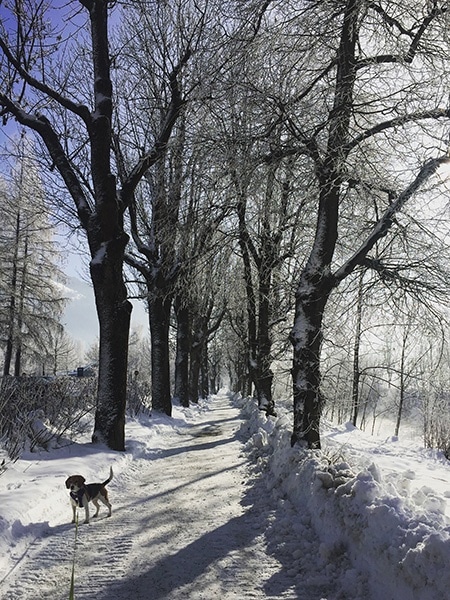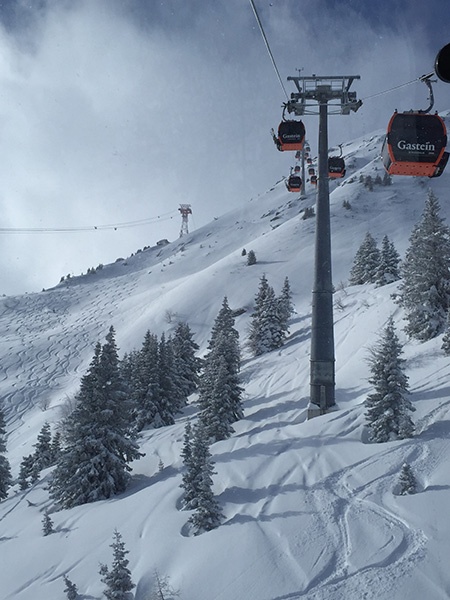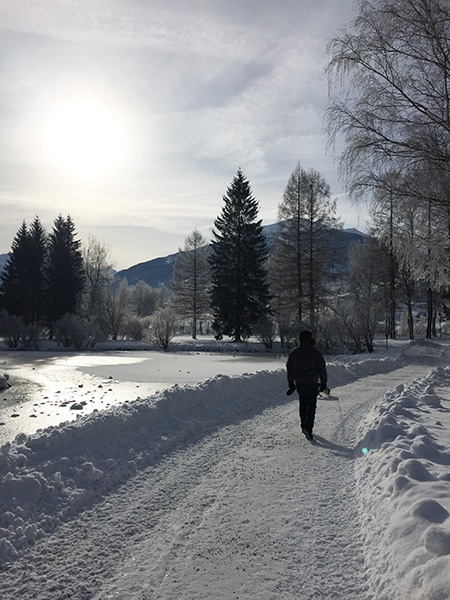 Getting in to a routine
Figuring out how to do everything in such a small space takes a bit of working out, especially when you throw a dog, skis and ski boots into the mix! I'd say by our third day living the van life we were starting to get a handle on morning/evening routines and what to stow before we travel etc. Finding parking places for the night seems to be an art form, at least in Austria and we haven't perfected it yet! That or we need to get better at just going for it no matter how assertive the 'no overnight campervan parking' signs are. So far in seven days we've had one angry car parking attendant and one morning knock on the window (but the hound barking seemed to get rid of them)!
Getting up in the mornings is proving to be a problem! Don't get me wrong, I've always loved my sleep and anyone that knows me will testify that waking me up in the morning has never been a good idea. Couple that with our fab black out blinds (keeping us stealth and cosy but giving no natural light in the morning) and our comfy bed, and lets just say I've not made the first lift up the mountain once yet! But at least we're sleeping well.

Van life in winter
Austria has been a real test of the van, and a good practice run for heading north to Norway. We're super impressed with our snow tyres but the temperature plummeting to -15°c has definitely caused a few issues. One of my must-haves for our van was a toilet and shower, which we duly built. Neither are much good though when your waste pipes are frozen (subsequently causing delightful leaks internally) and you're not generating enough power to heat the water. One trip to Bauhaus and a day spent lying under the van (thanks Will!) in freezing temps and we think we've fixed the pipe issue. We wrapped the pipe in foil tape, wound heated cable around that and then put pipe insulation over the top. So far so good since, so long as we remember to turn on the heated cable in the morning.
Our other great break through this week has been temperature control. It wasn't until we were on the road we realised the temperature sensor for our Webasto heater was on the unit and not on the control panel. Why such a big problem I hear you ask?! Well, we have a fixed bulkhead and our heater unit is mounted in the (unheated) cab resulting in it never thinking it was warm enough, whilst we woke up with hot sweats despite it being -15°c outside. It could have been worse though, at least it wasn't -15°c inside! One trip to an Austrian Webasto dealer with lots of pointing and nodding by a lovely man that didn't speak English and we have a shiny new temperature sensor in the back that's working a treat!
Worth it?
So yeah, this turned in to more of a 'here's everything that's gone wrong in our first week of van life' post! It's actually been pretty painless, honest! Yeah there's been a few disasters but we're in Austria, surrounded by incredible mountains, with the best ski conditions possible, in our little home we built ourselves and with the hound in tow. Despite everything that has gone wrong we're pretty happy right now. I've no idea where we'll be tomorrow but I'm quickly learning to be ok with that!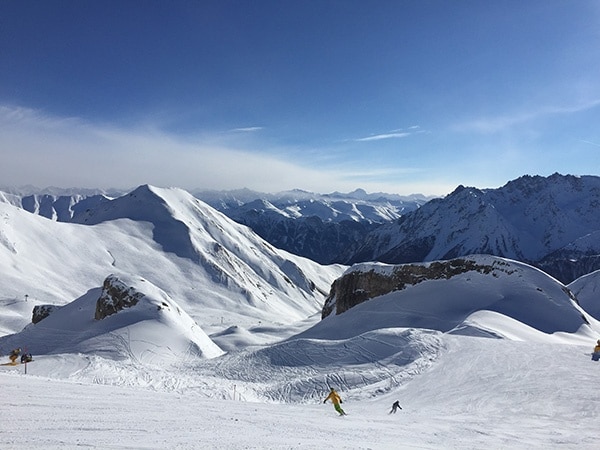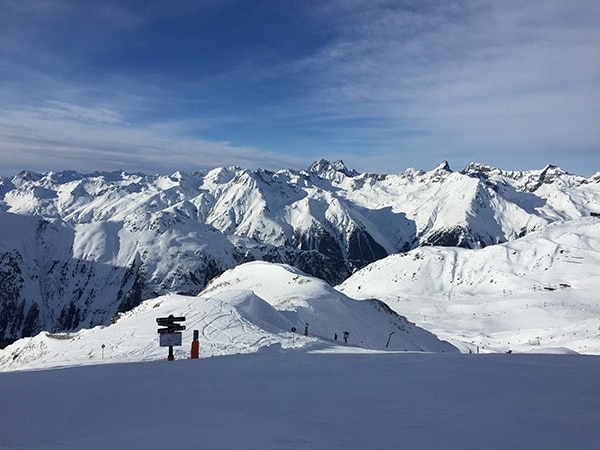 Fast forward nearly a year and a half!
I think it's fair to say our first week living the van life wasn't the fairytale Instagram experience I imagined. It certainly taught us a lot about our van though. I never could have imagined all the places we'd end up in 2019 when I wrote the above. We've travelled many thousands of miles since and -15ºc was actually pretty tropical in comparison to northern Norway!
If you're about to move in to your van don't despair if things go wrong. Van life is a learning curve. It's not all stunning views one night after the next and you'll probably have your fair share of problems but we've definitely found it's worth the ride. I remember saying to Will I wasn't sure I was cut out for life on the road after that first week but I'm so glad he was much more positive than me! Oh, and we've never had anyone ask us to move from a parking spot since so maybe we've got batter at being stealth? Happy travels everyone!

If you've found this page useful please drop us a comment below or consider sharing it with your friends. If you'd like to support our content you can do so by clicking our Amazon UK or Amazon US links before your next purchase from Amazon (we'll earn a small commission but it won't cost you any more), or by treating us to a virtual coffee!