Van Life and Wild Camping in Germany
Germany is a great place to travel by camper van. Not only are there some really beautiful areas to explore but it's also one of the easiest countries in Europe for van life. Read on for our hints and tips for travelling to Germany by van, including regulations for wild camping in Germany, how to find drinking water and road rules you need to be aware of!
Language: German. Lots of people also speak English very well.
Currency: Euro
Credit/Debit Cards: Not everywhere accepts cards, including many smaller restaurants and bars. Definitely recommend keeping cash on hand.
Shop Opening Hours: Shops and supermarkets (and many bars/restaurants) are completely closed on Sunday.
Petrol Station Opening Hours: Many petrol stations are only open 8am-8pm. It's only in larger cities and on motorways you'll find 24 hour petrol stations.
Cost of Living: Petrol/Diesel prices are fairly middle of the road, if not slightly cheaper than the UK. Food prices are very similar to the UK (although wine is cheaper!), we make use of their extensive Lidl network!
Phone Signal: Signal is generally good, however, roaming internet is usually poor. We find the internet is often very slow, presumably because UK phone operators are choosing the cheapest option available to them.
Recycling: Waste bins and glass recycling are very easy to find in Germany. We have found all other types of recycling much harder as it's all done kerbside for individual homes. If you're staying at a campsite recycling of paper, cans and plastic is easy, but otherwise it can be difficult. Bottles and cans can be recycled at some supermarkets in exchange for tokens.
Laundry Facilities: We've not needed laundry in Germany yet so I'm afraid we can't comment on available facilities.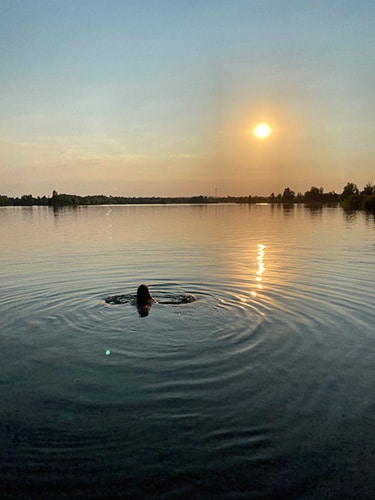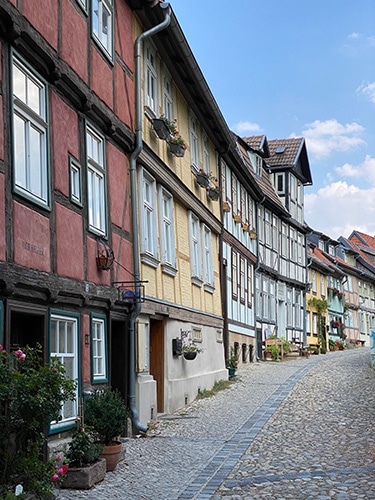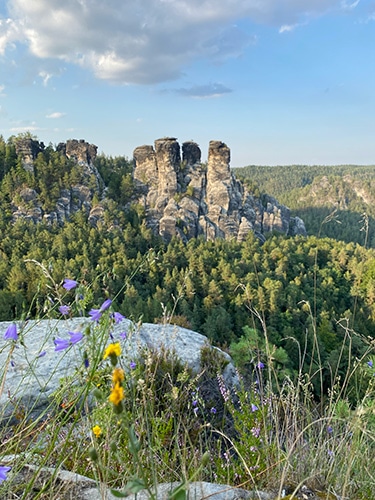 Technically no (especially in a tent), but it's definitely a grey area as far as camper vans go. The law allows you to rest up for one night in a motorhome in order to continue your journey safely. As soon as you put up an awning or sit outside in camp chairs it's classed as camping, and this is technically not allowed. That being said, you'd be very unlucky to have a problem wild camping in Germany!
We've found Germany very welcoming to vans. We've sat outside and obviously been spending the night and everyone we have met has been happy and kind towards us. There are also lots of German van owners doing the same so that's usually a good indication you're not doing anything wrong! Be responsible, be discreet and don't leave a mess. 
Don't outstay your welcome. We usually only stay in an area for 24-48 hours. If you're staying any longer than this in one spot whilst wild camping in Germany be prepared to be moved on. Don't park anywhere that explicitly says no camper vans and avoid private property.
German National Parks are a different matter and we don't recommend wild camping in a camper van in these areas. Most likely you'll just get moved on but they can fine you up to €100.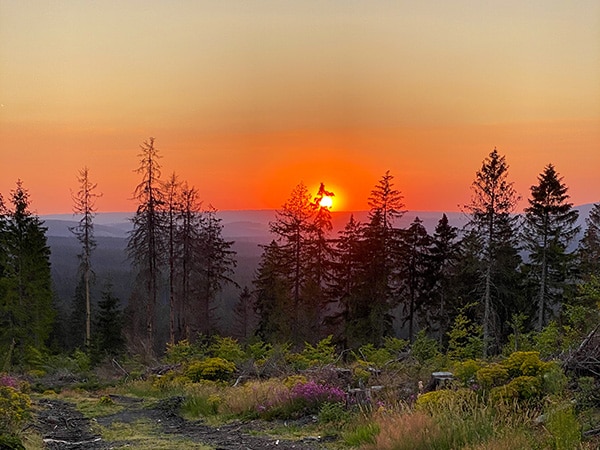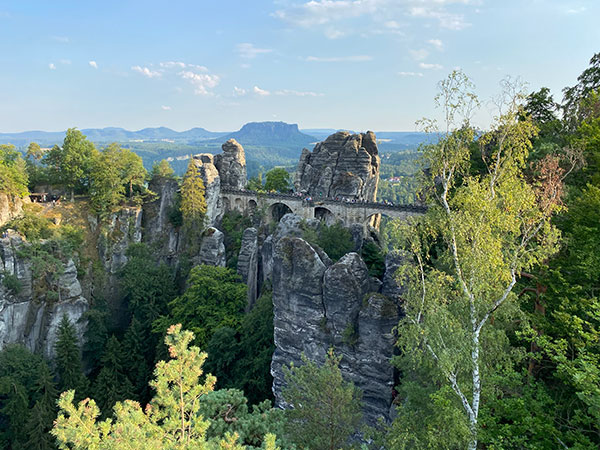 Yes, and lots of them! Germany has a network of official camper van areas called Stellplatz, and there's around 3600 of them throughout the country. These areas are usually provided by villages or towns and many also offer water, waste disposal and electricity hook-up.
If you don't fancy wild camping in Germany then Stellplatz are a great option. Many of them are free to use, and some even offer free water and electricity. If there is a fee it's usually very reasonable and definitely cheaper than campsites (as there are fewer facilities). Even if you don't want to sleep in a Stellplatz they're a great place to fill up your water and empty your waste tanks.
Again, keep these areas clean and tidy so they continue to be offered. Some also have restrictions on how long you can stay. There are books and websites that offer a complete list of Stellplatz locations but the majority of them are also listed on Park4Night (under Free Motorhome Area). This is usually how we find our overnight parking spots.
Some Stellplatz that charge a fee give entitlement to local tourist cards. These give discounts on local attractions for tourists staying in accommodation nearby. We've found this useful for Spa's in winter and the discount is usually more than the cost of the Stellplatz.
It's really easy to find drinking water in Germany. Many motorways services have taps for campervans to fill up or head to a nearby Stellplatz and use their tap. We've never struggled to find water in Germany, although it is harder in winter. Many taps are turned off, particularly in regions prone to snow. It can take a little longer to find water in winter but so long as you have a hose adapter set (if you fill up using a hose) and a meter key you should be ok.
It's easy to travel to Germany with a dog or cat. There are no requirements for tapeworm treatment to enter Germany, your pet will simply require a European Pet Passport which confirms vaccination against rabies.
Dogs are permitted to travel on public transport. Larger dogs may need a ticket to travel and may be required to wear a muzzle. Restaurants and cafes are usually dog friendly although there are exceptions.

Roads in Germany are usually in very good condition. The motorways are toll free (under 7.5t) but can be busy around major cities.
Penalties for driving incidents, for example speeding, are usually paid straight away to the officers in cash when you're caught. Thankfully we've not experienced this ourselves (yet!).  There is zero tolerance for drink driving. The permitted blood alcohol levels are incredibly low (0.05%) so it's best not to risk it.
There are certain documents you need to carry with you when driving in Germany. These include your drivers license, photo ID, proof of insurance and vehicle registration document (V5). There are also certain items that you are required by law to have in your vehicle, without them you could get an expensive fine! These items are as follows:
One rule we just became aware of is the ability to turn right on a red traffic light. Red lights that feature a green arrow symbol next to them indicate turning right on red is permitted, assuming there are no vehicles or people in the way.
During wintry conditions Germany requires that all wheels be fitted with winter or all season tyres. Snow chains should also be carried and used as advised locally.

If you're driving in major cities in Germany it's a legal requirement to display an emissions sticker. We weren't aware of this until recently so we're very lucky not to have been fined, although we tend to avoid cities on the whole.
Emission stickers (Umweltplakette) are colour coded and awarded to your vehicle according to its Euro Emissions Standard. As you enter a low emission zone (for example Berlin, Düsseldorf, Cologne, Munich etc) it details which colour stickers are allowed to enter. It's best to purchase a sticker before you travel, more details can be found here.
We've travelled a fair bit around Germany now and it still feels like we've barely scratched the surface. We love how easy wild camping in Germany is so if we're travelling across Europe we plan routes that keep us in Germany for as long as possible! The toll free motorways are also a definite plus!
We're not experts in Germany by any stretch of the imagination but we'll happily pass on a few tips! We love Berlin, although we've not been there in the van yet. The spa at Baden-Baden is amazing, especially in winter and there's a great park-up at the top of the hill. Burg Eltz castle is absolutely stunning, we've only been in winter so haven't seen the inside but it really is worth a visit.
The Harz Mountains are a lovely area to explore, as is Saxon Switzerland National Park with its beautiful rock formations. We'd love to see more of the Black Forest and Baden-Württemberg and you can't go wrong with the fairytale castles littered throughout Bavaria.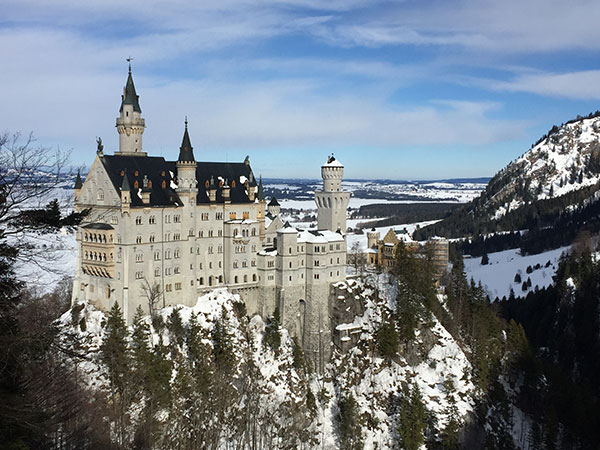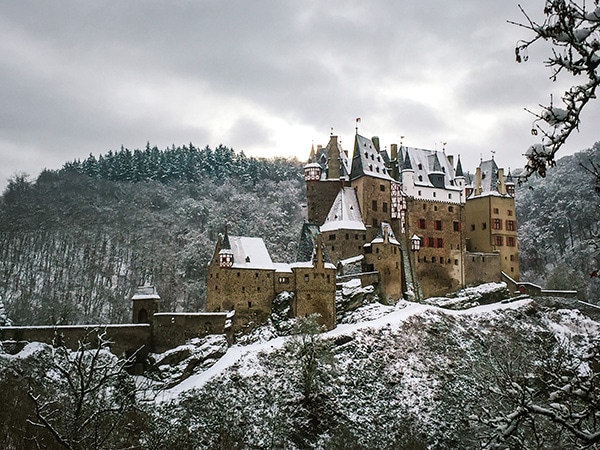 We hope you've found this information useful, we recommend always checking up to date regulations as this information was only correct at the time of publishing. If this post has helped you plan your perfect camper van adventure to Germany we'd love to hear about it! Drop us a comment below or contact us if there's anything you'd like to know more about.
If you'd like to support our content, we'd love a virtual coffee/tea! Alternatively the next time you purchase from Amazon (UK) or Amazon (US) if you use our links we'll receive a small commission (it won't cost you any extra) that will help to keep our content coming.