Where to Find the Best Van Build Ideas
We often get asked where we found our van build ideas, who inspired us and how we tackled our van conversion. Firstly, we never planned to convert a van (or own a camper). In fact, it wasn't until Will announced to me he'd bought a van (in exchange for the car he wrote off on black ice!) that I realised we were actually seriously doing this!
For those of you that don't know our journey in to van life I'll back track a little. Don't worry though it's not a long story! We knew nothing about van life. To me camper vans were driven by retired couples who headed to campsites full of people, where you still had to do the washing up even though you were on holiday. Not my idea of luxury! I totally subscribed to the stereotype Caravan Club image and couldn't understand why anyone would want to do it! I mean campervanning across New Zealand or Iceland sounds great in theory but as someone who's always hated camping I was pretty sure the reality of it would be less romantic. 
So, Why Van Life?
One evening I was idly scrolling through Facebook and found an article about a couple who converted a van and set off to tour Europe for a year with their beagle in tow. I wish I could remember who they were but I remember their van was so quirky. Lots of rustic wood, a little log burner, seriously cosy and not like any camper I'd ever seen before. I sent the article to Will and we had a quick chat about it, dreamed about how fun it would be to take the hound with us and that was the end of it, I thought! Three weeks later Will announced he'd bought a van.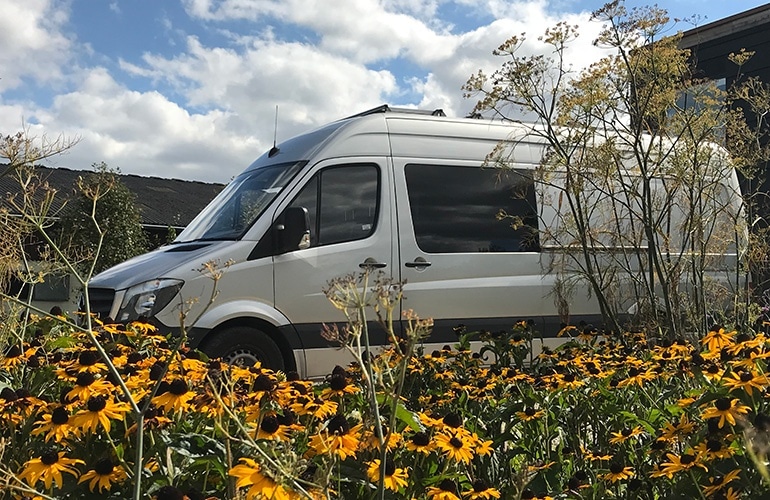 We were actually doing this. I tend to talk about things for months and never get to the point of doing anything about it. Will jumps in with two feet and figures it out as he goes! So, we had a van. No plan, no ideas, no budget but we were actually doing it! First thing I did? Stress about where I would pee! Straight on to google, typed "Mercedes Sprinter bathroom" and suddenly a whole world of self converted campers opened up in front of my eyes! 
There's an endless amount of van build ideas and inspiration available online when you start looking. We saw so many different options and I can't remember where we got half our ideas from but below is a breakdown of a few of the sources we used during our van build and whilst planning our van layout.

Van Build Websites
When I headed to google in a panic about toilets (not the first or last time I'm sure!) we came across 40 Hours of Freedom, now known as Sara and Alex James (Custom Crafted Vans). At the time they were living in their first van conversion. It was light, airy, modern and genuinely looked like a mini home. I loved it. Most importantly it had a beautiful little wet room complete with shower and toilet. We took the basis of our bathroom from this van and whilst ours is a little smaller it absolutely does the job!
They went on to build a second van and now make conversions professionally. There's some great van build ideas on their website so if you're currently planning a build that's a great place for inspiration. 
Instagram and #vanlife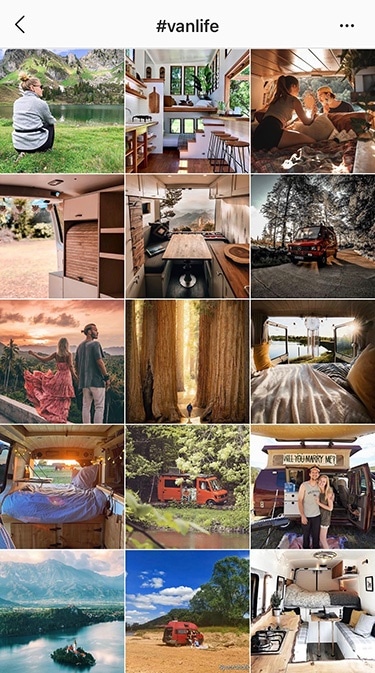 We weren't on Instagram when we bought our van. I was pretty sure I was too old for all that! Will's company had an account though so I used that to have a quick search for van build ideas. This was my first introduction to #vanlife and it looked amazing! There were so many incredible vans and accounts full of photos of stunning views and daily adventures. I spent hours on Instagram over the next few weeks gathering ideas and piecing together bits we wanted to incorporate into our build. A few months in to our build To the Mountains and Back on Instagram was born to document our build and hopefully inspire a few others out there.
There were so many Instagram accounts we drew ideas from, many of which I can't remember the names of but there's a few we still follow and love.
Brown Bird & Co
Brown Bird & Co have a beautiful van, I loved it from the moment I saw it. It's light, airy and has the most incredible live edge work tops in the kitchen. I also love the cooper detailing throughout. In the end our van looks nothing like theirs but it definitely inspired us by showing what could be achieved. We planned on using live edge work tops but as the build evolved we weren't sure how it would look against our wooden mountains (in the bulkhead) so opted for recycled scaffold boards instead. If you've not seen their van make sure you check it out on instagram, they also have a website full of ideas and van life recipes for tiny kitchens. 
View this post on Instagram
It was through Instagram we found our bed lift. Working out which bed option to go for was our main stumbling block. When we found the Happijac bed lift that changed everything and we were instantly sold on the idea! Sadly, neither of the accounts we found it through are active anymore but we're very thankful for their inspiration! 
Divine on the Road
Finally, Instagram also inspired our kitchen. We loved the open kitchen layout of Divine on the Road's first van which is how our fridge came to be where it is (we love her second van too!). It makes it feel like a much larger space and gives a handy extra bit of worktop for cooking (or dumping things on as you walk in!!). It also allows us to have our electrics easily accessible in the panel as you open the side door.
View this post on Instagram
YouTube
YouTube is another platform we weren't really in touch with until we started building our van. I'd watched the odd thing on there in the past but never really seen it as a useful tool for finding information. Suddenly we found hour upon hour of van tours to watch (we promise we'll do one eventually!) as well as vlogs from people living their van life dream. 
Build wise we got so much useful information from Greg Virgoe's build series. His end result is very different to ours but the information and skills he shares are so handy. He offers great insight into not just how to do things but also why it's the best option and the pros and cons of different ways of approaching tasks. If you're planning a build or converting as we speak I'd definitely recommend checking out his channel.

Other Sources
There's plenty of other places you can find inspiration if you're still struggling! Pinterest has lots of great van build ideas and links to useful websites. Facebook has many groups you can join for self-campers where people share their builds and offer advice. There's also e-books and some print books too both for van life inspiration and covering individual build processes. 
Get Involved
Van life has a real community feel and people will be more than happy to help you out. There's been a few times we were stuck and people we've never met took the time to share their experiences with us and give us some advice. It's really helpful! Don't be afraid to ask! 
Also, if you find a product through a recommendation on someone's website we'd encourage you to go back and buy it through their link. If they've helped or inspired you then why not give them a few pennies for their efforts? Many vanlifers earn affiliate commission this way to help fund their travels. It doesn't cost you any more to buy the item through their link but it's an easy way to thank them for their time and help.

Get Creative
I realised very early on in our conversion that pretty much anything goes in a self build. You want a wood burner? No problem! A sliding barn door? Yep! A bath? It can be done! There are so many van build ideas out there and it's a great opportunity to get creative, use things you already have and recycle. Your van doesn't need to look like the camper van stereotype, unless of course that's what you want, and in which case embrace it! Oh, and we're now members of the Caravan and Motorhome Club so I've ditched that stereotype too! Granted we've never stayed at one of their campsites yet but they offer great discounts on ferries and outdoor gear (great tip if you're UK based)!